34 developers receive generation licences to build hydro schemes
The planned projects have a combined installed capacity of 1,842 MW.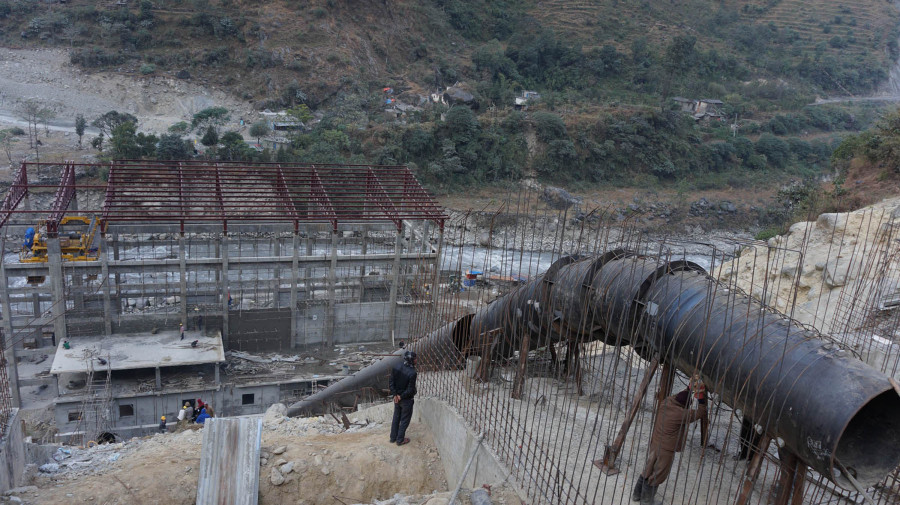 The construction site of the 42MW Mistri Khola Hydropower Project in Myagdi. TKP File
bookmark
Published at : July 19, 2019
Updated at : July 19, 2019 13:23
Kathmandu
The Department of Electricity Development awarded generation licences to 33 independent power producers and one state-backed company in the last fiscal to develop hydropower projects with a combined installed capacity of 1,842 MW.

According to Director General Madhu Prasad Bhetwal, the department issued the generation licences in line with the government's power generation target for the period 2018-28.
"We are in the second year of the Energy Development Decade, and we have expedited the process of awarding licences to allow developers to build their planned projects," said Bhetwal. "We will now help them to obtain foreign exchange and explosives, and assist them with further studies."
As per the department's statistics, the largest generation licences awarded in 2018-19 are for the 300 MW Tila 1 and 297 MW Tila 2 hydropower projects in Kalikot district in Karnali province.
Tila 1 was originally envisaged to generate 440 MW and Tila 2 was expected to produce 420 MW. But a Geographic Information System survey carried out in 2017-18 slashed their projected outputs to 300 MW and 297 MW respectively.
As per reports, US investment bank InvestBank Corp holds a 70 percent stake in the two projects which are estimated to cost a combined $1.2 billion. InvestBank Corp is working with SC Power Company to develop the two projects.
The two schemes will produce electricity for domestic consumption and export. The developer SC Power Company is yet to sign a power purchase agreement with the state-owned Nepal Electricity Authority, the sole off taker of power in the country.
According to an official close to the situation, negotiations between the electricity authority and the developer have stalled as the Energy and Finance ministries are locked in a dispute over the terms of the hedging mechanism of the dollar-denominated power purchase agreement.
"A memorandum of understanding has been signed by the power utility and the developer," the official said. "The energy minister is against the Finance Ministry's proposal to set up a two-party hedge fund with contributions from the power utility and the developer to absorb dollar risks without direct government backing. Until the issue is resolved, the power utility cannot sign a power purchase agreement."
Apart from the two Tila schemes, the department has also awarded a generation licence to state-backed Butwal Power Company to develop the 140 MW Lower Manang Marshyangdi hydropower project in Manang district.
Also, HydroChina Corporation, a subsidiary of Chinese state-owned Power Construction Corporation of China, has received a generation licence for the 102 MW Upper Trishuli 2 Hydropower Project in Rasuwa district.
Largest Generation Licences Issued in 2018-19
Projects Installed Capacity (MW)
Tila 1 300
Tila 2 297
Manang Marshyangdi 282
Lower Manang Marshyangdi 140
Kali Gandaki Gorge 164
---
---