Kami Rita Sherpa summits Everest for record 22nd time
High-altitude guide Kami Rita Sherpa, 48, stepped on the top of Everest for the 22nd time on Wednesday, consolidating his record as the most prolific Everester.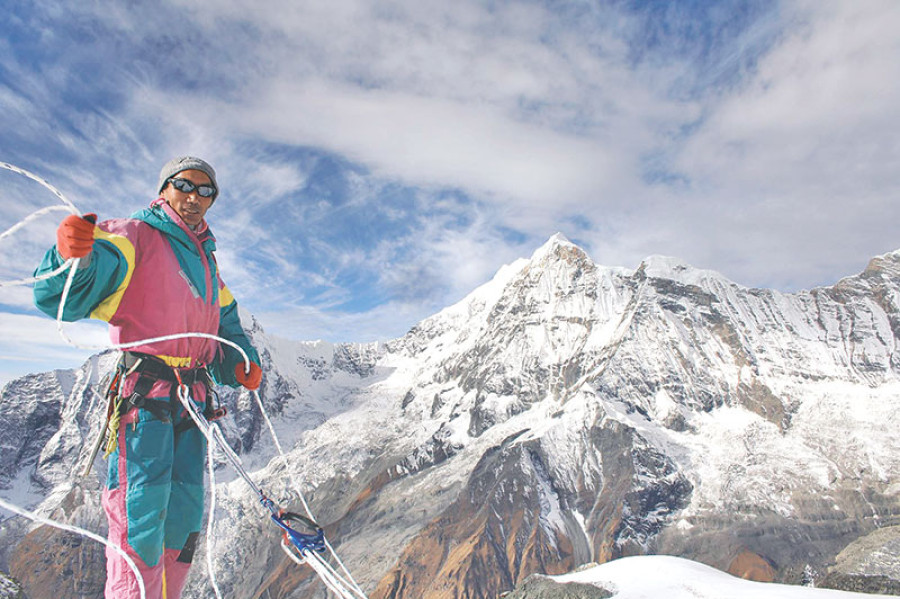 bookmark
Published at : May 17, 2018
Updated at : May 17, 2018 08:49
Kathmandu
High-altitude guide Kami Rita Sherpa, 48, stepped on the top of Everest for the 22nd time on Wednesday, consolidating his record as the most prolific Everester.
Sherpa has climbed the tallest peak on earth more times than any other person. He reached the summit at 8:30 am, Tourism Ministry official Gyanendra Shrestha said from Everest base camp.
"This morning at 8:30, Kami Rita Sherpa made the 22nd successful ascent of Everest as a member of the Seven Summit Treks Everest Expedition. Congratulations to Kami Rita Sherpa," Seven Summit Treks, the agency handling Sherpa's expedition, posted on its Facebook page.
Kami Rita, who hails from Thame village in Solukhumbu district, succeeded in breaking the record of 21 Everest ascents set by Apa Sherpa and Phurba Tashi Sherpa, both of whom have announced retirement. Phurba Tashi gave up his plan to climb Everest again following pressure from his family because of the extreme dangers.
Kami made his first ascent of Everest in 1994 when he was 24 years old. One of his 21 Everest ascents was made from the Chinese side in 2016. Kami Rita plans to reach the summit for the 25th time, or even more times. "I will continue to climb Everest," he told the Post in April before leaving for the mountain.
Kami Rita followed in his father's footsteps and became an Everest climber; but he doesn't want his children to become mountaineers. "My father was not educated, and I didn't attend school due to our weak financial position. So I became a climbing guide," Kami Rita, said. "The chances of survival on the world's tallest mountain are always 50/50," he told the Post. Climbing Everest is not easy, but it is gradually becoming easier due to new technology and climbing gear. Today, according to Kami Rita, there is world class weather and climate forecast technology. During the climbing season, the world's best weathermen are stationed at Everest base camp. In the mid-1990s, it used to be a big challenge to climb Everest. Despite the technology, extreme weather conditions which can trigger avalanches are unpredictable.
Innovation in climbing gear has made Everest ascents easier, he told the Post. For example, the weight of climbing boots has been reduced by 50 percent to almost 5 kg climb, which has increased climbing performance.
Climbers pay between $50,000 and $90,000 to climb Everest. An experienced climbing guide makes as much as $12,000 during the 45-day Everest climbing window. A normal or beginner guide earns $7,000 per season, while high-altitude porters earn up to $4,000 per season.
On Wednesday, along with Kami Rita, 94 climbers including 41 foreigners succeeded in reaching the summit of Everest, said Shrestha. "A larger crowd, at least 100 climbers, is expected make a push for the summit on Wednesday night."
No mishaps have been reported on Everest so far, but high-altitude guide Lam Babu Sherpa has been reported missing above South Col since May 14, Shrestha said. "His whereabouts are unknown."
The 2018 Everest climbing season officially began on Sunday with eight high-altitude Nepali climbing guides making it to the hallowed peak. These highly-skilled mountaineers prepare the route to the top of the 8,848-metre peak for climbers.
This season, nearly 750 individuals, including 346 royalty-paying climbers, will be attempting to stand on top of the world's highest peak. A total of 20 Nepali climbers are among those vying to reach the summit. The world's highest peak was closed for two consecutive years in 2014 and 2015 due to deadly avalanches. On April 18, 2014, an avalanche near the base camp killed 16 Nepali guides. Then in 2015, quake-triggered avalanches killed 19 climbers. The government statistics show that 5,324 mountaineers have reached the summit of Mt Everest since it was first scaled by Edmund Hillary and Tenzing Norgay Sherpa in 1953.
CLIMBING YEAR
1994, May 13
1997, May 25
1998, May 25
1999, May 13
2000, May 23
2002, May 25
2003, May 30
2004, May 24
2005, May 30
2006, May 20
2007, May 22
2008, May 24
2009, May 05
2009, May 23
2010, May 05
2010, May 24
2012, May 18
2013, May 22
2013, May 10
2016, May 20
2017, May 27
2018, May 16
---
---