Nepalis eating less rice compared to a decade ago
Nepalis are eating less rice compared to a decade ago as changes in eating and spending habits take hold.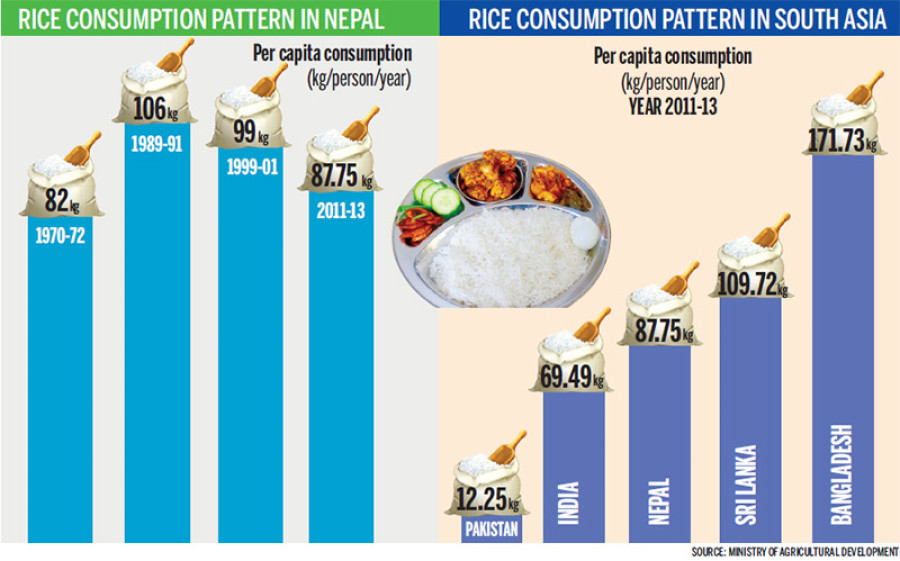 bookmark
Published at : January 17, 2018
Updated at : January 17, 2018 17:09
Kathmandu
Nepalis are eating less rice compared to a decade ago as changes in eating and spending habits take hold.
According to a journal entitled Food Security in South Asia and Self-Reliance in Paddy published by the Ministry of Agricultural Development, rice consumption per capita was recorded at 87.75 kg per year in 2011-13, down from 99 kg in 1999-2001. The journal attributed the drop to changing eating habits of Nepalis due to a burgeoning middle class.
Rice consumption per capita hit a record low of 82 kg per year in 1970-72, before jumping to 106 kg in 1989-91, according to the publication.
"During the 1970s, Nepal lacked transportation facilities to supply rice to the hills and mountains from the Tarai plans, and people ate what they grew," said Mani Ratna Aryal, under-secretary at the ministry. "The low level of consumption during that time was a result of unavailability of rice as a majority of people lived in the hill and mountain regions," he said. "In the early 1990s, rice consumption began swelling as population in the Tarai started to grow, and road and transportation facilities became available to supply food to the highlands," said Aryal, one of the writers who worked on the journal. The establishment of Nepal Food Cooperation (NFC) was one of the key reasons behind the change in food habits among Nepalis. People living in remote districts started to depend on rice as NFC began shipping the popular grain across the country, the journal said.
However, rice consumption started to drop during the late 1990s as remittance put money in the pockets of Nepalis, and they could afford to eat other foods. "The rise in income allowed more and more people to live in urban areas where they started to consume other foods besides the staple rice," said Aryal.
In the late 1990s, more people began eating out at restaurants and they started buying more dried foods. One major change in food habits was a rise in meat consumption. Meat began to appear on the family menu daily while it used to be consumed only during festivals and special occasions in the past. All this meant Nepalis began eating less rice. A rise in the number of food retailers and super markets also promoted diversification and a change in consumer habits.
Aryal said that the diversification of food habits was good for the country. "As we cannot increase rice producing land, changing food habits may play a crucial role in achieving food security in the near future," Aryal said. Rice accounts for 48 percent of the total food grain production in the country. Maize and wheat make up the rest. Most people consume rice every day. Therefore, rice production determines the food security of the individual or family.
If agricultural production in Nepal is adversely affected by climate change, the livelihoods of two-thirds of the labour force, particularly among the rural poor, will be under threat, according to ministry officials. "Hence, food diversification can play a major role in addressing food security."
The journal shows that among South Asian countries, Bangladesh is the largest consumer of rice which explains why it depends on imports every year despite having the highest production rate.
Sri Lanka holds the second position in per capita rice consumption. Nepal and India show a similar rice consumption pattern. Pakistan is least dependent on rice. The so-called rice-lentil is an iconic menu seen across the entire Indian subcontinent.
---
---