Bumper paddy harvests likely in East, Midwest
Key paddy producing districts in the Eastern and Mid-Western regions are headed for a record output with the harvest season coming to an end.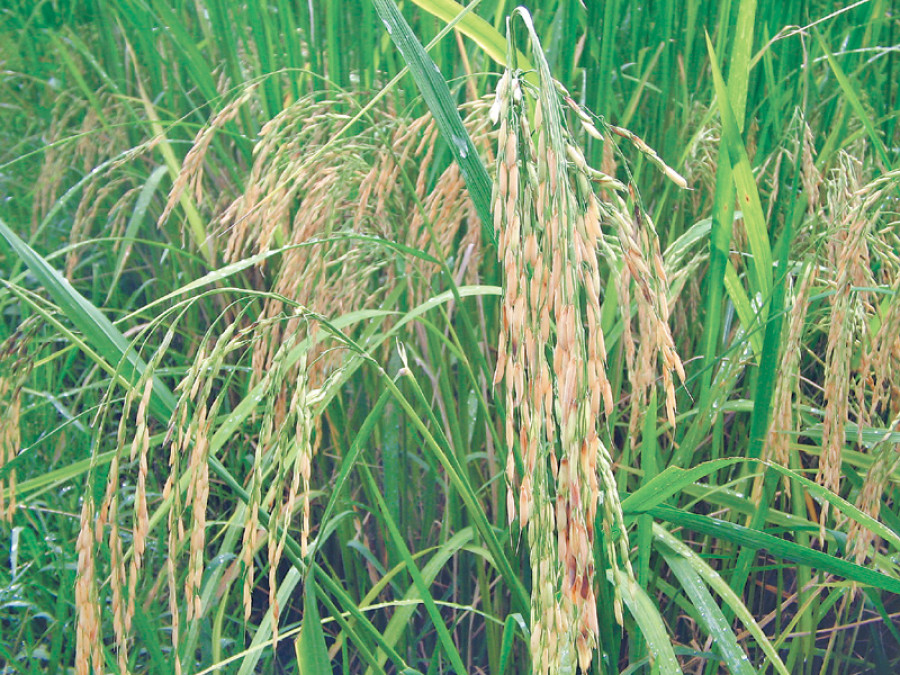 bookmark
Published at : December 7, 2016
Updated at : December 7, 2016 08:51
Biratnagar/bharatpur
Key paddy producing districts in the Eastern and Mid-Western regions are headed for a record output with the harvest season coming to an end.
Timely monsoon rains and adequate chemical fertilizers allowed farmers to complete transplantation on all the available paddy fields after two consecutive years of drought.
Government officials said that this year's projected bumper harvest would help the economy to expand.
In the Eastern Region, paddy output is projected to jump 21.5 percent to 1.61 million tonnes, according to the Eastern Regional Agricultural Directorate, Biratnagar. The paddy acreage in the Eastern Region totalled 446,000 hectares.
Output in Jhapa, the country's major paddy producing district, is expected to reach 410,000 tonnes. Farmers planted paddy on 87,500 hectares in the district. In Morang and Sunsari, harvests are projected to touch 358,800 tonnes and 184,200 tonnes on 78,500 hectares and 55,000 hectares respectively.
Siraha and Saptari districts, where output has been slipping for the past several years, are likely to observe record harvests this year. Output in Saptari is projected to double to 162,000 tonnes. Likewise, paddy production in Siraha is expected to soar 48 percent to 180,512 tonnes.
"Timely monsoon rains, adequate supplies of chemical fertilizers and use of improved seeds are the reasons behind the increased output this year," said Rajendra Upreti, a senior agriculture extension officer.
In Parsa, paddy production has been projected to jump 60 percent to 212,775 tonnes, according to Birendra Sinha, chief of the District Agriculture Office Parsa. "Timely paddy transplantation and regular rainfall during the transplantation and flowering period has contributed to increased productivity."
He added that the average productivity of paddy reached 5 tonnes per hectare in the district this year. The national average is 3 tonnes per hectare.
Farmers in the Mid-Western Region are buoyant following a bumper paddy harvest after two bad years in a row. Paddy production has swelled in all districts, including key districts like Banke, Dang and Surkhet.
In Dang, paddy output is estimated to increase by 10 percent this year. Last year, farmers in Dang grew 157,284 tonnes of paddy on 36,608 hectares.
Paddy output in Surkhet has been projected to increase by 25 percent this year. Last year, the district produced 50,373 tonnes of paddy. Surkhet paddy acreage totalled 14,600 hectares.
Nepal's paddy output had suffered a sharp drop of 10.22 percent to 4.29 million tonnes in the last fiscal year, swelling the food deficit, widening imports and putting pressure on market prices.
Nepal slid back into a food deficit situation largely due to a sharp drop in cereal production in the last fiscal year. According to the Ministry of Agricultural Development, the country has a food deficit of 71,387 tonnes.
---