No business like snow business
With interest among the youth peaking, and students who dabbled in the sport abroad returning, it might not be too far-fetched to imagine skiing as a viable sport and business in Nepal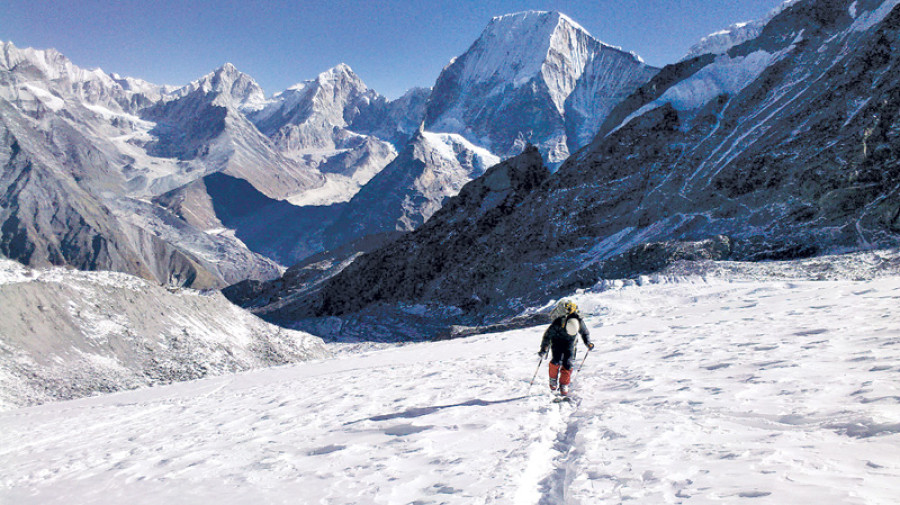 bookmark
Published at : October 1, 2016
Updated at : October 1, 2016 09:00
Kathmandu
I saw Julius's Facebook profile picture with a snowboard and asked him, 'Is that something we could do in Nepal?'," Utsav Pathak recalls.
Utsav Pathak, still in his early twenties is the chairman of the Ski and Snowboarding Foundation Nepal. While in his teens, Pathak, a resident of Charikot in Dolakha, worked as a local tour guide catering to visitors headed up to Kalinchowk. Here he crossed paths with Julius Seidenader, a German skier.
"Incidentally, I had arrived at Charikot with the mind of hiking up to Kalinchowk. There we ran into a group of locals (Pathak being one of them) who informed us that we were really late in the season and shouldn't chance the hike. We ended up staying in Charikot for ten days," says Julius.
While in town, the two began researching the possibility of starting snowboarding and skiing in Nepal and stumbled on previous instances where the adventure sport had been attempted in the country.Attempts to introduce skiing had been undertaken as early as 1950s, although bearing little fruit. The Nepal Ski Association was established in the 90s, in part because of skiers, looking to explore new tracks for backcountry skiing, trickling into the country. The project was shelved once the Maoist insurgency escalated.
Despite being famed for its mountains, skiing as a recreational sport is still largely unexplored in the country. Nepal's high snow-line means that any skiing ventures would most likely have to be seasonal, while the remoteness of locations and the lack of infrastructure would further limit possibilities. But the same conditions in turn should be marketable to willing adventurers. Helicopter skiing, offered by some private companies in Nepal to niche western enthusiasts, for instance, underscores how the exotic appeal of skiing in the Himalayas could be tapped in the future.
Recently, the Skiing and Snowboarding Foundation (NFSS) was established with the goal of exploring possibilities of ski tourism and training enthusiasts. In February this year, NFSS conducted a three-week pilot training camp in Naa Village, in Rowaling with five foreign trainers, and 21 trainees, three of them women, which included mountaineering, and trekking guides, as well as students of Nepal Academy of Tourism and Hotel Management (NATHM).
One of the women participants, Fenchoke Chuttin Sherpa, says that though just beginning, she wants to participate in the next edition of the Winter Olympics in snowboarding. Till date, Nepal's representation in the Olympics has only been in the skiing category. Out of the two athletes that have represented the country in four Winter Olympics games, Dachhiri Sherpa has participated in three. In the 2014 Sochi games, Dachhiri, Nepal's sole representative (who was joined by seven delegates), brought up the rear at the 15 km Cross Country Skiing, bettering the time of only Roberto Carcelen, a Peruvian skier.
Nepal Ski Foundation has also initiated skiing trainings for high altitude mountain guides in partnership with the Nepal government and ski instructors of Switzerland and France. As part of the programme, recently some of the most experienced high altitude mountain guides went to train on ski slopes in Switzerland. Till date only a handful of Nepali guides have been recognised internationally, both by the IFMGA (International Federation of Mountain Guides Association) and UIAA (Union Internationale des Associations d'Alpinisme, (International Climbing and Mountaineering Federation).
Pathak remains optimistic that ski slopes can be brought to Nepal and that the sport can be converted into a viable business. According to him, NFSS has plans to initiate a skiing school out of a permanent location in the next three years.
In December, NFSS will be launching a beginner's course in the Langtang Valley, as it is one of the most accessible locations in terms of transportation and given its existing infrastructure. NFSS also plans to host another course in Rolwaling in February, 2017.
"The courses will be for free, with the participants needing to pay for their food and lodging. More than profits, we are looking to inculcate a skiing culture in the country," says Seidenader. NFSS has been procuring their equipment through donation drives that have seen skiing enthusiasts from all over the world contribute. Seidenader also believes that far-western regions like Humla and Jumla have great potential for skiing, but remain untapped because of the remoteness of the terrain and the lack of infrastructure.
For now, NFSS have identified Rolwaling in Dolakha, Langtang Valley in Rasuwa, and Mera Peak in Solukhumbu as possible skiing areas. And with interest among the youth peaking, and students who dabbled in the sport while abroad returning, it might not be too far-fetched to imagine skiing as a viable sport and business in the country and Nepali athletes a permanent fixture at the Winter Olympics.
---
---