Stage set for Kathmandu Post Career Edufair
The stage is set for The Kathmandu Post Career Edufair that kicks off in the Capital on Friday.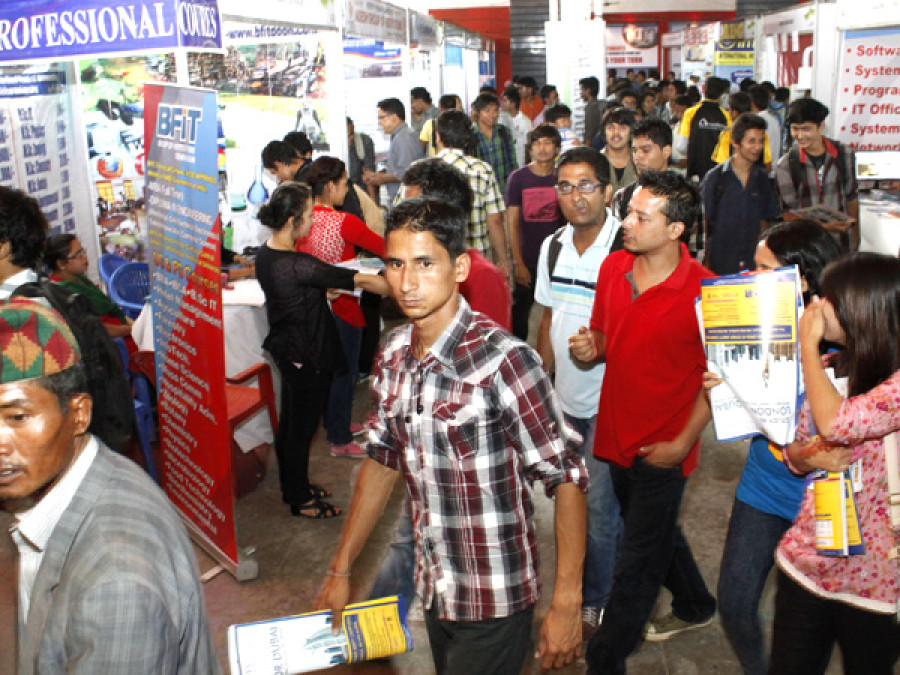 bookmark
Published at : July 22, 2016
Updated at : July 22, 2016 09:15
Kathmandu
The stage is set for The Kathmandu Post Career Edufair that kicks off in the Capital on Friday.
The three-day event to be held in the Bhrikutimandap-based Exhibition Hall will feature over 150 domestic and international academic institutions. The colleges, universities and educational consultancies from Nepal and abroad are showcasing their services from 130 stalls and 13 pavilions. The fair, which is a calendar programme of the Kantipur Media Group, has been held regularly since 2012 except for 2015 when it was disrupted by the devastating earthquake.
The Kathmandu Post Career Edufair has been the most preferred education exposition among students so far. The three-day event received over 100,000 footfalls in 2014.
Mahesh Swar, assistant general manager at the Kantipur Publications, said the event is the first of its kind as it brings together both domestic and foreign colleges for students to choose from.
The fourth edition will be managed by Array International. Supported by various domestic colleges and consultancies, it aims to draw around 100,000 visitors in three days. The gala event will be inaugurated by Chief Secretary Som Lal Subedi amid a programme on Friday.
Organisers say teams from the universities will provide overall information to visitors about their courses at the event. "Our main objective is to give right information to students on various colleges under the same roof. We want to be a bridge between foreign universities and Nepali students this time," said Pankaj Jalan, director of the Lord Buddha Education Foundation. Apart from regular events, three seminars would be organised every day where distinguished personalities and celebrities will interact with visitors.
Students can get first-hand information about the colleges, courses and expenses on top of career counselling. Besides, the gala will also witness three seminars conducted by distinguished personalities. Another attraction of the festival is motivational speeches delivered at 11am and 1pm every day.
Organisers said the event is more focused on finding career opportunities for students rather than just providing information about academic institutions in and outside the country.
Students visiting the fair can also get scholarships from the Lord Buddha Education Foundation (LBEF), Sharada University, Quest College, IHMS College and Reva universities, the organisers said. There are also gift hampers for lucky winners.
The LBEF is the title sponsor of the event with Herald College as the main sponsor. It has also been sponsored by IST College and supported by the Association of Pokhara University Affiliated Colleges, Nepal.
Free entry
Motivational speech
Career counseling
Attractive door prizes
Scholarship scheme
---