Rosacea relief
Dr Elisha Bhattarai, a consultant dermatologist, discusses the causes, symptoms, and treatment options for extreme redness and bumps on your face.

Shutterstock
bookmark
Published at : July 5, 2023
Updated at : July 5, 2023 08:19
Kathmandu
Our facial skin often encounters a lot of problems, including sudden breakouts, rashes, and allergies. However, rosacea—which is characterised by heavy redness or blushing in the face—often remains undiagnosed. Rosacea usually develops after the age of 30 and is more common in people with a pale complexion. While it is not a fatal disease, it can bring about discomfort and self-consciousness in people suffering from it. Dr Elisha Bhattarai, a consultant dermatologist, gives a brief summary of the causes, symptoms, and treatment options for rosacea.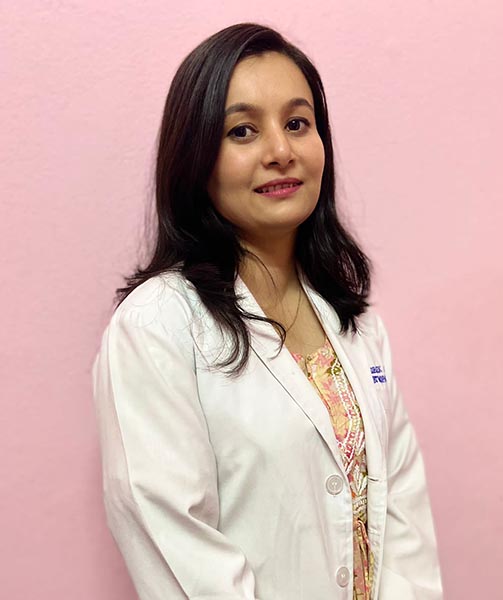 Photo courtesy: Dr Elsiha Bhattarai
Dr Bhattarai is currently working at Mediciti Hospital. She obtained her MBBS (Bachelor of Medicine, Bachelor of Surgery) degree from Gandaki Medical College and her master's degree from Kathmandu Medical College. She previously worked as a dermatologist at Miracle Skin Hair and Aesthetic clinic.
What is rosacea?
Rosacea is a chronic skin condition that primarily affects the face. It is characterised by redness, flushing, visible blood vessels, and in some cases, the development of small, pus-filled bumps or pimples. Rosacea can affect anyone, but it is most common in people with pale faces. There is no cure for rosacea, but its treatment can control the signs and symptoms.
What causes rosacea?
The exact cause of rosacea is unknown, but it is believed to involve a combination of genetic and environmental factors. Hereditary genes are the most significant causes of it. Furthermore, Demodex fungi—a genus of mites commonly detected in the skin of the face—can aggravate chronic low-grade inflammation, potentially worsening rosacea symptoms.
What are some common symptoms?
Rosacea is easily identifiable. Starkly visible redness and swelling are the biggest indicators. If there is persistent redness in the centre of the face, including the cheeks, nose, forehead, and chin, then you may have rosacea. If you study the redness closely, you will see thin, red lines on the skin, which are blood vessels.
Many people with rosacea develop red pimples that resemble acne, which can be painful and contain pus. It's worth noting that the severity of rosacea can vary significantly from person to person.
In some cases, the skin on the nose may become thicker and take on a bulbous appearance, a condition known as rhinophyma. Finally, it's essential to know that about half of all rosacea patients may experience eye symptoms, such as dryness, redness, and irritation. These symptoms can be quite uncomfortable and may require medical attention.
Are there different types of rosacea?
There are several variations of rosacea, each with distinct effects on the skin. Erythematotelangiectatic rosacea, for example, results in noticeable redness on the face, often accompanied by visible blood vessels. Its onset can be sudden and unpredictable, with symptoms appearing and disappearing without warning. Papulopustular rosacea, on the other hand, causes pimples that are filled with pus or fluid like that of acne. It can also lead to swelling of the skin.
Phymatous rosacea is characterised by thickening and swelling of the skin, often affecting the nose and causing it to appear bulbous. Lastly, ocular rosacea can cause irritated, bloodshot, or watery eyes, light sensitivity as well as painful bumps on the eyelids. Recognising these different types of rosacea is essential to diagnose and treat the condition properly.
Is there any way to completely get rid of the condition?
Although there is no cure for rosacea, several effective treatment options exist. Prescription creams or gels containing antibiotics, azelaic acid, or metronidazole can help reduce inflammation and redness.
Dermatologists may prescribe oral antibiotics such as minocycline, doxycycline, erythromycin, and clindamycin to control symptoms and reduce inflammation in more severe cases.
Furthermore, laser and light-based therapies can target visible blood vessels and improve the appearance of the skin. Limiting triggers such as spicy food, food containing cinnamaldehyde (for example, tomatoes, citrus fruits, and chocolate), hot drinks, histamine-rich foods, drinking alcohol, or exposing the skin to extreme temperatures can also aid control.
It's best to use mild, non-irritating skincare products and avoid abrasive cleaners or exfoliants that may further irritate your skin.
If you have rosacea, you should see a dermatologist who can make an accurate diagnosis and recommend a personalised treatment plan to relieve symptoms and improve the appearance of your skin.
---
---