How a few YouTubers are making farming easy
From tutorials of harvesting cash and food crops to videos of preparing food for cattle, a few Nepali farmers and agricultural experts are using social media to disseminate information related to farming and agriculture.

Screengrab via YouTube
bookmark
Published at : January 12, 2021
Updated at : January 12, 2021 06:42
Kathmandu
For almost a year now, Aashish Lamichhane has been spending his days in the same manner. Although his teaching job keeps him busy enough, he takes time out from his tight schedule visiting nearby farms, helping farmers and answering their phone queries. But what keeps him the busiest is making videos for his YouTube channel, where he educates his viewers about techniques and gives them information related to farming and agriculture.
"My intention of starting an agriculture-based YouTube channel was to share my knowledge so those farmers who need information can get help," says Lamichhane.
Born in a family of farmers, Lamichhane's family had farms in Kewalpur, Rupandehi, where they would grow varieties of fruits and vegetables as well as rear different animals. And because of this, he was equipped with knowledge related to farming and agriculture.
However, he saw a dearth of information and knowledge about farming and agriculture, especially among the people living in cities. He realised they had little idea about how the food they eat are cultivated in farms, he says.
"The city people, especially the children, lacked knowledge regarding agriculture and farming. That's why I decided to take matters into my own hands and educate my students about the basics of farming through videos," says Lamichhane, who's also a teacher, teaching primary level students.
Initially, he made a video in the English language for his students where he had explained the whole process of mushroom farming. However, he then switched to Nepali, and uploaded the video on YouTube, which received appreciation from farmers, says Lamichhane.
"In the beginning, my intentions were simple: to make videos for my students, so that they can learn something about farming and agriculture. However, when farmers started appreciating the information I was disseminating through my videos, I was motivated to make more," says Lamichhane.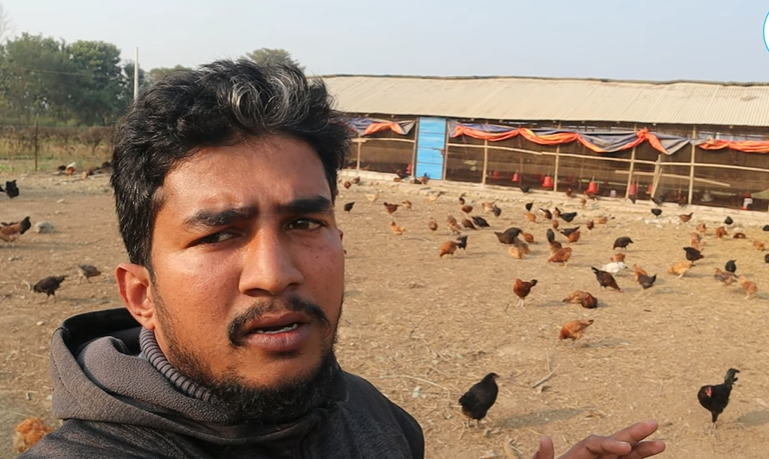 Screengrab via YouTube
Then onwards, he regularly started uploading such kinds of videos on his YouTube channel, where he would explain how one can start harvesting various crops like mushrooms, lemon, avocados and bananas, using the minimum available resources, as well as how one can treat their sick cattle.
Now, after more than a year, Lamichhane has more than 140k subscribers and 13 million views on his videos.
The use of YouTube platforms with a motive of educating and disseminating information and knowledge, however, isn't novel or unique. For years, many professionals have been using YouTube through which they share their knowledge and expertise.
However, with technology and the internet getting affordable and approachable, there has been an explosive growth in content creators on YouTube. Now it's not only people from urban areas who create content on YouTube—many content creators are coming up from all backgrounds, from all over the world, who are using the platform to educate their peers.
Among such people in Nepal is Rabin Paudel, a YouTuber and farmer from Syangja, who's using his channel to help and educate other farmers.
He started his YouTube career in 2018. "Previously, I had a technical channel, where I would teach and educate people about various electronic gadgets," says Paudel.
However, he discontinued it when he went to Israel for employment. "When I was in Israel, I did make a few vlogs about how people were doing farming there and what Nepali farmers can learn from them," says Paudel, 27.
After returning to Nepal and setting up his own farm, Paudel decided to resume making videos related to farming. His first video was on tomato farming, which was appreciated by farmers, eventually encouraging him to make more videos, says Paudel.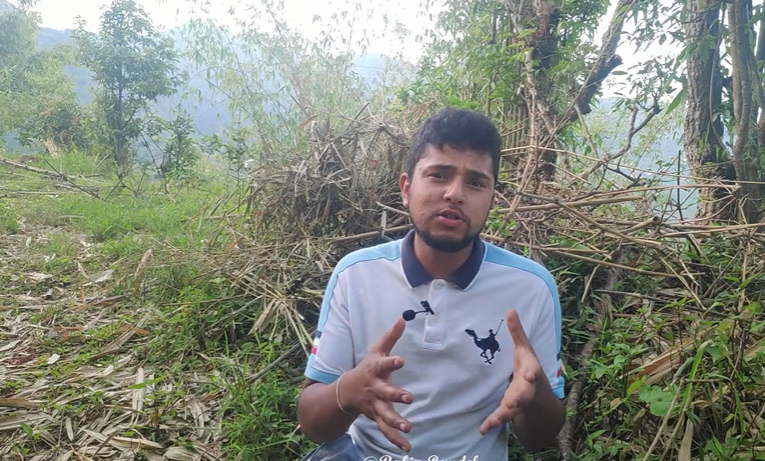 Screengrab via YouTube
"When I shared the same information and knowledge face to face, not everyone showed the same interest. However, when I started using the medium of YouTube and other online platforms, more people were curious to learn about farming and agriculture as the information I was sharing was helpful to people, specifically to those farmers who were searching for information and knowledge," says Paudel, who has 10k subscribers on his YouTube channel.
However, for YouTubers who make agricultural and farming-based content, there are many challenges they have to endure to create their content, they say.
In recent times, Nepal has seen a massive growth in users on YouTube, and while this is a good sign, the mushrooming of thousands of YouTube channels has made competition tough. Likewise, agriculture-based contents are itself targeted for a niche audience, due to which not all of their videos get the same amount of views, they say.
"There were times when our videos were getting enough views. In such moments we did have thoughts of discontinuing our work, as we believed that very few people are watching our videos" says Sandip Timilisina, one of the founders of Agri Nepal Update, an agro-based YouTube channel.
More than a year ago, Timilsina, along with his college friends, who were studying agriculture, decided to start a YouTube channel where they would share information and knowledge regarding farming and agriculture.
"We all were studying agriculture. So our intention behind starting a YouTube channel was to make videos that could impart pertinent information to farmers, who were in need of knowledge, as well as benefit us by giving a platform through which we could learn as well," says Timilsina, who's currently studying his Masters in agriculture.
Along with his friends, through their phones, they started making tutorial videos where they would teach people about how one could grow crops like banana, turmeric, and mushrooms. However, it was their video on tomato harvesting that received thousands of views instantly and that made them realise that there is an audience who prefers to watch the kind of videos they were producing.
"Now we are creating content targeting the audience base of farmers who are searching for the kind information we disseminate," says Timilsina. "That's why most of our latest videos are based on seasonal vegetables, whose information the farmers are likely searching for."
Similarly, to appeal to a larger audience, the YouTubers also pay attention to the style and the language they use in their videos, they say.
"In the present content, not every farmer is highly educated. Due to this if we start speaking in a complex and technical language, the objective of helping them out will be missed," says Lamichhane. "That's why I always focus on making videos that are in the simple and soft language, so the farmers can easily grasp and remember the information. Similarly, I also try to incorporate the local languages spoken in Tarai, Pahad and Himal, explaining the terms, so more people can understand it," he adds.
Photo Courtesy: Rabin Paudel
According to YouTubers, while the pressure of getting more exposure does exist, they also have a genuine audience base, whose constant support and suggestions help them to grow as content creators, they say.
"My channel does have a genuine and loyal audience who constantly provide their suggestions. Likewise, I also follow their suggestions as I mostly create videos on topics they refer to," says Paudel.
Regardless of the struggles, they are facing, YouTube has opened windows of opportunity for the YouTubers.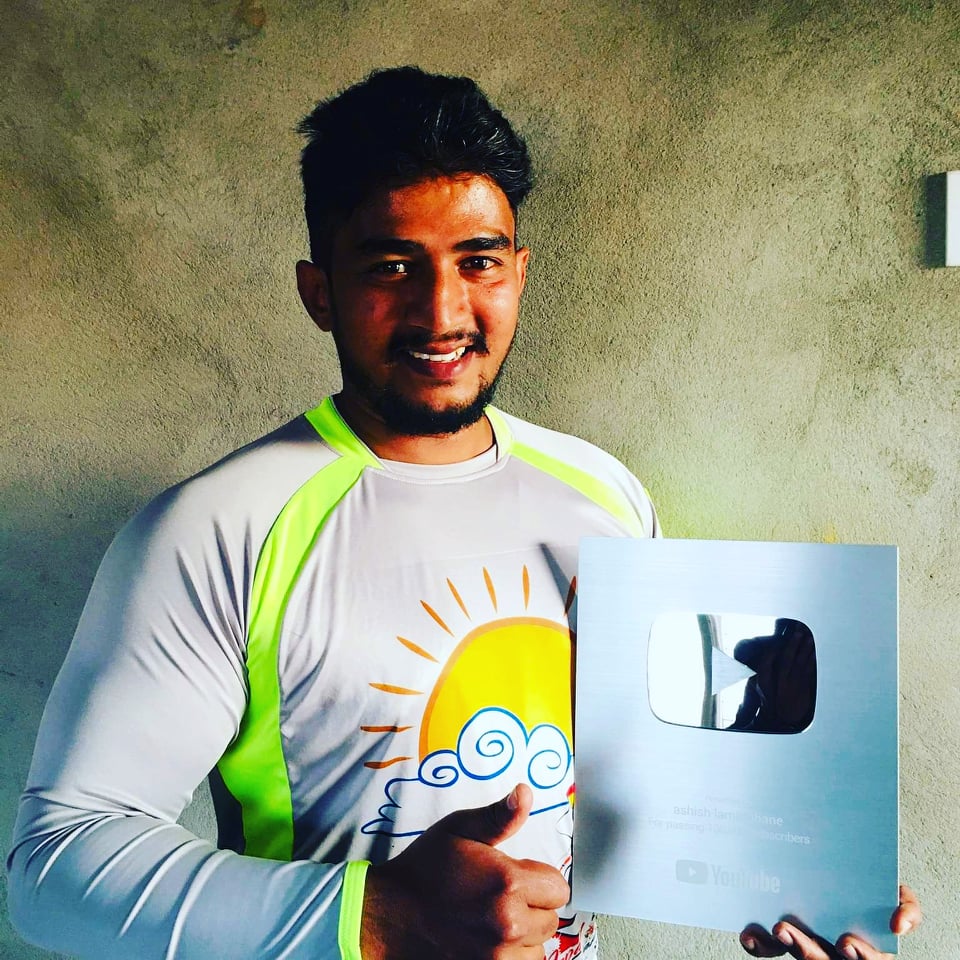 Photo Courtesy: Ashish Lamichhane
By monetising his videos, Lamichhane has been able to buy a DSLR camera, which he now uses to make his videos. Meanwhile, Paudel is also trying to design online courses for farmers, as YouTube has shown him the possibilities of tapping into the market of catering agro-based information to farmers, he says. Similarly, Timilsina also has plans on continuing to make videos that are targeted to farmers, he says.
However, for YouTubers, their mission isn't only driven by the fact that their videos are benefitting them socially and financially, they say. It's equally adding value in the lives of their audience, the farmers, YouTubers believe.
"I receive phone calls from people all over the country, asking for help. Some have even shared that they have set up small home-based businesses, after watching my videos," says Lamichhane. "When I come to know about the value my videos and I are adding to people's lives, it makes me immensely happy and encourages me to create more useful contents in future."
---
---