Childlike happiness is this serial record-breaker's goal
Ashrita Furman, a renowned Guinness world record-breaker, is full of energy to make and break weird and wonderful records.

Photo courtesy: Ashrita Furman
bookmark
Published at : February 10, 2020
Kathmandu
Ashrita Furman knows most people think he is crazy and wacky. He has just been in Malaysia, where he slashed over 50 watermelons over the course of a minute, in an attempt to set a Guinness world record. Those melons were placed on his friend Homangi Baptista's head. Baptista shows a video as proof, with Furman wielding a samurai sword and swiftly slicing the melons in two, as another man quickly places another after each slice.
"When you think about it, it does sound silly, but you need concentration to pull it off, and a lot of times, teamwork to get things done," says Furman, in the lobby of Thamel's Hotel Moonlight. The Guinness world record-breaker says he has 800 certificates of recognition, and currently holds about 220 records.
Here in Nepal for The Sri Chinmoy Oneness-Home Peace Run, a global torch relay organised every two years in different countries, the New Yorker hopes to break yet another record. "I am going to stand on top of a swiss ball with a sword, while my friend will throw grapes at me, and I will try to cut the grapes with it for at least a minute," he says seriously, despite how silly it might sound, somewhat like what one would imagine Forrest Gump would.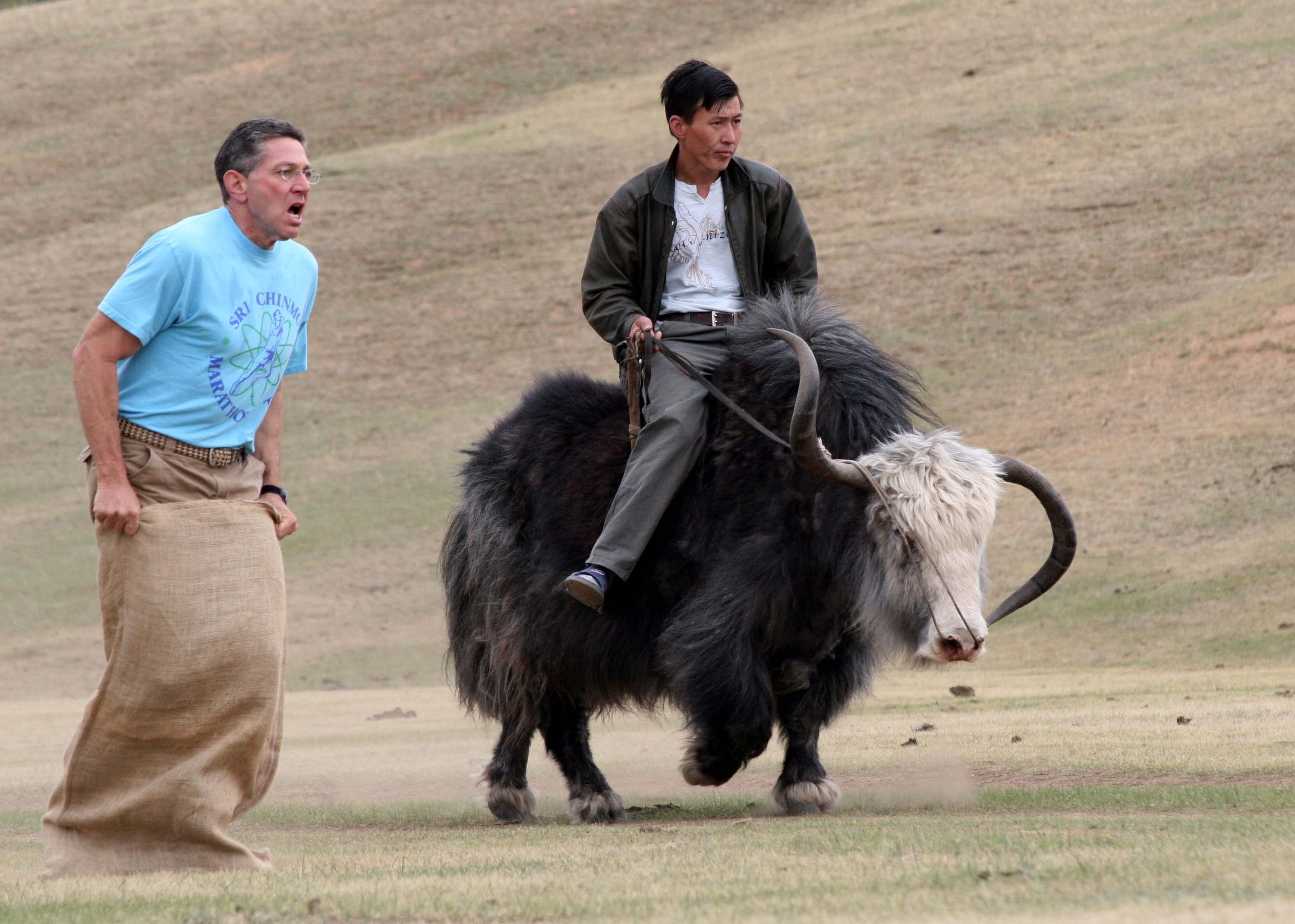 Photo courtesy: Ashrita Furman
But the witty and erudite Furman is recognised globally for all the eccentric things that people might call crazy or impossible. He has set records like walking the greatest distance while balancing a full milk bottle on his head (over 38 kilometres), sack racing with a yak for one-mile, underwater hula hooping, mountain climbing on stilts, underwater cycling and catching the most eggs thrown over five metres in a minute—the rather odd list goes on.
But just like Furman, Nepalis have been obsessed with breaking quirky records over the years too. On January 26, a fashion show was held at an elevation 5340 metres in Kala Patthar. There are some zanier ones too, such as Gaurav Raj Ghimire's record for spinning a Guinness World Records book on one finger for more than two hours, in March 2019, or Puskar Nepal, who in 2014, kicked himself in the head 134 times, in one minute. Nepal, in an interview with Guinness World Records, said Furman was his inspiration.
When asked why people are fascinated with breaking records, Furman replies joyfully. "I think it's like when Edmund Hillary was asked why he climbed Mount Everest. He said, 'Because it's there.' There is something inside of us that wants to push ourselves, go higher and faster," Furman says. "And Guinness is a way to organise and challenge yourself, to see if one can do better."
Furman's journey started in 1978, as a disciple of Indian spiritual leader Sri Chinmoy, whose peace run he will attend in Nepal. It was a 24-hour bicycle race in New York City's Central Park in which the non-athletic Furman covered 652 kms, getting himself the third position in the race. It was his teacher who urged him to take part, estimating he could cover at least 643 kms.
On the day of the race, he stuck a picture of his teacher on his bicycle and started riding. The more tired he became, the more he chanted mantras and focused more on his breathing. And, by halfway, he was pacing with the lead pack. "It was an incredible feeling and it was all possible because of my meditation. When I got off the bicycle, I knew it wasn't the physical me but the deeper part of me that was able to continue," Furman says. "That was when I decided to break the Guinness World Record to tell people about the power of meditation."
In 1979 Furman broke his first Guinness world record by doing 27,000 jumping jacks, and since then he hasn't stopped surprising—he looks more resolute than ever. In the 40 years since his first official record, even those who once looked down at him have come to see an undeniable strength and power to his persistence. "I have had some very high spiritual experiences doing these records," he laughs. "Because sometimes the human in me is physically finished and I have to call on my spirit to get going."

Sanjog Manandhar/TKP
However, how do you take a man seriously when he willingly has 94 shaving-cream pies hurled at him over the course of minute, just to break a record? "A part of my spiritual path is trying to be child-like, trying to be joyful. Have you seen kids skipping freely? We forget that innocence as we grow," he says as he gets up from the sofa to demonstrate a kiddish sprint as everyone in the lobby gawks. "People always think I am crazy, but what I do also makes them smile.".
One time as he practised balancing a milk bottle on his head, he told a child trying to distract him—as many have done before—that he was performing martial arts. The child looked on with a little more respect and, he says, sometimes "it's just a matter of perspective".
In 2012, Furman set a Guinness world record for skipping for about 21 kms in the Foot Traffic Half Marathon in Portland taking 2 hours and 27 minutes, while in 2003 he covered about 42 kms in just under six hours. "I think we shouldn't take ourselves too seriously. We always have to be playful and be like children, innocent and pure."
But before meeting his teacher Sri Chinmoy, Furman was an economics student, following a path to lawyerhood, just like his father did. He didn't think highly of sport, and although as a child he was fascinated by the book of Guinness World Records, he never imagined he would be in it. When he started meditating under Sri Chinmoy, he aspired to be like Buddha and wanted to attain Nirvana.
"But my teacher said you have to stay in the world and share what you have with other people and meditating is something you can practise every day in your life, even when you are doing sports you can make spiritual progress," he says.
To explain his point, Furman leaps up from the sofa once more, to demonstrate a front roll on the glossy marble ground. "One time I was trying to set a record of forward rolls to cover at least 12 miles [almost 20kms] in Massachusetts. But the problem was I had four slices of pizza the night before and I had indigestion, and there was a lot of media publicity around already for the attempt," he says. "On the morning of the race, I was throwing up and suffering. And the Guinness rule for the record was I could only get up to throw up."
The ultimate goal was 12 miles, but, looking at his digestion situation, Furman decided to just roll a little further than 10 miles (16kms). As he threw up near the 10 mile mark, a friend whispered to him that his teacher believed he could complete the 12-mile goal. "I accepted that, and I started chanting to myself: I am not the body, I am the soul," he says. "And what it did was, it detached me from my physical pain and gave me the strength to complete the record. It was amazing and I think it was a blessing from my teacher. It was such an uplifting experience."
Furman is now 65, and nothing much has changed since he started. He laughs along with people who make fun of him, but keeps training. He meditates twice daily and focuses on practising for his attempt, even for bursting as many balloons with his teeth as he can over a minute.
For Furman, setting and breaking records hasn't been as important as making his experiences count. "For me, Guinness is a way to challenge and inspire myself. It's more a way of practising my meditation techniques. And thus it's okay if somebody breaks my record. That again for me is inspiring as it shows progress. Success is not as important as progress, I think," says Furman. "One should live in the heart, not in the brain."
---
---