Children from Karnali families are falling prey to fraudulent foster homes
Nearly a hundred children from Karnali are rescued from children's homes in various cities every year, says activist.

This representative image taken recently shows children of Sain in Patala village, Kalikot district. Tularam Pandey/TKP
bookmark
Published at : April 29, 2023
Updated at : April 29, 2023 21:11
In August 2021, Bhim Bahadur Shahi from Subhakalika Rural Municipality Ward 7, in Kalikot, took his eight-year-old son to a children's home in Samakhusi.

Shahi, a farmer, did not have the means to take care of his son and when a children's home offered to foster his child and provide him with education, Shahi let go of his initial inhibitions and left his son in its care. He paid Rs30,000 to cover his son's needs—food and clothes.
A year and a half later, Shahi visited Kathmandu to check on his son. Contrary to his expectations, his son was faring poorly.
"My son was malnourished and looked like he hadn't had a bath in months," said Shahi. "He looked so uncared for that my heart broke. I wanted to bring him back home immediately but the children's home operator put up a fight. After much persuasion and threats, they let me bring him with me. It was only then that I realised that the establishment was operating illegally."
Shahi went back to his village with his son and informed the other parents who had sent their children to the same children's home about the dire conditions their children were being kept in. "There were three more children from my village at the children's home. I told their parents that its operators were scammers. They also went looking for their children later," said Shahi.
There are several children from Karnali living a life of misery away from their homes and families in various children's homes in the cities. Most people from Karnali go to India seeking employment and leave their children in the care of the remaining adults in the villages or send them to children's homes in the cities.
According to Baley Bishwakarma, a human rights activist in Kalikot, children between the ages of 5-13 years from the impoverished Dalit community find themselves in the most vulnerable situations in the absence of their guardians who go abroad, mostly India, for employment.
"Nearly a hundred children from Karnali are rescued from children's homes in various cities every year," said Bishwakarma. "But there is no discourse about this in places where it matters. The authorities are not doing anything about this which means there is no government data on exactly how many children from Karnali are trapped in such situations."
A 13-year-old girl was living at Relationship Nepal Children's Home in Patan, Lalitpur. Daughter of one Min Bahadur Budha and Kamala Budha, she is the youngest of five children. She has three older sisters and an elder brother. She was three years old when her father died in 2006 in Himachal Pradesh, India, where he was working as a construction worker. Ten years later in 2016, her mother died of cancer. Her siblings decided it was best to put her in the care of a children's home where she would have the opportunity to go to school.
According to one of her sisters, after their father died, the family spent all the money, possessions and properties they had on their mother's treatment which left the siblings with no resources to take care of themselves.
"We had nothing but debt on our heads. We were going through such a tough time that when our relatives suggested we put our youngest sibling in a children's home, we agreed," she said. "We put her in the home at the age of 13. When we checked on her a couple of months later, we found that the operators of the centre were forcing children to do physical labour such as collecting garbage, working in road circuses and selling wares in the market. I fought with them and brought my sister back home. She was weak, undernourished, and in a miserable state. The orphanage was exploiting children under the pretext of providing them with shelter."
Children from Karnali are not only vulnerable to exploitation at children's homes and orphanages that take advantage of their poor economic conditions but are also targeted by religious groups who seek to promote their faiths, says Bishwakarma. "There have been several instances where people from various religious groups have lured parents into sending their children with them with the promise of food and shelter," said Bishwakarma. "Two years ago, 28 children from Mugrah, Subhakalika Rural Municipality ward 7 and 8 in Kalikot, were rescued from the Nepal-India border at Gauriphanta."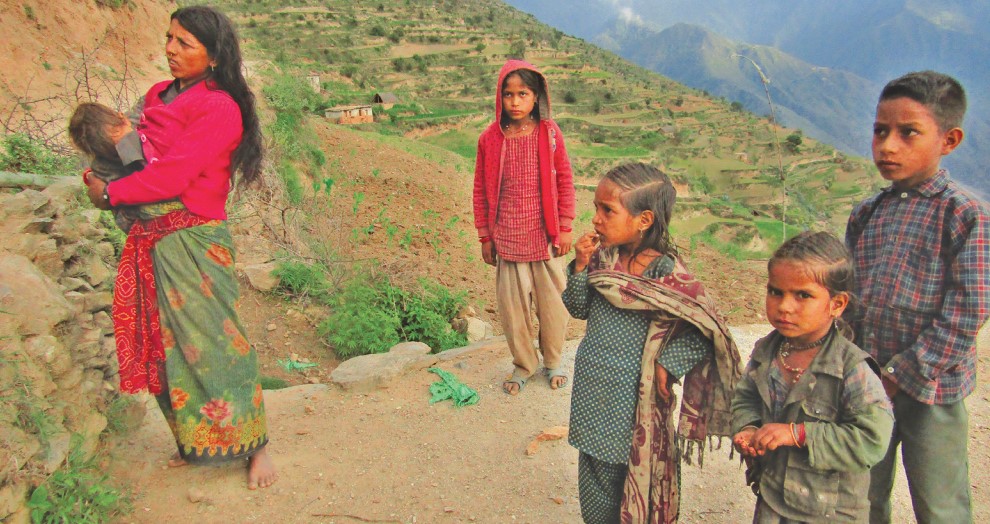 A mother in poverty holds her young child while surrounded by her brood at their village in Banjada of Kalikot in this recent photo. Tularam Pandey/TKP
Five years ago, the National Child Rights Council rescued 18 teenage children from Jubitha and Khalla in Kalikot while they were being taken to Kathmandu with the promise of free education up to grade 10. "The missionaries collected Rs50,000 to Rs100,000 from each parent, showing them various temptations, and made them send their children with them."
Sushila BK and Bhakta Bahadur BK of Chaukune Rural Municipality Ward 2 in Surkhet, have four daughters and two sons. Three years ago, some people came to their house, claiming to be followers of Buddhism, and asked them to send their two daughters with them. They promised the parents a good education for their children, free of cost.
"We were in a very difficult financial situation so we accepted their offer and sent our two daughters, one aged seven and another nine, to Butwal with them," said Bhakta. "Later, we found out that they weren't sending our daughters to school or giving them enough to eat. My daughters were sent to different places to beg. So we brought them home with us."
In the past five years, 14 children from Sipkhana, Mumra, Mehelmudi and Raku in Kalikot were rescued from a children's home in Kathmandu. In May 2016, 12 children from Tilagupha, Mahabai, Palata and Shubkalika, Kalikot, were rescued from the New Karnali Children's Home in Golfutar, Kathmandu. Similarly, on January 24 this year, 41 children were rescued from two illegal orphanages in Surkhet.
According to the chief district officer of Kalikot, Jora Singh Majhi, most of the children are taken to the children's homes in Surkhet, Kathmandu, Dhangadhi, and Dang. "In 2011, an organisation called Jyoti Ghar Nepal took 50 children from the Badi community living in Jupra, Surkhet, to Kathmandu saying the children will be provided with food, shelter and education," said Majhi. "Nearly two years later, their parents found out that their children were living difficult lives without education or enough food, so they brought them back."
The lack of data and proper documentation on fostering children in Nepal is one of the biggest hurdles to controlling illegal practices involving children, says Majhi.
"There is no proper data on how many children are being kept in poor conditions in children's homes and orphanages; who have been rescued or who are in need of help. This makes it difficult to even begin looking for children who have been sent away," he said.
According to Khadka Bahadur, chairman of Chaukune Rural Municipality, extreme poverty and a lack of awareness in remote areas lead to situations risky for children. "The parents, for a lack of options and in the hope for a better and different life from theirs for their children, fall into traps of those who want to exploit their children for gains," he said.
Shivcharan Chaudhary, Maiti Nepal Kailali coordinator, says due to poverty, their parents are unable to meet their basic needs so these children find themselves in the hands of those who want to exploit them either by enslaving them in children's homes and orphanages or trafficking them to India.
"In the fiscal year 2022-23, Maiti Nepal, a non-governmental organisation, rescued 74 children from Karnali who were going to India illegally from Gauriphanta on the Kailali border," said Chaudhary. "Among them, 33 were teenage girls. Similarly, in the last fiscal year, 157 children were rescued from entering India illegally, of whom 53 were girls."
According to the data of the Kanchanpur District Police Office, in the current fiscal year, 51 children from Karnali, who were about to enter India through the Gaddachauki border, were sent back home this year. In the current fiscal year, Maiti Nepal has rescued 627 children from Karnali from the Rupaidiha border in Banke.
SSP Madhav Prasad Shrestha, spokesperson of Karnali Province Police Office, says that the trend of missing children is also increasing. "About 1,225 children from Karnali have gone missing in the past three and a half years. Among the missing are 667 girls and 558 boys. Although 1,016 children were found by the police, the condition of the rest is unknown," said Shrestha.
Tripti Shahi from Birendranagar contributed reporting.
---
---