Government rescues hundreds of children every year but does little for their care
Children are usually put up in transit homes before they are either handed over to other shelters or their families.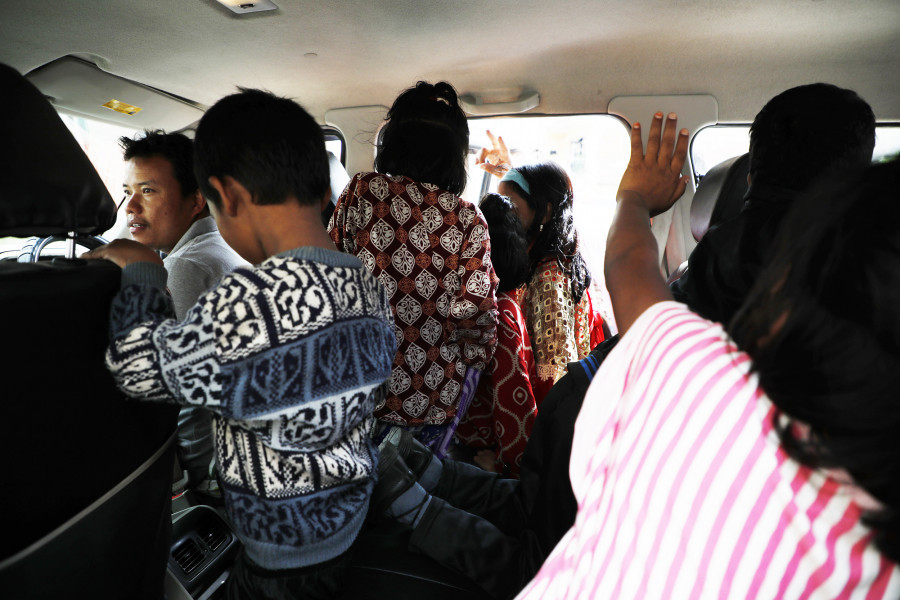 In this file photo, children are put in a vehicle after being rescued from a Children's Home in Bafal, Kathmandu. Sanjog Manandhar /TKP
bookmark
Published at : January 12, 2020
Updated at : January 12, 2020 10:15
Kathmandu
The National Children Rights Council rescued around 80 children from various childcare homes in the first six months of the current fiscal year.

Officials said the rescued children were found in an abject state of negligence. The shelters they were living in did not meet the minimum standards set by the government while some of them were not even registered with the council.
Every year, the council, in coordination with other social organisations, rescues hundreds of children living in childcare homes under squalid conditions. But once these children are rescued, the government organisation does little for their development and rehabilitation. The children are usually put up in transit homes for a brief period before they are either handed over to other shelters or their families, who, in the first place, had submitted their children to care homes as they were unable to raise them.
"After undergoing psychological counselling and a health check-up in transit homes, the children can return to their homes, provided that their parents are willing and capable to look after them. If not, then the children are sent to other shelters," Namuna Bhusal, coordinator of the council, told the Post.
Oftentimes, a child rescued from one shelter ends up living in another. The council, meanwhile, acts as an intermediary body that takes the rescued child from the transit home to a new shelter. The shelters where rescued children are referred to are mostly run by social organisations on donations. The government has only one children's shelter.
"There used to be several state-run children's shelters in the past. But right now, there is only one in Butwal and it is not enough to house all the rescued children," said Bhusal.
She added that the council refers rescued children to only those shelters that meet the set standards.
When the Post contacted a Kathmandu-based shelter that takes in children referred by the council, its official said that the facility was close to being overrun by children and it lacked funds and resources to accommodate them.
"Childcare homes like ours are forced to take in rescued children even when we do not have the financial wherewithal and space. The government should allocate a budget to look after the rescued children," the official said on condition of anonymity.
Some childcare homes say the authorities foist children on their already-full shelters and at the same time expect them to maintain the standards. They say it is an impossible arrangement since the government is not offering any support.
An official at the council, however, claimed that most childcare homes generate enough funds to look after the children. "Many childcare homes bring poor children from rural areas by promising them education and a better life, and they get funds from various individuals and organisations," said the official.
According to the council, most of the children living in childcare homes have families and, as per the government's Operation and Management of Residential Childcare Homes Procedure-2012, only those children who don't have their parents or are physically or mentally challenged can be kept in such facilities.
There are 533 children's shelters operating in 46 districts of the country as of 2019. More than 15,000 children are living in these shelters.
---
---