The trending children
The pressure to contribute good content on social media can result in mental disorders.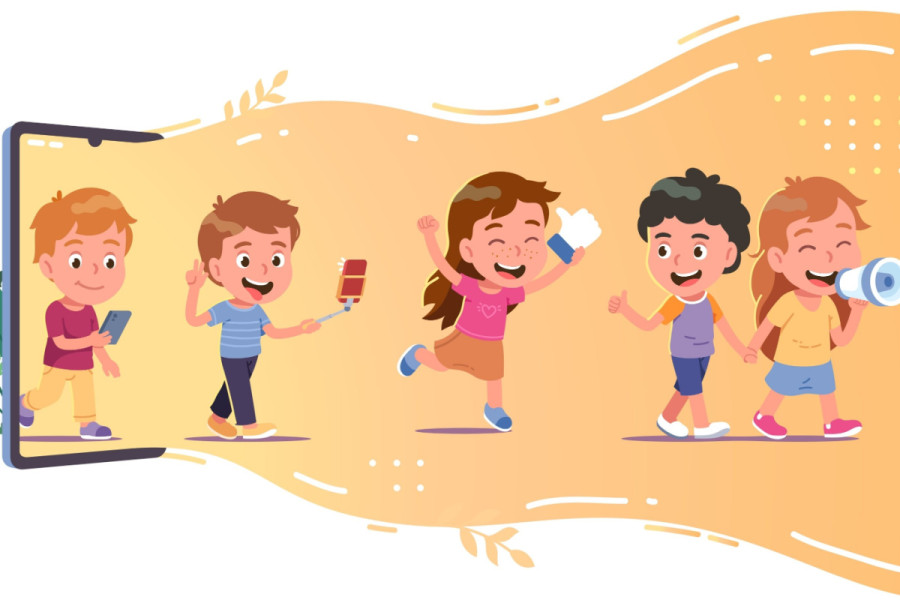 Shutterstock
bookmark
Published at : October 14, 2022
Updated at : October 16, 2022 08:15
The Covid-19 pandemic caused increased concerns, not only about health but also the usage of technology and social media. The main reasons were the need to stay updated about how to function during the crisis and keep oneself entertained while in confinement. People emerged from the disaster successfully and the world seems to function normally, but remnants of social media behaviour seem to persist. The tendency to use virtual spaces such as TikTok, Facebook and Instagram is ever-increasing, especially among children. As entertaining as they can be, there are also negative consequences, which parents often fail to notice.
Social media can be a great source for parents to feel like they belong to a community where everyone is experiencing the same emotions, struggles and concerns about the wellbeing of their children. Mum bloggers serve as role models and help others with issues concerning children's welfare. They may use a social media platform to raise awareness about pregnancy or sensitive health issues such as autism and Down syndrome. In such cases, social media can play a substantial role in the lives of parents.
Brand expansions
But then social media is not only useful for parents. Some of them also use children as brand expansions of themselves by creating their profile accounts. Some influencer mothers also create contents specifically to create brand, receive sponsorship and make money. The trend includes sharing images, everyday activity stories, and sometimes, the first ultrasound scan of babies. Some parents might find it difficult to resist the temptation to post them because of the convenience and rush of positive reactions from family and friends.
But there are some concerns that the parents may overlook which can have long-term consequences. The first concern is privacy. We often see on social media how parents exhibit photos and videos of their newborns, starting with gender reveal ceremonies and even banal activities. The parents may not understand how their children will feel when they become older and see their entire life on public and permanent display on such platforms. Furthermore, people may be unaware of who can get hold of such pictures and what they will do with them. These concerns should be entertained because they deal with the rights of children who cannot speak for themselves.
The issue of data privacy is the biggest concern for users of the trendy social media site TikTok, which has 3 billion downloads till date. It is considered to be a space to boost performance and confidence among children. In Nepal, we have seen many rising TikTok child celebrities whose parents make them do anything except let them behave like children. These TikTok stars can have global fame, but this comes with its own hazards of data security. In 2020, The New York Times reported that the United States Federal Trade Commission fined TikTok $5.7 million for violating the Children's Online Privacy Protection Act. According to the law, companies need to obtain parental consent to gather data of kids below 13 years of age. But they failed to do so and didn't notify the parents about how they collected data or permit them to ask it to be removed. In this situation, it is natural to wonder to what extent we have control over such issues and how to maintain data privacy.
The destructive impacts of social media obsession expands into more issues. It is human nature to internalise the behaviour, values and beliefs of our caretakers that shape how the children will behave, think and feel. In a similar light, the parents' social media activities are imitated by their children, at times with unintended consequences. Similarly, the children may follow in the footsteps of their parents and release more content of themselves on social media when they grow up thinking it's normal. The pressure to contribute good content can result in mental disorders, especially if they don't get enough hits and popularity.
According to The Wall Street Journal, there are reports from multiple countries of increasing numbers of teenaged girls suffering from anxiety and depression caused by TikTok responses. Additional research found that ''TikTok Use Disorder'' causes stress, depression and anxiety among teens from usage addiction, creating poorer working memory. The research suggests that parents and children are struggling to handle the complexities of social media use. Anxiety, self-doubt, loneliness and depression are already on the rise and may increase further in the future if the situation persists. These are just some issues made visible by social media studies so far. As time passes, more evidence on damage related to physical health and mental wellbeing might be witnessed.
Active online
Social media occupies a huge portion of daily lives in today's technocratic world. That might be the reason why we feel the need to remain active online, sometimes even more than offline. The same goes for parents trying to use children as brands and contents to receive validation on the existence of their children and gather economic and social capital besides emotional support. The same pattern might be repeated by the children themselves as a thoughtless process. In this situation, the greatest risk is overlooking the unintended consequences of such behaviour. In the short term, the obsession with getting likes, shares and comments may enrich self-esteem. But in the long run, it is crucial to be sensible of the risk associated with one's overall wellbeing.
To prevent such results, first of all, digital literacy, privacy knowledge and parental guidance on social media should be part of parenting classes, along with basic guidance on how to take care of young children. Likewise, parents should be aware of the extent to which children can be used as content. In doing so, how to protect data should be prioritised. This is something the government should notice. Second, the increment in mental health issues driven by social media needs recognition, especially among teens. In such cases, counselling by experts might contribute towards navigating social media consumption in a healthy manner. The overall aim should be to have control over data privacy and self-worth unaffected by social media responses.
---
---