Poor internet services in Karnali adding to people's hardships
Unreliable connection has affected government services, small businesses and students' performance. It has also kept residents outside the digital ecosystem.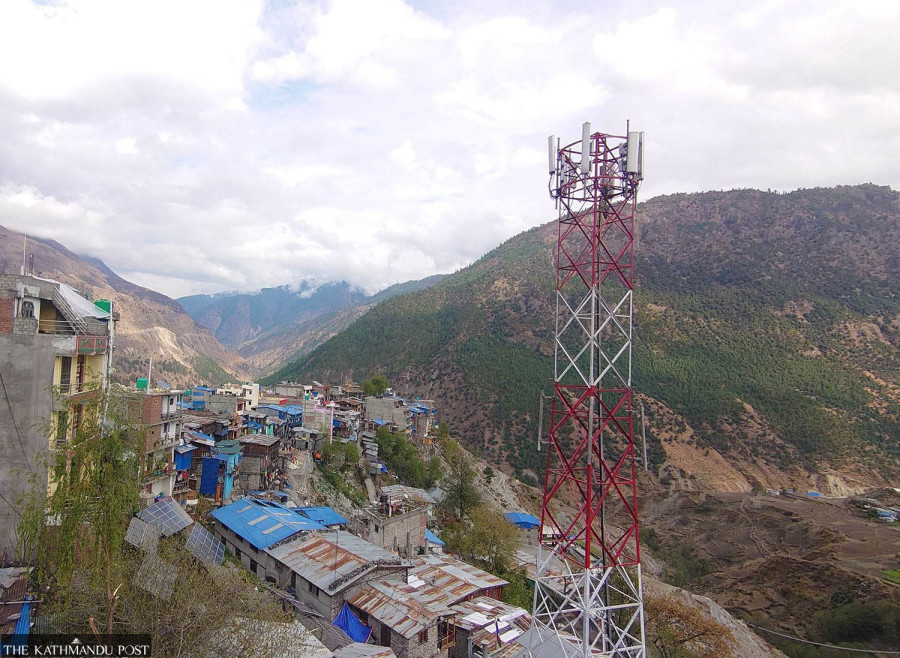 A Nepal Telecom tower at Gamgadhi, Mugu. Raj Bahadur Shahi/TKP
bookmark
Published at : April 13, 2023
Updated at : April 16, 2023 19:18
Surkhet/mugu
Indra Bhain is a teacher at the Bamdev Aadharbhoot School at Maspur of Tajakot Municipality in Humla. A native of Kaski, Bhain moved to Tajakot for her job three years ago.

Bhain is also preparing for the Public Service Commission and the Teachers Service Commission examinations simultaneously and relies heavily on the internet for research materials. "But the network in the village is so weak that I haven't made any progress on my work," she said.
This forces Bhain to frequently cover an almost one-day walking distance to Chhaprela, the administrative centre of the municipality, to use the internet and to connect with her family back home in Pokhara, Kaski.
"I have to send soft copies of documents related to the school to the Education Development and Coordination Unit in Lalitpur. But as the internet connection is unreliable in Maspur, I have to travel to Chhaprela," said Bhain. "We can't even use mobile data as there's hardly any mobile network."
Maspur village is connected to the internet via solar-powered telephone towers installed in Neta village in the neighbouring Bajura district. "But when the towers aren't fully charged, phone connection in Maspur is disrupted for up to 10-12 hours a day," said Bhain.
Even semi-urban centres like Simikot, the district headquarters of Humla, suffer from unstable electricity supply and frequent internet outages. The Hildum River Hydropower Project supplies electricity to Simikot but due to insufficient water flow in the river, Simikot also suffers power cuts for 12 to 15 hours daily.
Bijay Lama, a local businessman in Maspur, says unreliable power and internet issues have made life difficult for everyone. "Expecting the internet to work is too much of an ask here, in a place where even electricity is not guaranteed," said Lama. "There have been times when we were disconnected from all communications with the outside world, even the district headquarters."
Lack of reliable internet has also delayed government projects. Ratan Nepali, a non-gazetted first class staffer at the Hilsa-Simkot road project, said it takes him an entire day to upload reports and data onto the project portal and software.
"If we are to browse the internet, it takes at least 10 minutes for the server to load. Uploading documents onto the government-run portals takes almost an entire day," said Nepali. "We request our friends in Nepalgunj and Kathmandu to upload project documents onto the server. More often than not, the project suffers because of delays caused by the lack of connectivity."
Nepal Telecom and WorldLink provide internet services in Humla through ADSL (broadband) and Wi-Fi connections respectively.
For the residents, WorldLink's internet package is expensive, says Nepali. At Rs1,000 per month, Nepal Telcom's ADSL service is more affordable, but poor and unreliable service renders it useless. For WorldLink's Wi-Fi services, they have to shell out Rs10,000 a month, says Nepali.
Ringzin Ammu Lama, acting chief of the Nepal Telecom Office in Humla, says lack of regular electricity supply affects landline and internet services on a daily basis. According to Ringzin, there are two solar panels with 3,000 watts capacity each installed at the telecom office but when the sun goes down, the panels don't work.
"The other option is to power up the telephone towers with a generator but the fuel cost here makes that option prohibitively expensive," said Ringzin.
In Humla, petrol is sold at Rs370 and diesel at Rs250 a litre. The absence of reliable transport facilities and road connectivity adds to the price, says Ringzin.
At present, 240 ADSLs have been connected to the Simikot headquarters.
Local government offices are also affected by the poor internet connectivity. Karna Bahadur Rawal, chairman of Kharpunath Rural Municipality, says daily administrative work is hampered and delayed, inconveniencing service seekers.
"In the absence of the internet, it takes us five hours to complete a task that should not take not more than an hour," said Rawal. "Electricity, phone and internet services do not work properly."
According to the National Census 2021, only 4.78 percent of the population in Humla, Mugu and Dolpa of Karnali province has access to the internet. Likewise, there are 11,228 households in Humla and only 196 houses have landline connections.
In Humla, which has a population of 55,394 as per the census, only 397 people use the internet regularly. There are 4,467 people using smartphones, while the number of people using feature mobile phones is 9,275.
In Mugu, unreliable connectivity has affected government services, small businesses, and students' academic performance and inconvenienced Mugu locals.
Mainadal Budha, principal of Nepal Rastriya Secondary School in Sobhagaun of Chhayanath Rara Municipality, Mugu, walks for three hours to reach Gamgadhi, the district headquarters, to use the internet.
"We have to share administrative documents online and I have to travel for three hours one way to send documents," said Budha.
Sobhagaun villagers are usually cut off from the outside world and in the absence of phone and internet services, they are out of the loop of current events and developments outside the village.
"Our village does not even catch radio frequency or have internet services so we don't get to hear the news. We still rely on word-of-mouth to get messages across," he said. "I sometimes feel we have not been able to participate in the modern world because of poor connectivity."
Government services are badly disrupted due to internet issues in Mugum Karmarong Rural Municipality. Sobindra Malla, an information technology technician at the rural municipality, said that employees are facing a hard time delivering services due to the poor internet. They use WorldLink internet services at the office, he informs.
"The internet works fine when the day is clear, but when it's cloudy or raining, we get disconnected for weeks," said Malla, "We have to wait for half an hour just to download a 50 MB file."
Jaleshwar Dhami, the principal of Guru Secondary School located in Soru Rural Municipality, said that the school started computer science classes for grades 9 and 10 last year, but due to an irregular supply of electricity, the students sat for their exams without practical classes.
"We have installed solar panels at the school, but the batteries died and we have not been able to use the computers since July last year," said Dhami.
Although the mobile phone network has reached four local units of Mugu, internet service is not reliable anywhere except in Gamgadhi. People from far-flung villages, therefore, are forced to visit the district headquarters to use the internet.
Subidha Shahi of Soru Rural Municipality Ward 4 says she walks for half a day to reach Gamgadhi just to use the internet.
Shahi, who is preparing for the Public Service Commission examination, says the lack of internet services in her village has made her question her future as a public servant. "I reach out to my friends in Nepalgunj or Surkhet time and again to find out the application dates for the exams as I can't go to Gamgadhi every day," she said. "I'm afraid I might miss the deadline for uploading my application."
Of the 12,439 households in Mugu, only 213 households have installed telephone lines. In the district, which is home to 64,594 people, 5,667 people use smartphones and 10,756 people use feature phones.
In the Himalayan districts of Dolpa, Humla and Mugu, general people are still out of the digital ecosystem.
Dolpa has a population of 42,371 with 9,398 households. Of them, 643 people have regular access to the internet and 288 landlines are connected. In the district, 3,805 people carry smartphones, while 7,180 people have basic mobile phones.
The Office of the Chief Minister and Council of Ministers of Karnali Province issued a public notice to all the ward offices asking them to send a proposal for the Chief Minister Employment Programme online this year.
The deadline was until August 1, 2022. But Tripurasundari Municipality of Dolpa could not send the plan due to internet problems.
Hemanta Bohora, information technology officer of the municipality, said, "We needed high-speed internet to fill out the online form, but our internet connection is so poor that it was impossible."
Angat Rana, chairman of Kaike Rural Municipality, says the government's apathy and its urban-centric plans and policies have affected the rural folks.
"Internet services have been disrupted for over a month in the area," said Rana. "Nowadays, the government programmes function digitally and the software is built in a city-centric way," said Rana. "They haven't given a second thought to those of us in areas with shoddy internet connection."
Milan Shrestha, the director of Nepal Telecom's Regional Office in Surkhet, says that 4G service has been operating in 67 mobile towers in Karnali for the past two years.
"At present, all our towers have 4G, and we have provided ADSL internet service in the market area," said Shrestha. "But due to the remote location, we have been facing the problem of electricity and technical difficulties for a long time."
Pitambar Dhakal, a local man, says that the residents of the remote areas are still deprived of communication services mostly due to the apathy and oppression of those who are a part of the state apparatus.
"The government is not doing enough to ensure all Nepali citizens become a part of the digital ecosystem," said Dhakal.
---
---