Gamgadhi fire victims shiver under flimsy tents in winter chill
A massive fire on November 15 last year had destroyed 21 houses in the Mugu district headquarters.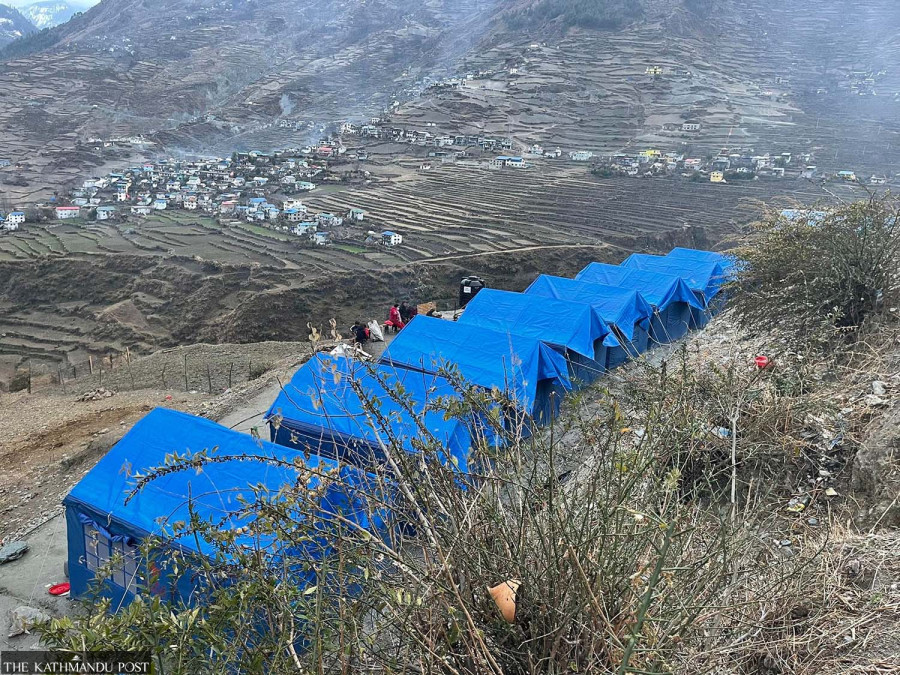 Scores of victims displaced by last November's fire in Gamgadhi are living under tents. They said the government has so far not provided them any relief. Post Photo
bookmark
Published at : January 14, 2022
Updated at : January 14, 2022 07:58
Mugu
People rendered homeless by a massive fire in Gamgadhi in November last year have been languishing under flimsy tents in the chilling winter in Mugu district.

After a heavy snowfall last week, the hills surrounding Gamgadhi, the district headquarters situated at an altitude of around 2000 metres, are covered in snow. While temperatures have dropped to around minus 4 degrees Celsius, the tent dwellers spend the night in the cold.
Twenty-one houses were destroyed in the fire in the lower market of Gamgadhi on November 15. The homeless are now taking shelter in an open field under tarpaulin. "We don't have winter clothes or anything to keep us warm," said Jhova Tamang, adding that the victims haven't received any relief from the government.
Although some organisations have provided food aid to the needy, the government has not offered any relief so far. About four days after the blaze, a team led by Karnali Chief Minister Jeevan Bahadur Sahi visited the settlement and assured the fire victims of funds to rebuild their houses.
"I have been awaiting relief from the provincial government for two months now, to no avail. We had the hope that the government would give us some relief but they haven't even dispatched rice to us," said Chhiring Tamang.
The local administration, however, says they have started the process to distribute relief materials. "The money sent by the provincial government would be deposited in the recipients' bank accounts on the basis of the damage suffered," said Chief District Officer Rom Bahadur Mahat.
According to Mahat, the homeless families would be provided between Rs100,000 and Rs500,000 while the tenants would get a minimum of Rs20,000. Shopkeepers who lost their property would be provided between Rs30,000 and Rs100,000.
The fire completely destroyed 21 houses and affected 24 people who ran eateries and shops. Similarly, the properties of 33 tenants were also burnt down.
Meanwhile, 32 families who died in a bus accident at Pinakhola in Chhayanathrara Municipality on October 13 have not received any relief from the government. Despite the government's decision to provide relief worth Rs100,000 to each family, they have not received a single penny.
---
---