Satya Mohan Joshi: When you talk about cultural diversity, you make room for inclusiveness
Celebrated centenarian talks about life, his works and the significance of cultural identity in a global world.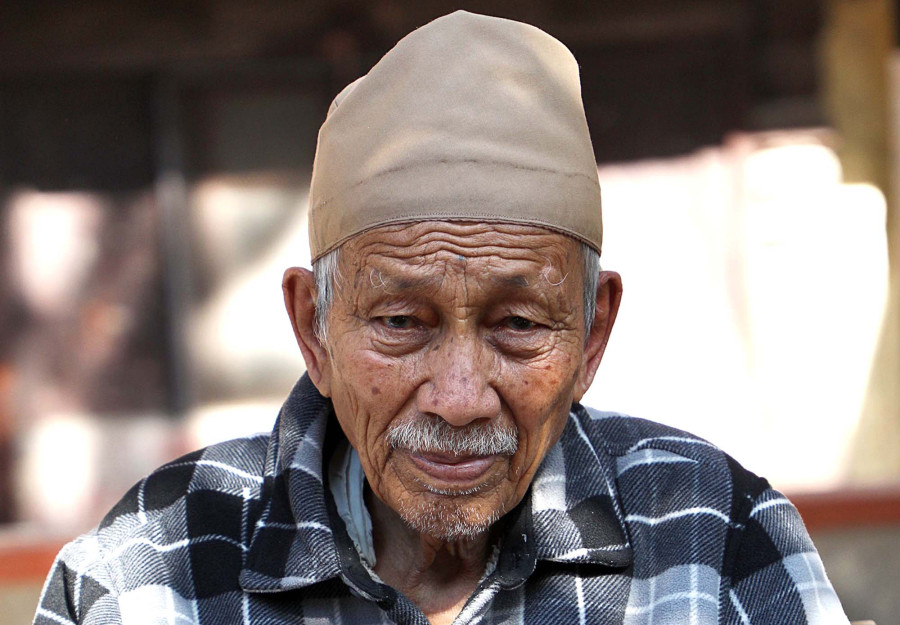 Sanjog Manandhar/TKP
bookmark
Published at : January 7, 2020
Updated at : January 7, 2020 08:04
Lalitpur
On a sunny winter morning, veteran writer and historian Satya Mohan Joshi looks at ease as he basks in the sun. In his hundredth year, Joshi looks healthy. "I took a peg of aila [grain alcohol] this morning as well; it's like a medicine for me," he says.
In his retired life, Joshi finds himself busy attending cultural events and meeting historians, writers and cultural enthusiasts. On ordinary days, he is at home, sometimes reading or preparing for a speech, and other times just sitting idly with his wife at the patio of his house.
Last year, the whole of Lalitpur celebrated his birthday with him and venerated him as a cultural institution. Joshi who has contributed immensely to the Nepali culture, history and literature has authored more than 60 books on music, history, culture, and drama. The Post's Srizu Bajracharya sat with Joshi to know about his routine and his views on the importance of culture for a community.
Excerpts:
How do you spend your day?
I am old, and because of that, it's hard to write and read. But many organisations have been inviting me for their cultural events, sometimes as a chief guest or a special guest where I am asked to speak a few words. And according to the central issue of the programme, I share my thoughts.
At home, it's challenging for me to study. The font size in the newspapers are too small for me. Plus, the contents of the papers are not really suitable for my age, sometimes they are about love. I only read articles that really get me thinking; otherwise, I just read the titles.
Do you still write and revise your works?
I rarely write these days. But sometimes people visit me with their books to write preambles for them, and that is when I sit to read and write. I am currently writing an introduction to a book about life and death for a friend's book.
But, in the past, I used to write a lot of articles. I used to write and run around looking for people to publish my work. Today, people come to me to ask for my writings. But sadly, I am unable to write and share my work with people. I am 100 years old, and with time my writing has slowed down.
I have never practised writing through dictation either, and so it's too difficult for me to get someone to listen to my story and write for me. Because that is not my process of writing. If I have to write, it has to be me. Also, when I write by myself, I can work on my style, and go back to places where I think I need to rework and fix loopholes.
What is your writing process?
I take my time to write, I usually think a lot before I start writing. I also do rigorous research. The idea has always been to publish works that can be helpful to others.
My writings have never been flavourless, at least that is what I believe. All of my work required a lot of research. The books that I won awards for were books that I really worked hard on. They weren't books that I wrote impulsively. For Arniko, and The Coinage of Nepal, I went to many places to find information. I also had to find people to talk about the history of the coins and had to look into history itself.
Research is difficult, and a book needs its time to evolve. You have to collect your information correctly and then analyse them. Every writer has their own methodology, and you can't just copy what other writers have written. But I have never found writing difficult in itself, as we don't really need any kind of apparatus for it.
Even for my plays and the characters I used to conjure, I used to research a lot so to be able to exude the reality of life on stage. You have to understand that it's not always about writing perfectly; you also need to be able to share important information when you write. It needs to be meaningful to have depth; otherwise, people are going to ask questions. Also, for any drama to have originality and identity, it needs to be well researched.
You have explored various genres of writings, but what works do you want people to remember you for?
I think I would want people to read Mrityu Ek Prasna and Maharshi Yagyabalkya. These works are close to my heart.
Mrityu Ek Prasna tries to answer the question of what death is. Every living being is born to die; every life is carrying the possibility of death. There needs to be a destination for every experience, and while writing it, I was thinking if death was that destination. And I came to understand that life is about trying to understand who you are. It is a journey about understanding your purpose in life.
Maharshi Yagyabalkya is about a Hindu vedic sage's philosophies and the journey he undertakes to understand the universe. One of his fundamental principles was that the whole world functions through self-interest. In the story, when the sage says he wants to abandon the worldly life, his first wife tells him she wants to accompany him on the journey. But Yagyabalkya refuses to take her and tells her that she has been taking care of him for her own selfishness, "You have loved me for the sake of seeking love."
I think both these books delve very deeply on human life, and that is why I still hold on to them. They remain as true, even today.
What do your works mean to you? And why do you think many haven't explored the topics that you have pursued ?
My writing is really important for me. I had a lot of aspirations in my early days as a writer. I once remember sweating myself to win the title of Gorkha Dakshin Bahu, but now I don't have anything on my bucket list. I am really content with what I have achieved.
But of my written works, I think my work Mrityu Ek Prasna now applies to me as well, because I am waiting for my death. It is what remains the most true at this point of time for me. I am on a queue for death; sooner or later, I will die. It is something I came into the world with.
I remember going with a team to Sinja Valley, in the Karnali region, to holistically study the Karnali region and its culture. The books later received the Madan Puraskar, and I consider them as one of my biggest contributions towards our society, but I don't think anyone at present has considered researching the various diverse cultures of Nepal seriously.
Although there's a lot we still need to research and write about, the universities we have have not yet prioritised research in culture. And that might be one of the reasons why such works are still missing. During my time in Nepal Academy, I had tried to nurture such a culture, but I think, there has been no continuity in conducting detailed research works.
Last year, the whole of Patan celebrated your birthday. How did that feel?
I think I am fortunate that people want to celebrate my life, it wasn't something that I asked for, but I am grateful for it. But I see this in a different light. They were not celebrating Satya Mohan Joshi, but the work that he did for Nepali culture and language. They did it to regard the works of Nepali literature. And I believe there will be more work to celebrate in the future.
You have always talked about the importance of culture. But why is it important to talk about cultural diversity, even today, and that too more by the younger generation?
When you talk about cultural diversity, you are making room for inclusiveness. You have to understand that our ethnic diversity is what makes us more charming. And if we learn to address our diversity, we will be able to work cohesively. And this is what will make us identify as Nepalis.
I also think it's important to know your culture so that you can make it a stepping stone to build on your knowledge and evolve that understanding. You can do whatever you want as an individual, use your ingenious creativity, but one shouldn't forget their culture.
You also have to understand that creativity is the genesis of humankind. In the old days, people were not educated, but if you go and look at the monuments in Patan, you cannot deny the creativity and the skills that people had during the time. Their skills and knowledge were the foundation of our culture. And if you are to destroy the culture that existed in the country, consider how today people don't even know how to make a needle.
What is the significance of learning your mother tongue and the view that education should be given in one's native language?
According to the statistical census of 2011, 34 out of 100 Newars had forgotten how to speak in their mother tongue: Nepal Bhasa. This number is likely to increase in the upcoming census.
But one of the reasons for this is that in the process of prioritising the Nepali and the English language for education, we have failed to contribute works of literature in various languages. Today, there aren't any schools that teach in indigenous languages.
The right to education through one's mother tongue is enshrined in the constitution of Nepal. Language shouldn't be a barrier to education but the government has done nothing to facilitate the process to exercise this fundamental right. It hasn't initiated operations such as opening schools or publishing books in various ethnic languages either. And so, every indigenous language is suffering, and naturally, Nepali has become the primary language. But that isn't exactly a problem.
The problem is that by promoting one language, we are making it easier for the next generation to lose their identity and diversity. And that is why movements around language are still happening. Also, it is easier to learn and understand in our native language than in any other languages.
But over time, if people don't speak in their mother tongue, even when works of literature in their language are being produced, the language will be as good as dead, just like Sanskrit or Pali. You can find rich literature in Sanskrit and Pali, but who is going to read it?
Why are our cultural identities important in a global world?
Times are changing, even our lifestyle. We wear a suit and then a dhaka topi. We eat differently, and we are exploring things like never before. There is no way of knowing what our identity is when we live in a mixed milieu. So, you have to ask yourself: where lies our identity?
But if we can speak in our mother tongue, we can distinctly identify ourselves and our culture. We are tied to our roots through our first language, and if we don't have a language at all, there's no difference between animals and us. Language makes us civilised and cultured, and it is through language that our art and architecture have evolved. It is what makes us unique.
---
---