Clarion call for caution as new Omicron sub-variant is detected in Nepal
Doctors warn infections could rise precipitously in the coming days as temperatures dip.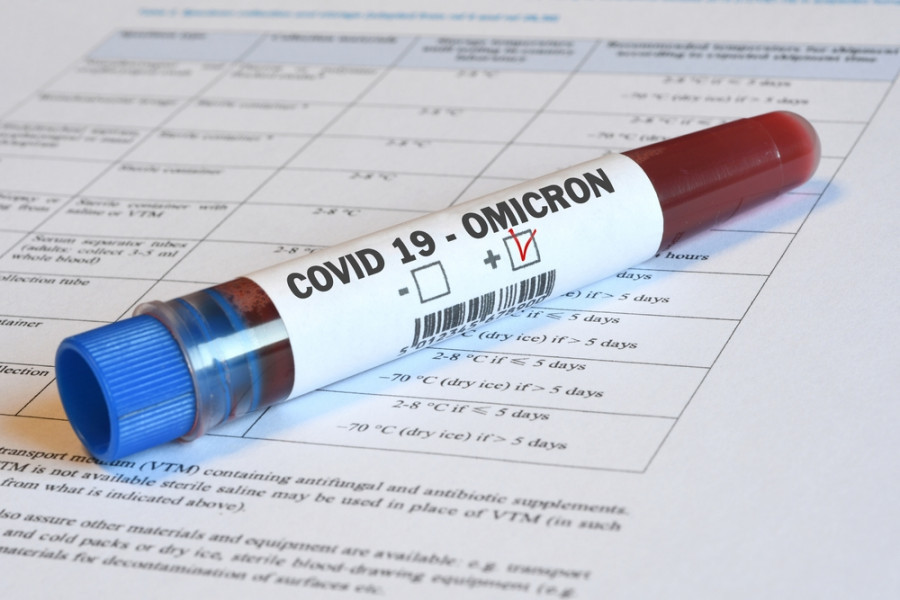 REUTERS
bookmark
Published at : October 29, 2022
Updated at : October 29, 2022 07:46
Kathmandu
With the new sub-variant of Omicron, XBB, confirmed in Nepal on Sunday, public health experts have warned of a rapid spike in new Covid cases in the coming days.
As no public health measures against Covid are in place, the virus could quickly spread to communities before the authorities figure out ways to tame it, according to doctors.
"The Omicron variant, which caused the third wave in Nepal, had already become rampant before we figured out its presence," said Dr Sher Bahadur Pun, chief of the Clinical Research Unit at Sukraraj Tropical and Infectious Disease Hospital. "What is concerning is that the flu season has started in Nepal and we have confirmed the new Omicron sub-variant."
The XBB, a recombinant lineage between two Omicron sublineages BJ.1 and BA.2.75, is considered a fast-spreading variant. The subvariant recently caused a spike in coronavirus cases in Singapore and has also been reported in India.
According to the Ministry of Health and Population, whole-genome sequencing carried out on swab samples of coronavirus-infected persons collected between August 6 to September 30 confirmed the new sub-variant.
Nepal has reported almost all variants and sub-variant of Covid-19 seen across the globe.
Elderly people, those with compromised immunity and unvaccinated population are at high risk of getting severe infection.
"As the coronavirus causes infections throughout the year, those with weak immunity, elderly people, and the unvaccinated are always at high risk," said Dr Janak Koirala, an infectious disease expert. "The flu season has also started, so the authorities concerned and the public must take precautions."
Doctors say some symptoms of the flu and the coronavirus overlap and this can cause a misdiagnosis. In both infections (Covid and influenza), patients have fever, cough, shortness of breath, fatigue, sore throat, runny or stuffy nose, headache, vomiting and diarrhoea, and change in or loss of taste or smell.
"Both viruses cause respiratory disease and if not treated on time, both could lead to severe complications, even death," said Koirala.
Nepal has been witnessing a flare up in coronavirus cases every six months. The third wave of the pandemic caused by the Omicron variant hit the country in January. It has already been six months since most people took booster shots.
Data provided by the Health Ministry show that less than 28 percent of the total population has taken booster shots so far.
Several studies, including one carried out in Nepal, show that the immunity level achieved from vaccination or natural infection wanes after six months.
Doctors say the number of new cases will go up significantly due to apathy of the authorities towards preventive measures.
Nor has the government activated surveillance measures. Free testing and contact tracing have become things of the past. People too forget that it is necessary to wear face masks, wash hands and maintain physical distance.
"Time has come to enforce safety measures immediately and focus on vaccination," said Koirala.
So far, 12,019 Covid deaths have been reported in Nepal, according to the official count.
The Health Ministry said that 22,324,933 people or 76.5 percent of the total population have been fully vaccinated. The number who have taken booster shots as of now stands at 7,972,791.
---