Nepal looks to donors to widen maternal, perinatal deaths surveillance
At least 99 maternal deaths recorded in current fiscal year, but officials say many deaths in 45 districts are unknown.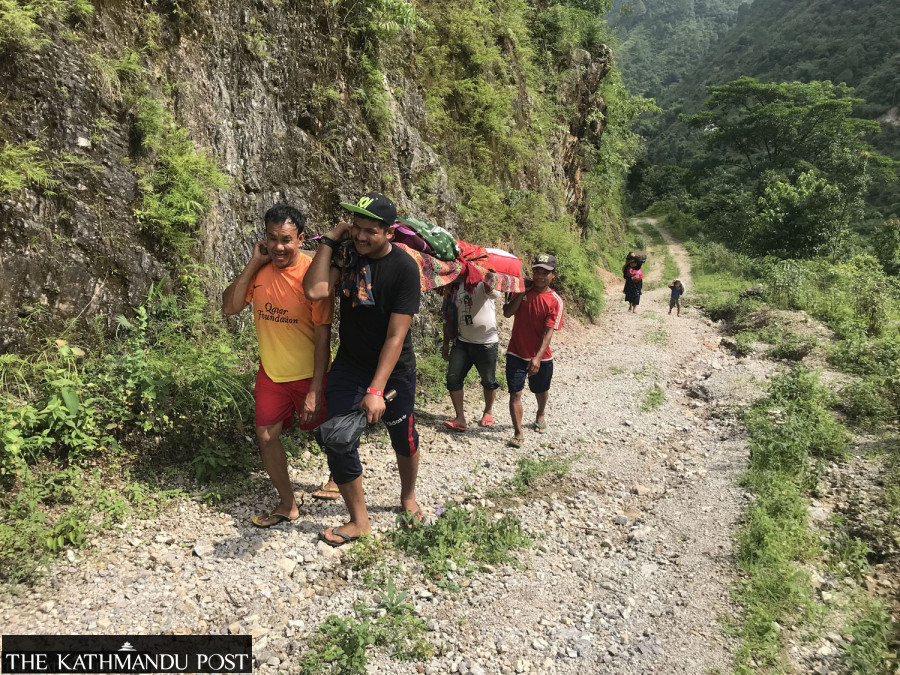 Lack of access to hospitals has forced many women to deliver in risky conditions. Post File Photo
bookmark
Published at : March 30, 2022
Updated at : March 30, 2022 07:41
Kathmandu
Doctors at the district hospital in Taplejung had told an expecting mother that her due date was March-end last year. But the woman from Maiwakhola Rural Municipality of the district gave birth to twins in January at home, two months earlier.

"Soon after delivering twins, the mother fainted. And she died," Sunita Limbu, a senior auxiliary nurse midwife serving at Dhunge SanghuHealth Post, told the Post over the phone from Taplejung. "Hours later, both the babies also died."
The causes of deaths of the mother and the twins might be ascertained as health workers at the rural municipality have carried out a verbal autopsy with the help of the family members.
Verbal Autopsy, or usually called VA, is a method of determining individuals' causes of death and cause-specific mortality fractions in populations without a complete vital registration system.
Even as Nepal strives to reduce the deaths of mothers and babies, it lacks maternal and perinatal death surveillance, a key intervention for improving maternal, perinatal, and neonatal survival. Such surveillance provides an understanding of the number and causes of deaths.
According to the World Health Organisation, systematic analyses of overall mortality trends, as well as events and contributing factors leading to individual deaths can identify health systems barriers and inspire local solutions to prevent such deaths in the future.
Perinatal death is the death of a baby between 22 weeks of gestation (or weighing 500g) and seven days after birth.
Officials at the Ministry of Health and Population say the plan to expand maternal and perinatal death surveillance throughout the country could not succeed because of funds crunch.
"This year, we could not expand the maternal and perinatal death surveillance," said Nisha Joshi, a senior public health administrator at the Family Welfare Division under the Department of Health Services. "We are working to expand the programme from next year."
The Health Ministry has been carrying out maternal and perinatal death surveillance in only 32 out of 77 districts throughout the country.
Taplejung Health Office said that two women died during childbirth in the last fiscal year in the district and verbal autopsies had been carried out to determine the causes of deaths.
"We carried out surveillance, prepared a report on the possible causes of deaths and sent a report to the Ministry of Health and Population," said Raj Kumar Pokhrel, chief of Taplejung Health Office.
Health workers deployed for death surveillance in the district last year reported that the victims did not have access to health care as the nearest health facilities were over two hours' walk from the villages.
In the fiscal year 2020-21, a total of 175 women died due to birth-related complications. The Health Ministry said that 99 women have died in the current fiscal year (2021-22). The actual death numbers could be higher, as 45 districts do not have maternal and perinatal death surveillance, and they do not record all maternal and perinatal deaths on time.
Excessive bleeding after childbirth and pre-eclampsia and eclampsia (pregnancy-related high blood pressure disorders) have been identified as some of the major causes of maternal deaths in Nepal. Likewise, prematurity (neonates born at less than 37 weeks' gestation), birth asphyxia (a condition in which a baby does not receive enough oxygen before, during, or directly after birth), and sepsis (organ dysfunction caused by a dysregulated host response to infection) are considered major reasons for neonatal deaths.
Maternal and child health experts say unless the causes of deaths of mothers and babies are determined, it's impossible to reduce the maternal and neonatal mortality rates. Maternal and perinatal death surveillance and response hence is extremely important, according to them.
"How can we prevent avoidable deaths of mothers and babies without knowing the causes of previous similar deaths," said Dr Kiran Regmi, a maternal health expert who is also former health secretary. "Many maternal and neonatal deaths can be avoided by early interventions, but the causes of deaths should be known."
Maternal and perinatal death surveillance and response (MPDSR), according to the WHO, is an essential quality improvement intervention which permits the identification, notification, quantification and determination of causes and avoidability of maternal and neonatal deaths and stillbirth with the goal of orienting the measures necessary for their prevention.
"The primary goal of MPDSR is reducing future preventable maternal mortality through a continuous action and surveillance cycle followed by the interpretation of the aggregated information on the findings which is used for recommended actions that will prevent future deaths," says the WHO.
Nepal made remarkable progress in reducing maternal mortality rate between 1996 and 2016 by bringing it down from 539 per 100,000 births to 239 per 100,000 births. The country even received the Millennium Development Goals award for the achievement. The progress thereafter is not visible.
Nepal has to reduce maternal mortality rate by 116 per 100,000 births within this year to meet one of the Sustainable Development Goals. The country has already missed its own 2020 target to reduce maternal mortality rate to 125 per 100,000 births.
The health target under the UN's Sustainable Development Goals is to reduce the maternal mortality rate to 75 for every 100,000 births by 2030.
Joshi, the public health administrator at the Family Welfare Division, said that most of the maternal deaths occurred due to indirect causes, meaning these deaths were not associated with excessive bleeding after childbirth or pre-eclampsia and eclampsia.
"The indirect causes include infections including Covid-19 infections," said Joshi.
Dr Bishnu Chaulagain, a maternal and child health expert, says to prevent deaths in the future, it is necessary to understand the current trend and the causes.
"For the preparedness and enforcement measures to prevent possible deaths, planning is necessary, and for better planning, the causes of the problems must be identified," said Chaulagain, who is also an associate professor at the Institute of Medicine.
Health Ministry officials say they have requested aid agencies for assistance to carry out maternal and perinatal death surveillance in the districts, where the government programme has not been launched due to funds crunch.
Experts, however, say it is quite a shame that successive governments have failed to expand and strengthen the surveillance and response, which can greatly help in reducing the number of deaths of mothers and newborns.
"There should not be any ifs and buts if we are serious about improving the health indicators and reducing avoidable deaths," said Dr Damaru Prasad Paneru, a maternal and child health expert who is also an associate professor of public health at Pokhara University. "Establishing the causes of a problem is the first step towards tackling the problem. It's a fact that a robust surveillance system can save lives. There must be strong surveillance mechanisms—in every district."
---
---