Samples to be sent to UK to widen whole-genome sequencing testing
Authorities seek to know the virus variant in circulation to be able to prepare effective pandemic strategies.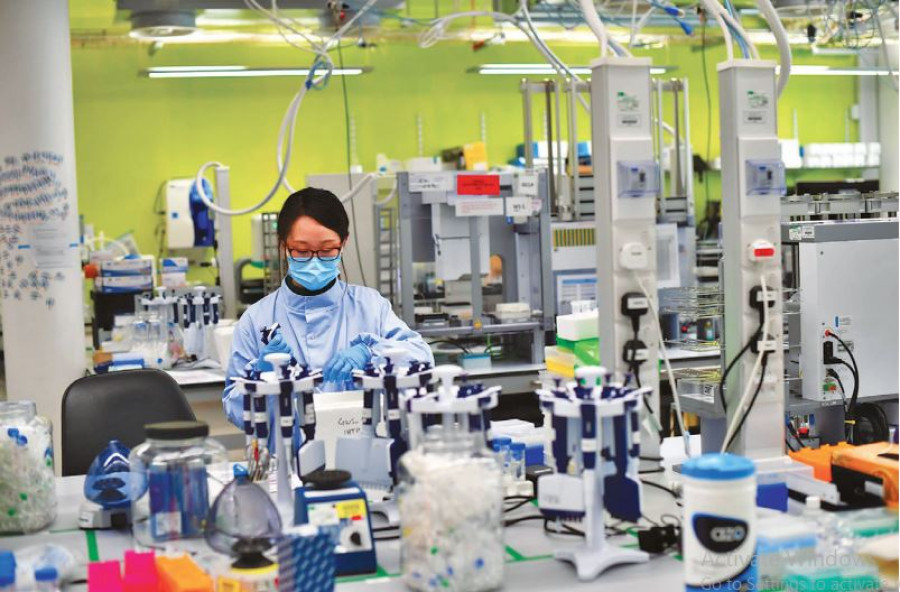 A scientist works at a laboratory where novel coronavirus genomes are sequenced at Covid-19 Genomics UK, on the Wellcome Sanger Institute's campus south of Cambridge, England. Reuters
bookmark
Published at : November 23, 2021
Updated at : November 23, 2021 07:36
Kathmandu
Nepal is working to send swab samples of Covid-19-infected people every month to the United Kingdom for conducting whole-genome sequencing tests. The National Public Health Laboratory said the move is aimed at keeping tabs on if new variants have been circulating in the country.
"Since we do not have the capacity to carry out whole-genome sequencing on a large scale, we are planning to send swab samples to the United Kingdom," said Dr Runa Jha, director at the laboratory. "Our plan is to send at least 150 swab samples every month."
The Ministry of Health and Population has signed an agreement with the Public Health England for conducting whole-genome sequencing of SARS-CoV-2, which causes Covid-19.
According to Jha, as per the agreement, Nepal will send 150 swab samples every month for a year. The Public Health England has agreed to perform the tests free of cost.
Whole-genome sequencing is a comprehensive method of analysing the entire DNA sequence of an organism's genes. Researchers believe that whole-genome sequencing of the coronavirus could be instrumental in tracking the severity and properties of the virus.
It's not that whole-genome sequencing is not performed in Nepal. The national lab itself has the capacity to carry out the tests. Besides the national lab, a private laboratory, Kathmandu University and Tribhuvan University also have the technology to perform whole-genome sequencing tests.
"But we cannot perform hundreds of tests in a month," said Jha. "We have been planning to test around 48 samples in our laboratory and send around four dozen samples to India every month for tests."
The Epidemiology and Disease Control Division said that the Delta variant of SARS-CoV-2 is responsible for the current spread of the infection.
The variant has been dominant since the start of the second wave of the coronavirus infection in April-May and has killed over 8,000 people in Nepal.
"The Delta variant is responsible for the infection spread over the last several months," said Dr Krishna Prasad Paudel, spokesperson for the Health Ministry. "We have been monitoring the virus variant regularly within the country and by sending the swab samples of infected persons to India and other countries."
Study shows several mutations even in the fast spreading Delta variants–Ay.4.2 variant (Delta Plus), AY.63 and others.
A new Covid-19 variant–B.1.X or B.640—has been identified in France recently, which is said to have an unprecedented mutation.
The first case of the coronavirus in Nepal was detected by the World Health Organisation's collaborating centre in Hong Kong in January last year in a 31-year-old man, who had returned from Wuhan, China.
Health authorities had also sent swab samples for whole-genome sequencing to the World Health Organisation's collaborating centre, CSIR-institute of genomics and Integrative Biology in India, which confirmed the presence of Alpha, Delta and Delta Plus variants in Nepal.
Public health experts say as the Covid-19 virus keeps mutating, regular whole-genome sequencing testing is a must to know the transmission rate and the risk.
"Generally, whole-genome sequencing tests should be conducted on five percent of the total positive cases," said Dr Prabhat Adhikari, an infectious disease and critical care expert. "If we do not have the capacity to perform tests in such a huge number, we should carry out as many tests as possible. And instead of sending swab samples abroad, we should try to perform tests within the country."
Experts say the risk of Covid-19 is not over yet.
Even though cases have been down in Nepal lately and the vaccination campaign has been scaled up, there are concerns about breakthrough infections as well as a surge in infections due to new variants.
According to doctors treating Covid-19 patients, of the total hospitalisations in Nepal, 20 percent are fully vaccinated people.
Studies suggest vaccines too are not 100 percent effective in preventing infections. In such a context, experts say authorities must continue efforts to check the virus spread.
Scientists say the coronavirus will sooner or later become endemic, meaning that it will continue to circulate in pockets of the global population for years to come.
"Eradicating this virus right now from the world is a lot like trying to plan the construction of a stepping-stone pathway to the moon. It's unrealistic," the Nature journal quoted Michael Osterholm, an epidemiologist at the University of Minnesota in Minneapolis, as saying in an article published earlier this year.
In Nepal, 11,500 people have died of coronavirus infections since the pandemic began.
In the last 24 hours, 385 people tested positive for the coronavirus (367 in 9,921 polymerase chain reaction tests and 18 in 2,776 antigen tests). Four deaths were recorded on Monday.
Over the last few weeks, the positivity rate has hovered below 5 percent. The World Health Organisation recommends that the percent positive must remain under 5 for at least two weeks before authorities can consider lifting virus restrictions.
The number of active cases throughout the country currently stands at 7,269.
So far, 7,952,386 people (26.2 percent of the total population) have been fully vaccinated in the country. Nepal has received 23,163,930 doses of Covid-19 vaccines—Vero Cell, AstraZeneca, Janssen and Pfizer-BioNTech.
Experts say since the virus can quickly travel across the world, chances remain high that it can enter Nepal too due to the increased mobility of people globally.
"Authorities should at least carry out whole-genome sequencing of those people who become infected after being immunised," said Adhikari. "Swab samples of the pocket areas, if there is any sudden spike in new cases, should also be sent for whole-genome sequencing."
---
---