Upgradation work of Beni-Jomsom-Korala road at snail's pace
Road project accuse concerned authorities of not extending help to complete upgradation works.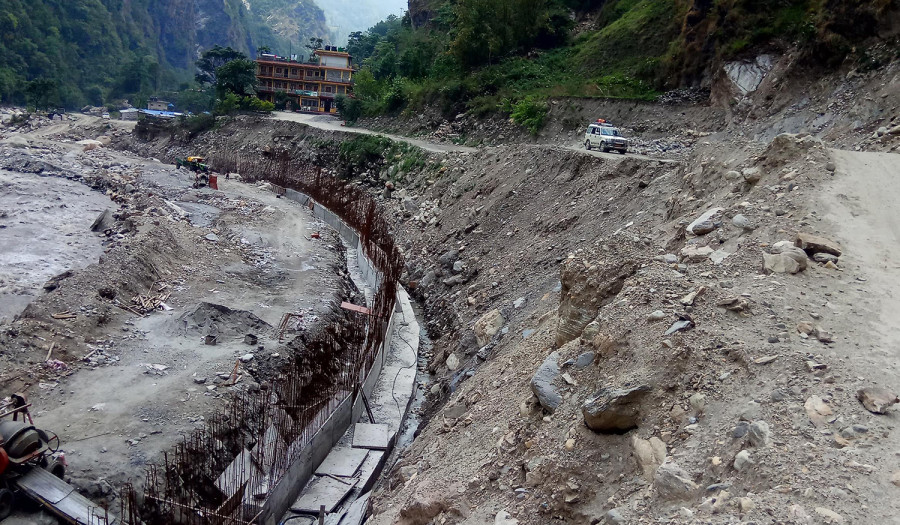 The construction of the Beni-Jomsom-Korala road section has been going on for the last two years. Ghanashyam Khadka/TKP
bookmark
Published at : August 7, 2019
Updated at : August 7, 2019 07:31
Myagdi
Upgradation work of the Beni-Jomsom-Korala road in Gandaki Province has been moving at a snail's pace.
Raghubir Mahaseth, minister for Physical Infrastructure and Transport, after inspecting the road issued a notice to subordinates saying, "The road construction work of the Beni-Jomsom road has not been carried out as expected. The progress report presented earlier was false."
Gandaki Province Chief Minister Prithvi Subba Gurung has complained that the prime minister and the minister for physical infrastructure and transport has failed to pay attention to the road upgradation works.
Refuting claims of sluggishness at the worksite, Mukunda Adhikari, chief of the road project, said the construction of the road will be completed in the given deadline of mid-December.
"There are some complex technical issues that's hindering the construction work. We are working towards solving these issues," said Adhikari.
Accusing the Nepal Electricity Authority of not extending help in the completion of the road project, Adhikari said, "The ongoing construction of the Rahughat Hydropower Project has hampered the road project. We cannot solve this problem alone. The Cabinet should decide the next course of action to solve the problem."
There are more than 200 utility poles installed in the middle of the 184km Beni-Jomsom-Korala road section, according to Adhikari.
"It is difficult to finish the expansion of the road without removing those poles," Adhikari said.
Jagat Prajapati, an engineer of the road project, said that to upgrade the road sections at Timure, Bhirkot, and Badarjung Bhir areas, they will have to use blasting method, which will block the Kaligandaki river with boulders and debris. This might increase the risk of floods in the river stream.
"We have been discussing the feasibility of using blasting method to clear the section for upgradation. We might also opt to dig a tunnel," Prajapati said. According to him, upgradation work will start after the end of monsoon.
According to the project, the estimated cost of the upgradation project is Rs 5 billion.
---
---