Family confines 14-year-old disabled boy at home
The family cannot afford to take Madan to Kathmandu for treatment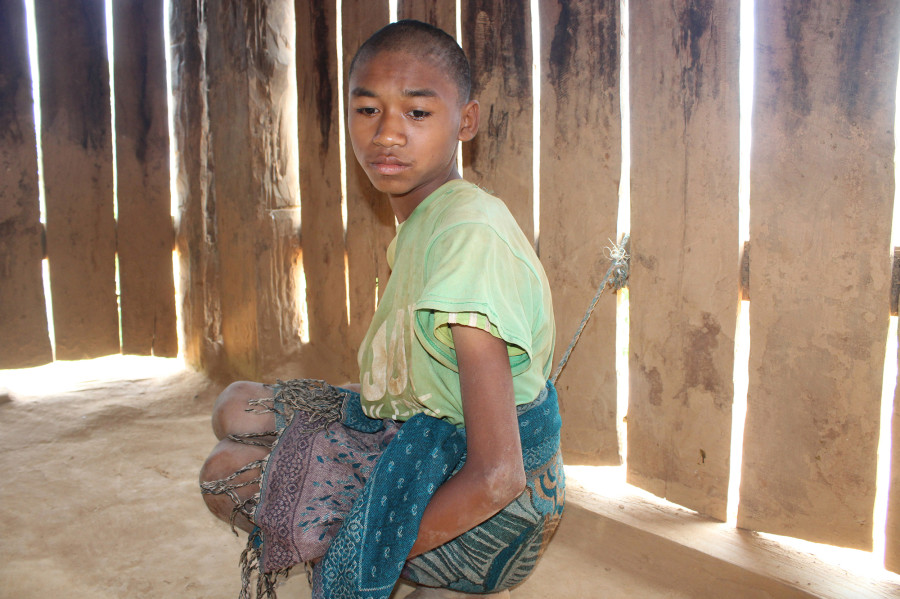 Madan Bhujel has been tethered in a room for the last 12 years. Post Photo: Nabin Paudel
bookmark
Published at : June 18, 2019
Updated at : June 18, 2019 17:09
Nabalpur
Madan Bhujel, a 14-year-old boy from Dhodeni, Nawalparasi, was one and a half years old when he had bouts of fever; the fever derailed his life, giving way to mental illness. The next decade of his life took away both his mental and physical agencies.
His mother, Bishnu Maya, for lack of an alternative confined Madan to their home. But as Madan reached adolescence, it became increasingly difficult for his family to take care of him.
"When he first fell ill, we thought it was just a fever and didn't take him to a hospital. But the fever grew worse and in a couple of weeks, he stopped talking," said Bishnu Maya. "We didn't have the resources to seek treatment for our son; we still don't."
Madan looks pale and distraught; he has been tethered in a room by his mother.
"It breaks my heart to see him this way, he should be going to school now. But as soon as he's off the tethers he starts acting out. He becomes violent, throws things, and tries to run away," Bishnu Maya said.
The family struggles to make ends meet, according to Bishnu Maya, and seeking treatment for Madan is something they cannot afford.
"He has been living in confinement for the past 12 years now. We don't know what else to do," she added.
According to Bishnu Maya, around seven years ago they took Madan to Bharatpur Hospital for treatment.
"We stayed there for a few days, but the doctors involved in the treatment told us that his treatment was not possible at the hospital. They suggested we take him to Kathmandu to a bigger hospital but we didn't have the resources to do so," said Bishnu Maya.
The Bhujel family ekes out a living by selling bamboo baskets and ropes, and selling their wares in the local market.
"The family struggles to manage two square meals a day. They are poor and helpless," said a neighbour.
The Bhujel family sold their properties in Bhirthapla of Tanahun some 10 years ago and migrated to Dhodeni. They possess a few ropanis of land and a small house but they don't have a land ownership certificate.
"We still have a faint hope for his treatment. We frequently think about it but we cannot arrange the necessary budget required to take him to the Capital and seek treatment," said Manoj's father, Suka Bahadur.
---
---