SAFF exhibits prospects of women's football
The first ever women's international tournament at the home of Nepali football was able to attract housefull spectators in the Nepal vs Bangladesh clash.

Nepali squad celebrate with fans after winning their semi-final match against India on Friday. Keshav Thapa/TKP
bookmark
Published at : September 21, 2022
Updated at : September 21, 2022 08:06
Kathmandu
So close yet so far for the elusive SAFF Women's Championship trophy, the home team bowed out with a heartbreaking 3-1 defeat to Bangladesh at the title clash on Monday.

The tournament held for the first time in Kathmandu not only broke the ironfisted dominance of India, the winners of all previous five editions of the biennial tournament, but also gave some clear message about the prospect of women's football in the country.
Women's football gets tested in Kathmandu
The SAFF Championship was the first ever women's official international tournament that took place in Kathmandu, though Nepal team embarked on their international journey in 1989. "The enthusiasm shown by spectators and the jam-packed stadium in the final was proof that women's football was also capable of taking professional stride should it be governed and managed properly," Sanjib Mishra, ANFA's league director, said.
More than 15,000 spectators witnessed the final from Dasharath Stadium parapet.
India-less SAFF final
India, the most successful team of the South Asian region having won the trophy in all previous five editions, faced defeat for the first time in the tournament. Not just one time, but twice. Bangladesh inflicted them a 3-0 defeat in the group rounds and Nepal sent them packing 1-0 in the semi-final. The final was India-less for the first time since the tournament's inception in 12 years.
Bangladesh and Nepal's run to the final
Bangladesh and Nepal both maintained clean sheets until the final which saw both sides concede goals. Bangladesh played like champions from the beginning and scored a total of 23 goals in five matches, including 12 in group stage and 11 in semi-final and final with an average of 4.6 goals per game. Nepal scored 12 goals in four matches—10 in two group stages and two in the knockout round with an average of three goals each match. The tournament saw a total of 59 goals in 12 games with an average of 4.9 goals.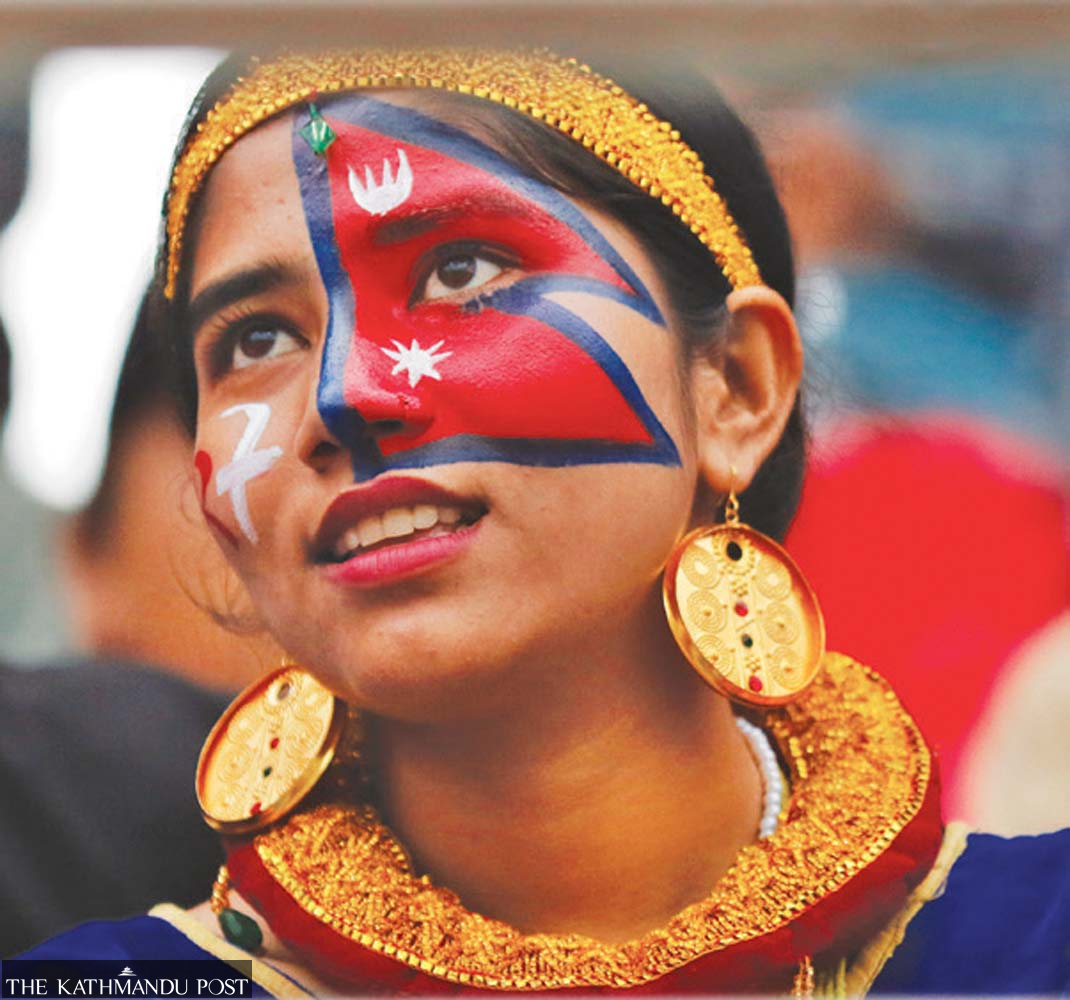 A girl attends SAFF women's football match in traditional Nepali attire on Monday. Post Photo
Bangladesh not an overnight success
Bangladesh's rise to the title haul was not possible overnight. It was the result of a long-term plan and calculated effort by the Bangladesh Football Federation and the transformation process started in 2016, according to coach Golam Robbani Choton.
"We started the women's youth development project in October 2016. They have been playing together for the last five-six years," Choton said. "They played lots of international tournaments and were champions in international U-15, U-18, U-19. We focused on age group development starting from under 15 age and they are now around 20. They have transformed now from the 15 years age group to senior team."
Speaking after defeating India, Choton, who has been in charge of the team for more than a decade, added, "I would like to salute the girls for their effort and hard work. Now they are gradually improving after every match. It is the result of the effort of our girls and the planned work of the Bangladesh Football Federation."
Pakistan women's comeback at international football
The Pakistan women's team played their first international match after an eight-year absence from international football due to two separate bans imposed by international football governing body FIFA. Their last appearance in international football dates back to 2014 SAFF Championship.
They faced India in the first match and lost 3-0 before facing a 6-0 drubbing by Pakistan to crash out with a match in hand. However, they signed off with a 7-0 win over Maldives in the dead rubber and proved they had potential for the future. "We have our plans for the future and the team will continue to play and we want to play more opposition," Pakistan coach Adeell Mirza Rizki said.
Challenging days ahead for Nepal
Historically, the women's competition in the SAFF meant India as the champions and Nepal runners up. Except the fourth edition in 2016—when Nepal made the semi-final exit losing to India—Indian women were the winners of all five SAFF events and Nepal runners up in four.
But the sixth edition broke the SAFF balance with Bangladesh crowned new champions and hosts remained steady where they were. "Now it will be a big challenge for Nepal to make it to the final in future because Bangladesh are a young team and have risen steadily," Nepal's coach Kumar Thapa said after the game.
"Irrespective of semi-final defeat, India are always a team to beat in the South Asian region," Thapa added. "Only two teams can progress to the final. I hope ANFA will put on proper plans and a roadmap to cope up with the challenge."
Promises showed by debutant Nepali players
Three players from the hosts country—Samikshya Ghimire, Deepa Shahi and Amisha Karki—marked their debut in the national squad. All of them were impressive in their positions with forward Karki scoring twice against Sri Lanka. Deepa Shahi was one of the key players for Nepal throughout the tournament and was instrumental in Nepal's semi-final win over India. Defender Ghimire also justified her selection in the tournament. All of them came from the U-19 level.
---
---