Coffee, Tea & Me: One of Patan's best kept secrets
The hole-in-the-wall restaurant is the brainchild of Rubey Maharjan and has a loyal customer base of mostly locals.

Rubey Maharjan aspires to own a bistro that specialises in grilling. Sanjog Manandhar/TKP
bookmark
Published at : May 26, 2022
Updated at : May 27, 2022 07:57
Lalitpur
Patan Durbar Square, with its rich cultural history and relatively laid-back atmosphere, is a tourism magnet. Not only international and domestic tourists but even locals cannot evade the allure of its timeworn monuments.
As day turns into dusk, the whole Durbar Square area imbues a vibrant, lively atmosphere where strangers, friends, and loved ones socialise and rejuvenate in the countless cafes, restaurants, and coffee shops that abound on the periphery. While most people and tourists make their way into prominent eateries, some people, especially the locals, on the other hand, make their way into the gallis to satisfy their hunger for food and camaraderie.
Some gallis will lead you to family-owned Newa restaurants passed down from generations to generations, while others will lead you to sandwich restaurants cherished by locals.
In one of these gallis, one will also find a modest, rustic cafe and tapas bar named Coffee, Tea & Me. A literal example of a hole-in-the-wall, the eatery has been serving scrumptious meals from diverse cuisines since 2015. Thirty-seven-year-old Rubey Maharjan, the head chef of the eatery, started Coffee, Tea & Me with a simple aspiration—to satisfy the locals' hunger for foreign cuisine within the comforts of the Patan Durbar Square area. The eatery opens its door all days of the week (except Mondays) from 12 pm to 8:30 pm.
As one enters the slightly inconspicuous entrance of the eatery, one feels like stepping into a time machine. The eatery's ambience—reminiscent of the hippie era of the Valley in the 70s—immediately transports one back in time. There are funky and trippy geometric shapes and patterns adorning the walls with a psychedelic mosaic of Buddha. The eatery occupies one long room, which leads to an open kitchen area (I want my customers to see what they are being fed, says Rubey Maharjan). The playlists that reverberate throughout the evenings into the night mimic these kaleidoscopic interior designs adding to the overall aura.
"I love this kind of vibe, so I just wanted to create the same environment for my restaurant," says Rubey Maharjan, who resides in Ekantakuna. "When I started Coffee, Tea & Me, I renovated this space with two of my friends. From creating the designs on the walls to the painting, we did it all."
Coffee, Tea & Me is unconventional in other aspects; it doesn't have a fixed menu, though it features pork chops, its most popular dish, most days. Aside from this dish, Maharjan says that he usually creates the menu according to the ingredients currently available in the market.
There is a reason why Grilled Pork Chop is one of the most popular dishes here and you can understand why as soon as you take the first bite. Grilled to perfection, the pork chop comes with a side of either mashed potato or spaghetti, along with a bountiful portion of homemade schezwan pepper sauce and a small portion of chilli paste. The combination of grilled pork meat with a layer of fat hardly ever goes wrong, and made from the hands of a grilling expert, it becomes a perfect dish for meat lovers who crave a fulfilling dish.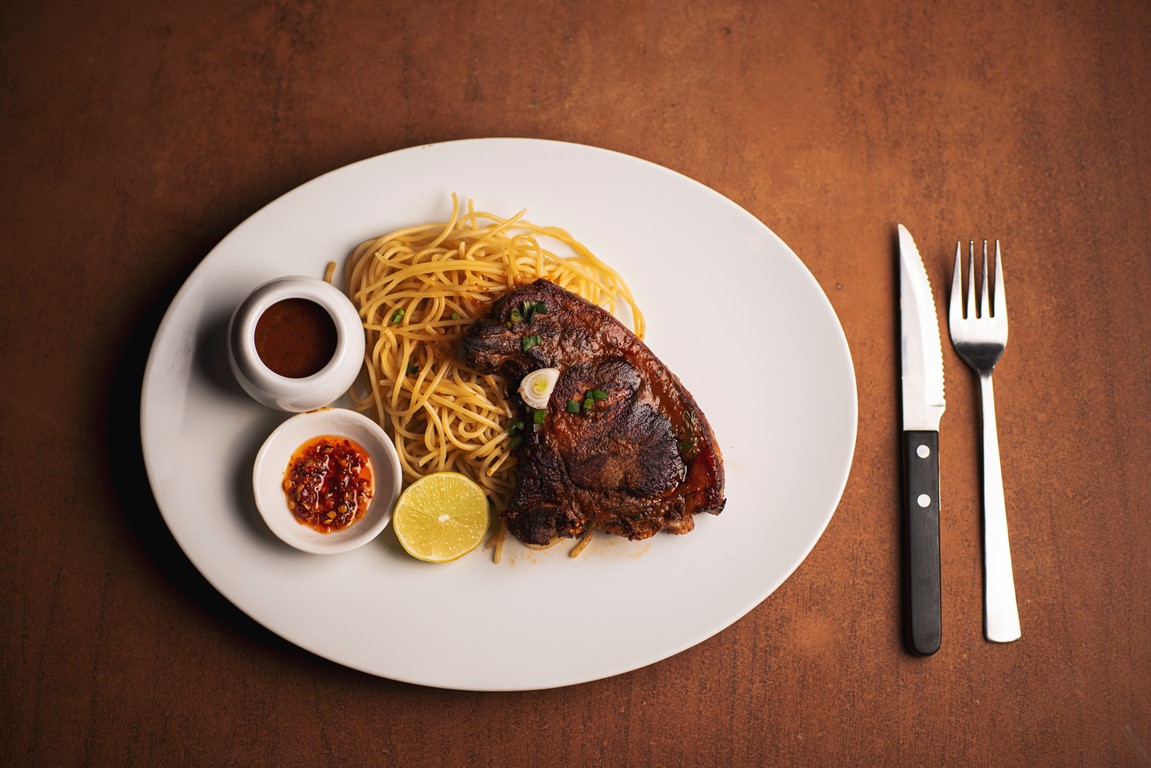 Grilled Pork Chop, the most popular dish at Coffee, Tea & Me, is infused with Nepali flavours. Photo courtesy: Anmol KC
One of the other popular dishes is the Chicken Nachos. A Mexican cuisine-inspired dish, the nachos are served with pan-sauteed chicken mince meat, abundant amounts of cheese, and Nepali pickle-inspired salsa. The fusion of different textures and flavours is a treat for one's taste buds and the dish is surprisingly filling too. Both the dishes cost Rs 650(inclusive of all taxes), and the dishes' flavours and portion justify the price. The sides in the dishes such as schezuan pepper sauce and Nepali-inspired salsa fuse perfectly with other flavours in the dishes and make them appealing to the Nepali palate at the same time.
The start of the eatery, however, wasn't smooth sailing. Maharjan had received culinary training and developed his expertise after completing his BBS in Nepal and going to Australia. He had returned home in 2014 and established Coffee, Tea & Me with a clear goal to establish his own culinary venture in Nepal. But he had some learnings and unlearnings to do before winning over the locals.
"When I first started this restaurant, I recreated the foreign dishes and cuisine as how I was taught and as they are made abroad," says Maharjan. "For a while, I was stubborn with this approach. It took me a few years, but I eventually understood the meaning of the phrase 'when in Rome, do as the Romans do.'"
As a person responsible for the overall business aspects of the eatery, Maharjan had to realise the nuances of Nepali palate and adapt accordingly to survive. There were frustrations stemming from the lack of availability of diverse ingredients in the local markets, which didn't allow him to experiment and explore as much as he wanted to. However, he had a strong passion and resolution to continue his culinary venture.
"There are three things you need to sustain in the restaurant business," he shares. "First and foremost, one needs to have passion for food, knowledge of food is also equally important, and then one needs to be willing to put in the hard work. If any of these three traits are missing, I don't think you can sustain in this industry."
While Maharjan eventually was able to garner loyal patrons, the recent years haven't been easy for him and the entire F&B industry. The Covid-19 pandemic tested the limits of all the F&B ventures, and while the pandemic has subsided more or less, the industry is still reviving and hasn't yet quite recovered completely. The ever-increasing prices of essential commodities have also created another headache for Maharjan, who laments that things haven't improved a lot since the pandemic.
"Most of my patrons are locals, and most of them engaged in handicraft businesses in and around the Durbar Square area. We all know how hard the pandemic has hit that business," says Maharjan. "In the past, my patrons would come once or twice a week, but now they come once or twice a month."
Coffee, Tea & Me now sees a humble number of customers daily, and while the events in recent years have caused unforeseen challenges, Maharjan has always known the F&B industry to be ruthless. As someone who has been involved in the culinary field for over 15 years, Maharjan never had a misconception of the restaurant business as a venture to make a quick buck.
"Actually, the restaurant business isn't a business that you do for money. You don't earn money, but you earn people instead," he says. "You form bonds and connections with people, and you barely sustain your business. If you are lucky, then after a decade or two, the restaurant starts becoming profitable."
For Maharjan whose expertise lies in grilling meat, he has slightly loftier goals in mind. His ultimate goal is to own a bistro that specialises in steaks, and he regularly keeps up-to-date with recent trends in the culinary world by reading food articles and following the steps of his chef Marco Pierre White.
"I envision establishing a bistro in the Patan Durbar Square area because I love this place and its ambience," says Maharjan. "I think this place needs such kinds of eateries. I don't want the locals to feel the need to go to Thamel or Jhamsikhel to experience good international cuisine."
---
---