Thamel is buzzing again as tourists return
Footfall in Kathmandu's tourist hub has increased, after being devastated by the Covid pandemic, but entrepreneurs say business is yet to pick up pace.

Of late, tourists are arriving in Thamel, Kathmandu, in increasing numbers. Pawan Pandey/TKP
bookmark
Published at : May 1, 2022
Updated at : May 1, 2022 07:50
Kathmandu
Thamel is alive again.
All shops are open, the streets are filled with rickshaws again, and vendors and tourists can be seen haggling over prices as always.
Rickshaw puller Shaddam Hussain, too, is back in business. He had lost much to the Covid-19 pandemic. His earnings dropped to almost zero. He suffered, having had a hard time to eke out a living. His family suffered. The two years were painful for Thamel. It was like a ghost town. But, in an encouraging sign, the tourists are now coming back.
"The number of tourists visiting Thamel has increased in the past month and a half," Hussain said. "My earning, however, has not improved. I don't even make half of what I used to earn in pre-Covid days."
Footfall in Thamel has increased, but entrepreneurs say business is still down.
Tourism accounts for around 8 percent of Nepal's gross domestic product. Pawan Pandey/TKP
"The tourist hotspot is back in business," said Binod Gautam, who runs a pashmina shop in Thamel. "Business has improved slightly, but we are yet to recover from the losses we incurred in the past two years."
Pubs and nightclubs are humming once again.
Englishman Gleen Bloomer says the environment in Thamel is vibrant. "However, the number of tourists is far less than what I had observed on my last visit," said Bloomer, who last visited Nepal in 2019.
"Thamel used to be super crowded," Bloomer added. "Hopefully, the tourists will come back in droves."
Nepal received 42,006 foreign tourists in March, the highest monthly arrivals in almost two years. This shows signs of tourism recovery to pre-Covid figures. Industry insiders say that the April figure may reach over 75,000.
Tens of thousands of tourism workers were laid off or furloughed when the government ordered a complete lockdown on March 24, 2020 and kept on extending it—for months.
All border points and airports were sealed. Thamel, which employs a large number of workers, went into a depression with many small hotel and restaurant owners turning bankrupt.
Sagar Lama, an employee at Tibetan Singing Bowl and Gallery, is happy to retain his job.
"Business has improved slightly," Lama said. "But it will take time to reach close to the pre-Covid level."
"Foreign visitors started arriving in Thamel right after the government lifted virus restrictions," said Krishna Gurung, sales and marketing manager at Hotel Marshyangdi. "But it was a very late response from the government."
Hotel Marshyangdi saw the highest number of guests in March after a long time. "The number almost doubled in April," said Gurung.
On March 10, Nepal threw the door wide open to tourists, removing all pre-arrival testing requirements for fully-vaxxed travellers in a bid to recharge its moribund tourism industry.
More than 67 percent of Nepalis have been fully vaccinated and over 76 percent have taken the first dose.
"The recent increment in foreign visitors has given us hope that there will be more arrivals in the coming days," said Raju Man Dangol, vice-president of the Thamel Tourism Development Council.
"The number of tourists has increased in Thamel in the past two months. But the worrying thing is that tourists are not spending much, as compared to their pre-Covid spending."
Hammered by rising prices, tourists have cut spending on travel.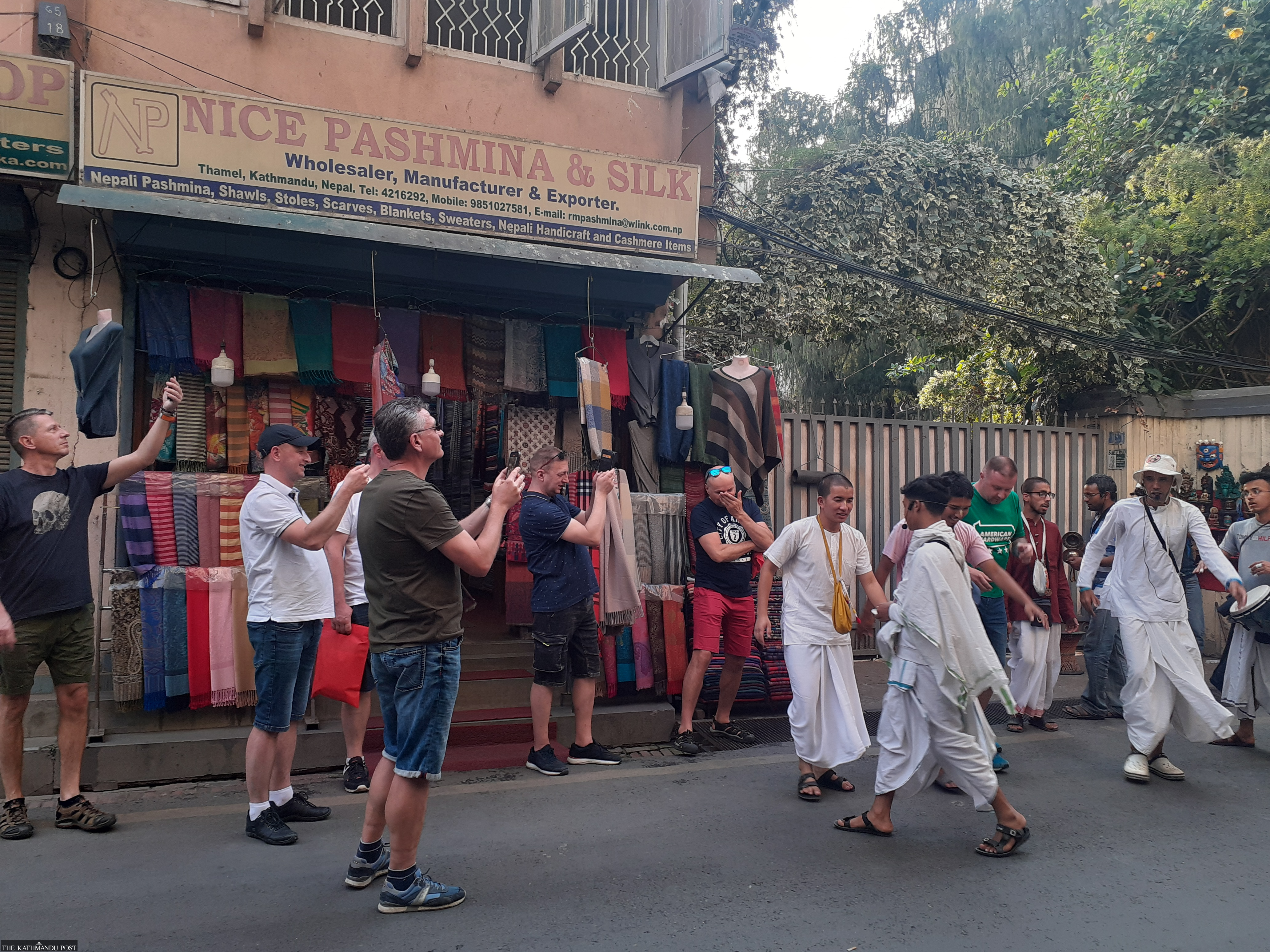 Pawan Pandey/TKP
Prices were rising before Russia's invasion of Ukraine. As the market was disrupted, developing countries are paying more to import goods at a time when they are already struggling with low incomes caused by the Covid-19 pandemic.
Panic over inflation has made headlines all over the world. According to the International Monetary Fund's World Economic Outlook, released this week, inflation would reach 8.7 percent in developing economies compared with 5.7 percent in rich countries.
Nepal's retail inflation galloped to a 67-month high of 7.14 percent in March, well above the central bank's upper tolerance.
The high inflation has put a dent in tourist spending.
"Despite the rise in the number of foreign visitors in recent months, business is not even half as good as it used to be," said Bishnu Dawadi, who runs a travel agency in Thamel. "Before the pandemic, I would serve around 100 foreigners a month. In the past two months, I served around 80."
Tourism accounts for around 8 percent of Nepal's gross domestic product. In 2019, when the country received 1.19 million tourists, the contribution of the tourism sector in the national economy was Rs247.58 billion.
Thamel's nightlife, for which the area is especially known, remained completely closed for nine months from March to December 2020.
When the country reopened to visitors in September last year, there were no tourists. "But one change happened. The number of domestic tourists started to increase," said Gurung. "More Nepalis visit Thamel these days. This has also helped to reduce our reliance on foreign visitors."
Dangol said that nighttime business in the area is going smoothly. "To promote tourism in the area, the council is currently focused on maintaining peace and security and management of waste and traffic," Dangol said.
The government has allowed some places, particularly tourist hotspots, to remain open 24/7.
"If there won't be another spike in Covid cases in the coming days, we are hoping to see a surge in arrivals," Dangol said. "The next tourism season is in autumn, and we hope the season will see a boom due to pent-up demand."
---
---