Where flavours from across the world meet
Kathmandu's newest 5-star hotel has only one restaurant but the food is promising and the service delightful.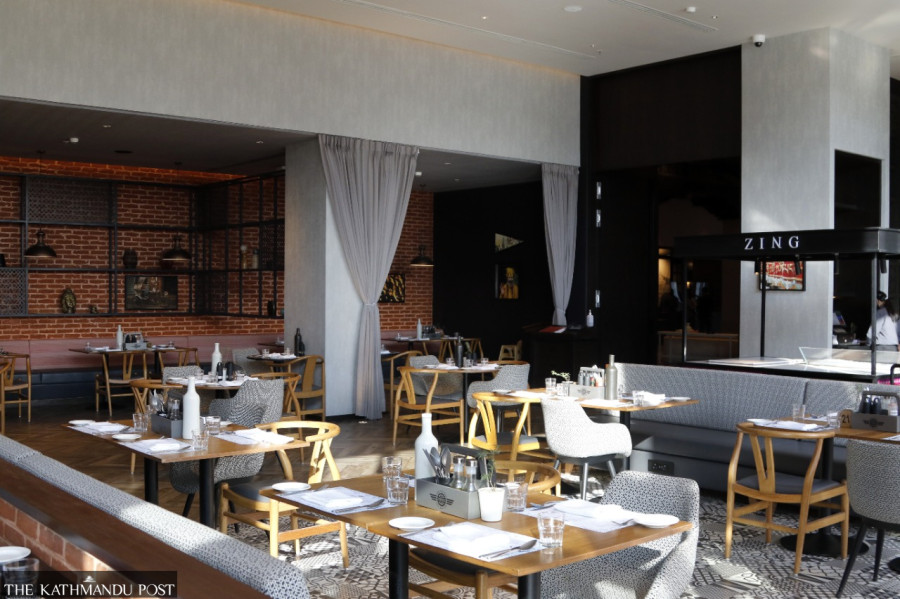 Keshav Thapa/TKP
bookmark
Published at : January 8, 2022
Updated at : January 8, 2022 15:55
Tucked away in the Red Cross Street of the bustling Kalimati Road lies Hyatt Place Kathmandu—the city's second Hyatt-branded hotel. Launched in November 2021, it hosts a total of 153 rooms along with an array of dining options such as Zing World of Flavors, a multicuisine restaurant, Zing Sky Bar and Lounge, along with banquet halls, and a fitness centre.
During our visit, the Food and Beverage Director of Hyatt Place, Prakash Gurung, walked us through the hotel's philosophy, how it aims to distinguish itself in the industry and ensure that it sets the benchmark for other hotels in Kathmandu.
"Hyatt Place's fundamental philosophy is to cater to smart, self-reliant audiences, who can readily access top-notch service in today's fast-paced world. The primary aim of this branch is to tackle that preconceived notion of Hyatt automatically being synonymous with exclusive service and luxury—which invariably creates a distance for the majority. Considering that the Hyatt corporation is deemed a premium brand, Hyatt Place's intention, however, is to bridge that divide and make itself more approachable to its audience—especially the millennials (25-40 age group)," says Gurung.
Hyatt Place's Zing World of Flavors, a multicuisine restaurant, is situated at the ground floor of the hotel and hosts an array of dishes from South Asia and Southeast Asia with Italian and Mediterranean options. With its retro-contemporary interiors, Zing is a vibrant and spacious dining spot, with a rather unique seating arrangement.
The design of the restaurant symbolises a conjunction of the past and present; the right segment of the hall features shelves adorned with antique vases, statues, and walls embellished with framed pictures of historical monuments—alongside a beautifully lit contemporary dining space at the centre of the hall. The restaurant, overall, is done up in pleasant decor; murals of temples and traditional Newa architecture reflecting the rich history of Kathmandu. Exposed brick walls alongside Devanagari scripts engraved on one end further enhances it's partial vintage theme. Perhaps the most striking element of the room is the open kitchen that accompanies the dining space, which allows anyone at their table to watch how their meals are being prepared.
The Chef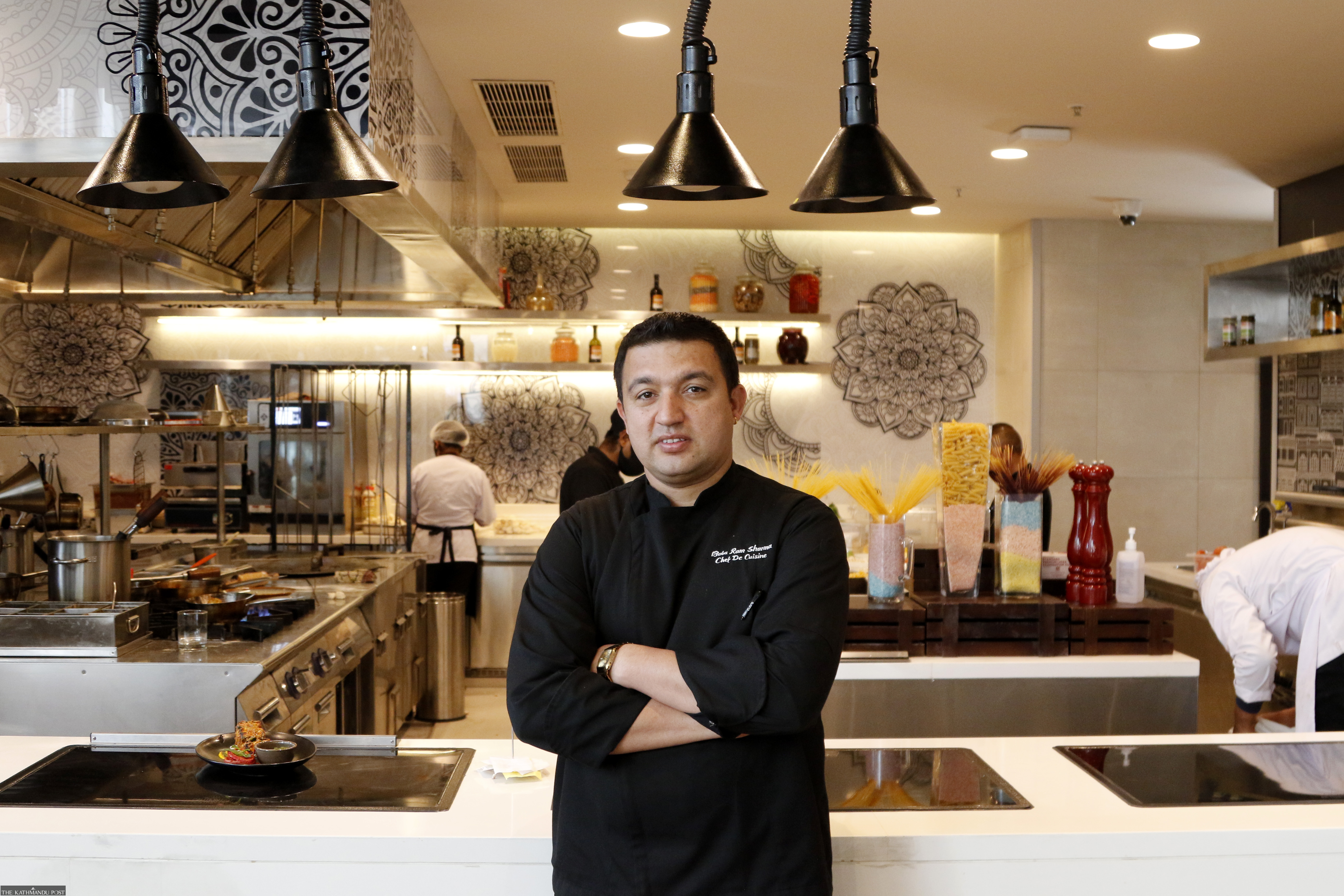 Keshav Thapa/TKP
Manning the kitchen at Zing is Chef de Cuisine Baburam Sharma, who specialises in Indian cuisines. Sharma has spent the last 17 years of his life working in kitchens across India and has made trips to Sri Lanka and Georgia to hone his culinary skills. Sharma, 36, says that his enthusiasm for culinary arts stemmed from being inspired by his cousin at an early age. He credits his undying passion for culinary arts to all the previous chefs who had taken him under their stewardship. He has been overseeing the kitchen at Zing in Hyatt Place after transferring from Hyatt Centric in MG Road, Bangalore.
"This is my first job here in Nepal, and I can't wait to experiment with Nepali spices and show the world how we can use them to elevate dishes from all over the world," says Sharma.
Chef's specials
Belvedere Prawns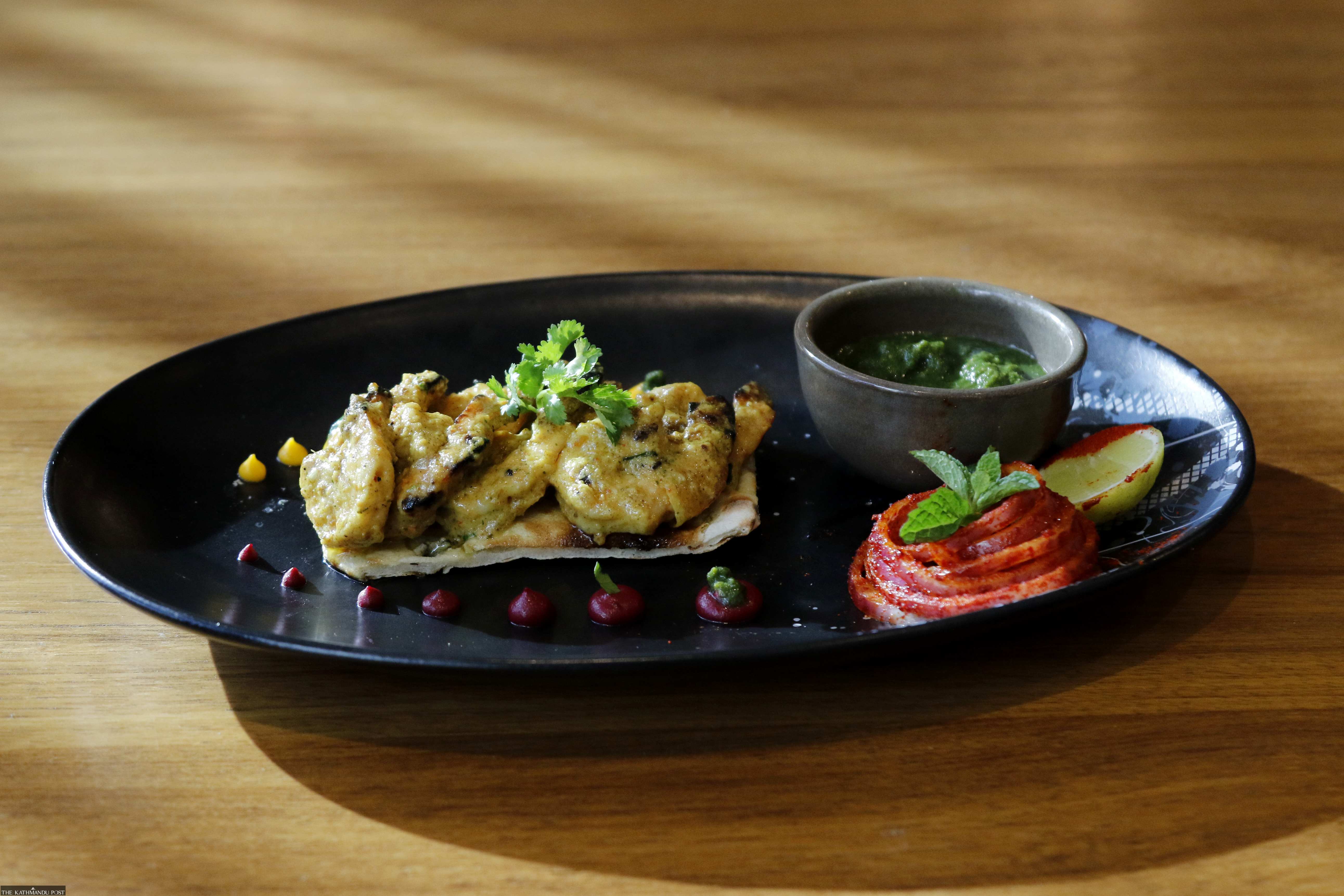 Keshav Thapa/TKP
At Zing, one of the Chef's specials was the Belvedere Prawns, with naan-roti at its base that helped retain the flavor of the spices, as well as the juiciness of the prawn itself. The dish makes for an excellent choice for those who are especially fond of seafood. A squishy, palatable delight, this Chef's special was further enhanced by the mint chutney that accompanied it.
Price—Rs 1,800 (exclusive of taxes)
Other recommendations
Bombay Aloo Sandwich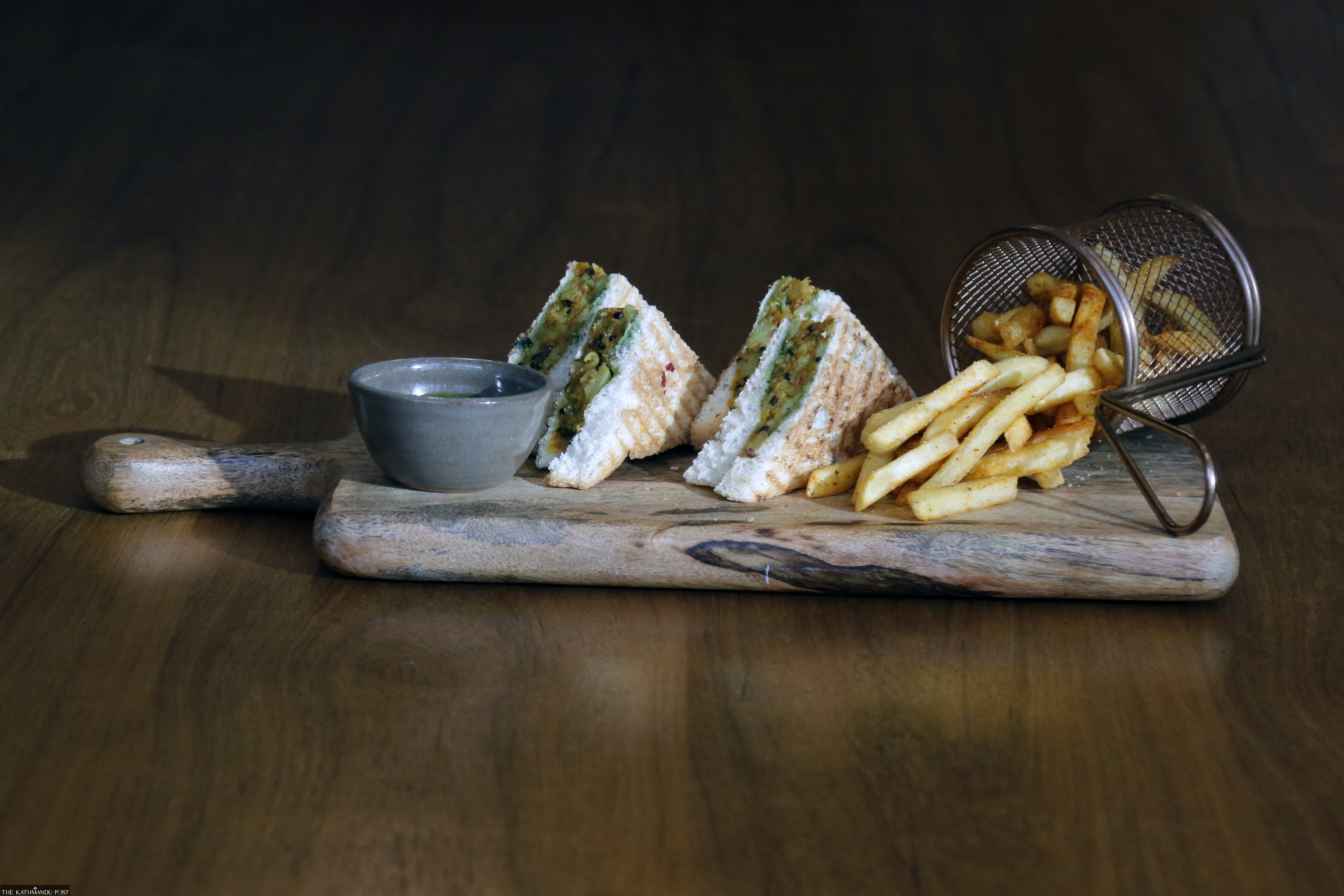 Keshav Thapa/TKP
Served alongside crispy french fries, the Bombay Aloo Sandwich was perhaps one of the most stand out meals among the other recommended delicacies at Zing. With mashed potatoes stuffed in between finely toasted buttery bread, this makes for the perfect afternoon lunch if you are looking for a vegetarian meal. The mint chutney, with which the sandwich was served, further accentuated the taste—making it a delectable affair.
Price—Rs 900 (exclusive of taxes)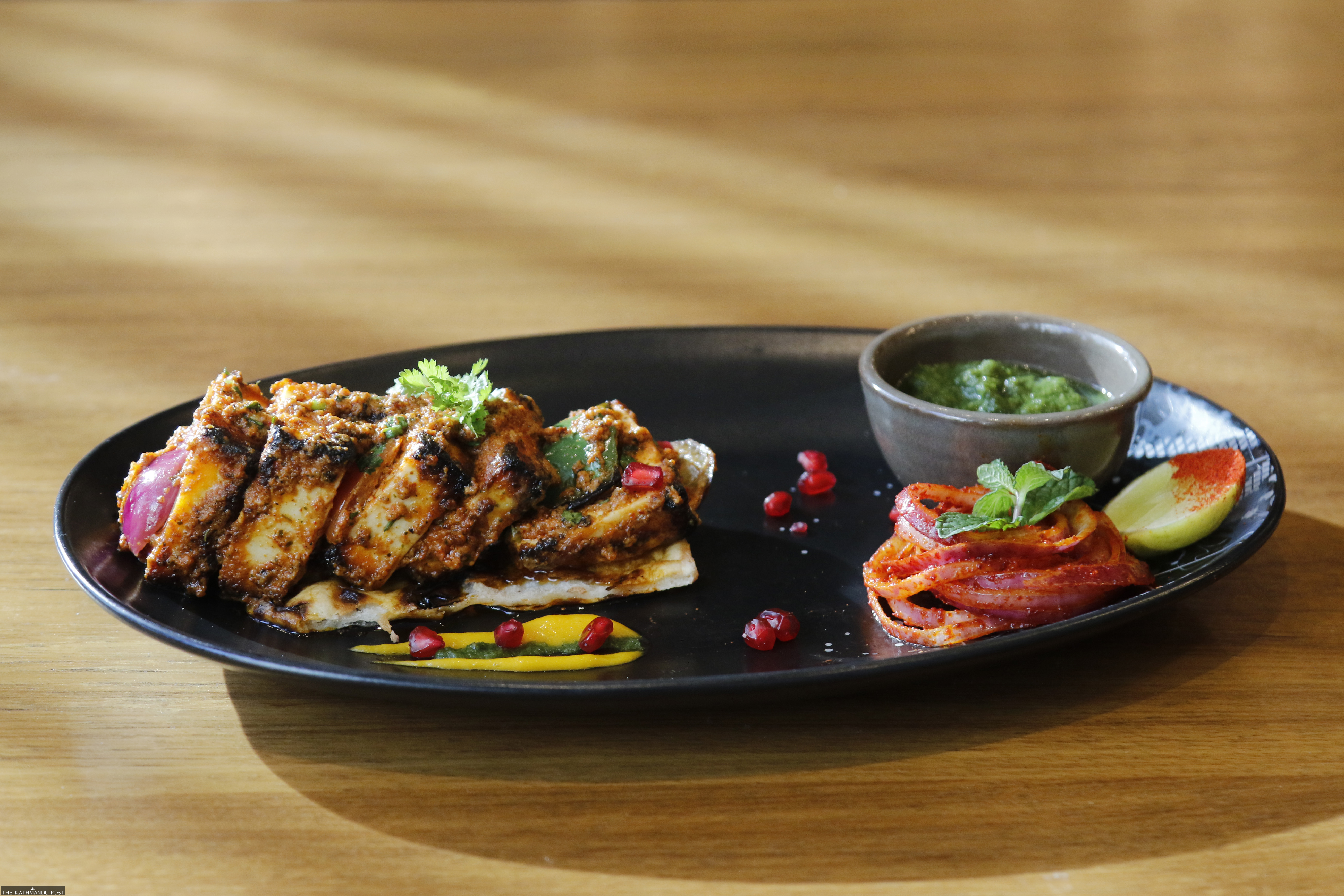 Keshav Thapa/TKP
Another exceptional vegetarian option at Zing is the Kandhari Paneer Tikka. For someone who usually only opts for Paneer Butter Masala, the Kandhari Paneer Tikka was a wonderful surprise for my taste buds. With naan-roti at its base, which helped retain it's juices, this dish had the perfect blend of spices such as deggi mirch powder and pomegranate seeds powder—making it easy on the tongue. Garnished with pomegranate seeds and served alongside mint chutney, this was the kind of paneer dish that will send you into a food coma.
Price—Rs 1,000 (exclusive of taxes)
---
---