A leading edge in a new realm of Nepali knives
Heritage Knives has predictably honed its trade with the khukuri, but is treading new ground with its made-in-Nepal chef's knives.

VK Kunwar specially sharpens every knife before it leaves his showroom in Lazimpat. TKP/ Sanjog Manandhar
bookmark
Published at : March 5, 2020
Updated at : March 6, 2020 08:12
Kathmandu
Sliding the blade between the slats of a table, VK Kunwar bends the knife's handle that touches the surface. The thin blade, once he releases pressure, bounces back into shape—it needs to be flexible, as it's specially made for filleting fish.

He takes out another knife, a larger one, and explains the minute details included in its design. There's the wood used for the handle, the brass and copper hailing from Patan, and the idiosyncratic imperfections that tell a story of the Nepali blacksmiths' work.
Just like so many knife businesses in Nepal, VK Kunwar's Heritage Knives has primarily dealt with khukuris since its opening in 2018 but more recently, Kunwar has started forging a relatively novel selection: chef's knives.
Kunwar's khukuri obsession could be explained by his history-teaching past, and his interest in chef's knives come from his almost 10 years of being a chef overseas. Having worked in Norway, Sweden and Denmark as a chef, when he returned to Nepal several years ago he realised there was nothing of quality available for chefs or home cooks when it came to knives. After co-founding Chimes restaurant in Sanepa, stress-related health issues forced him to slow down—he decided to focus on his knife business.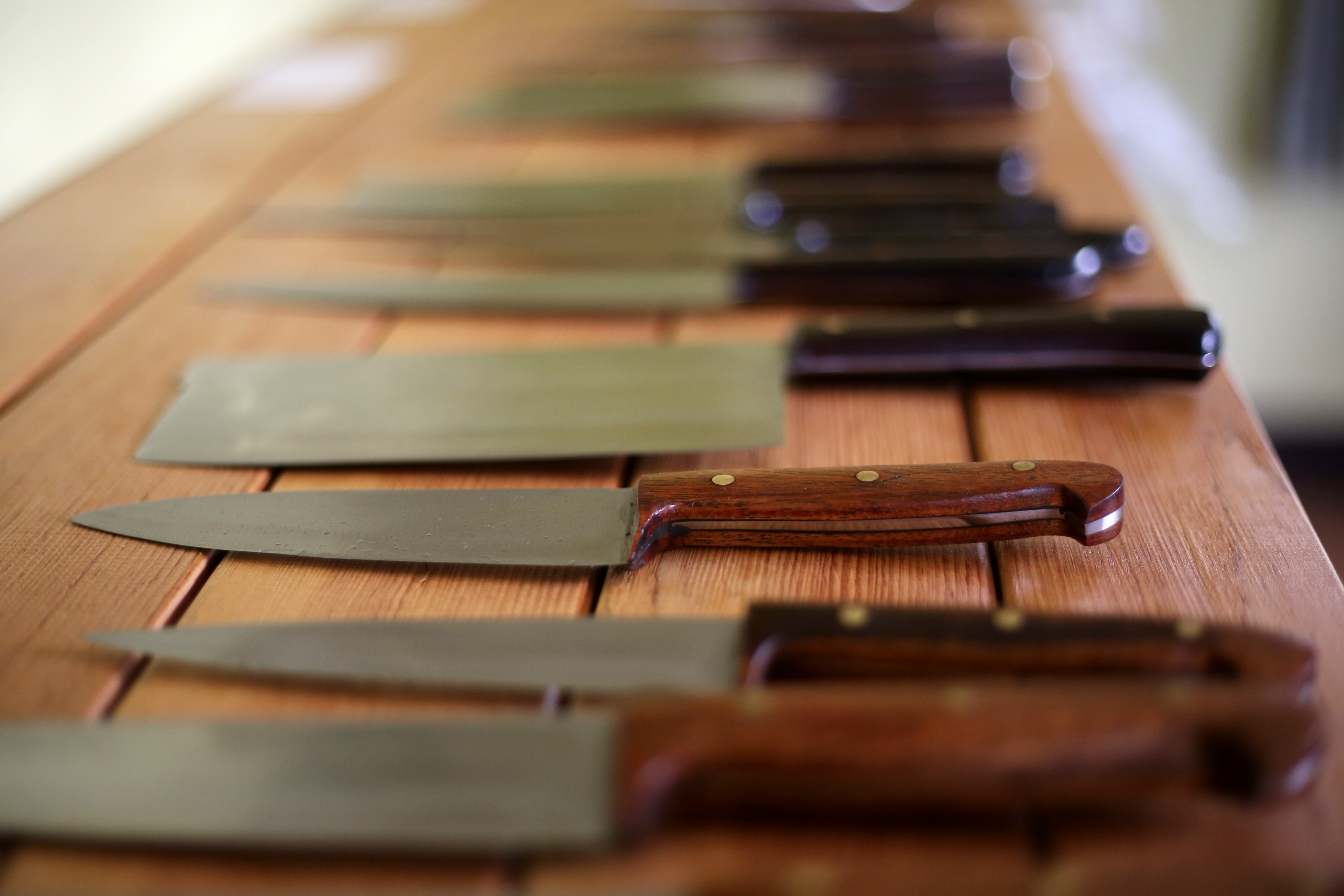 TKP/ Sanjog Manandhar
"Back then, looking for chef knives was a big problem. There are the Chinese ones, the Taiwanese ones, which are OK for general use, but for an upscale kitchen you need something more," Kunwar says. "Why don't we have some decent knives in Nepal? So we started experimenting, because we already do khukuri knives."
The result is a collection of knives in both Asian and European styling—from cleavers and bread knives to boning and paring knives—built differently to the mass-produced, stainless steel knives available in the current market. After starting in the summer of 2019, with designs and trials, he sent some of his knives overseas to former colleagues and cheffing friends. With a positive reaction, Kunwar later filled a couple of large orders for his kitchen knives, for distributors in the US and Europe—now export constitutes 99 percent of his business at the moment.
More recently, when he posted his products on social media did he realise how much interest there was in his knives here in Nepal. But price does seem to dictate a lot of what can be done, he said.
"The Nepali market is very price sensitive, but that being said some people will go out and buy a knife for Rs 3,500. People have the means," says Kunwar. "But I have to explain to them that these are handmade products—there's a black mark here, and an uneven spot there. But that's for now, things are going to get better. With the support of the local community, I'll be able to develop products that will be better and more useful to everyone. I don't want this business to only be able to export."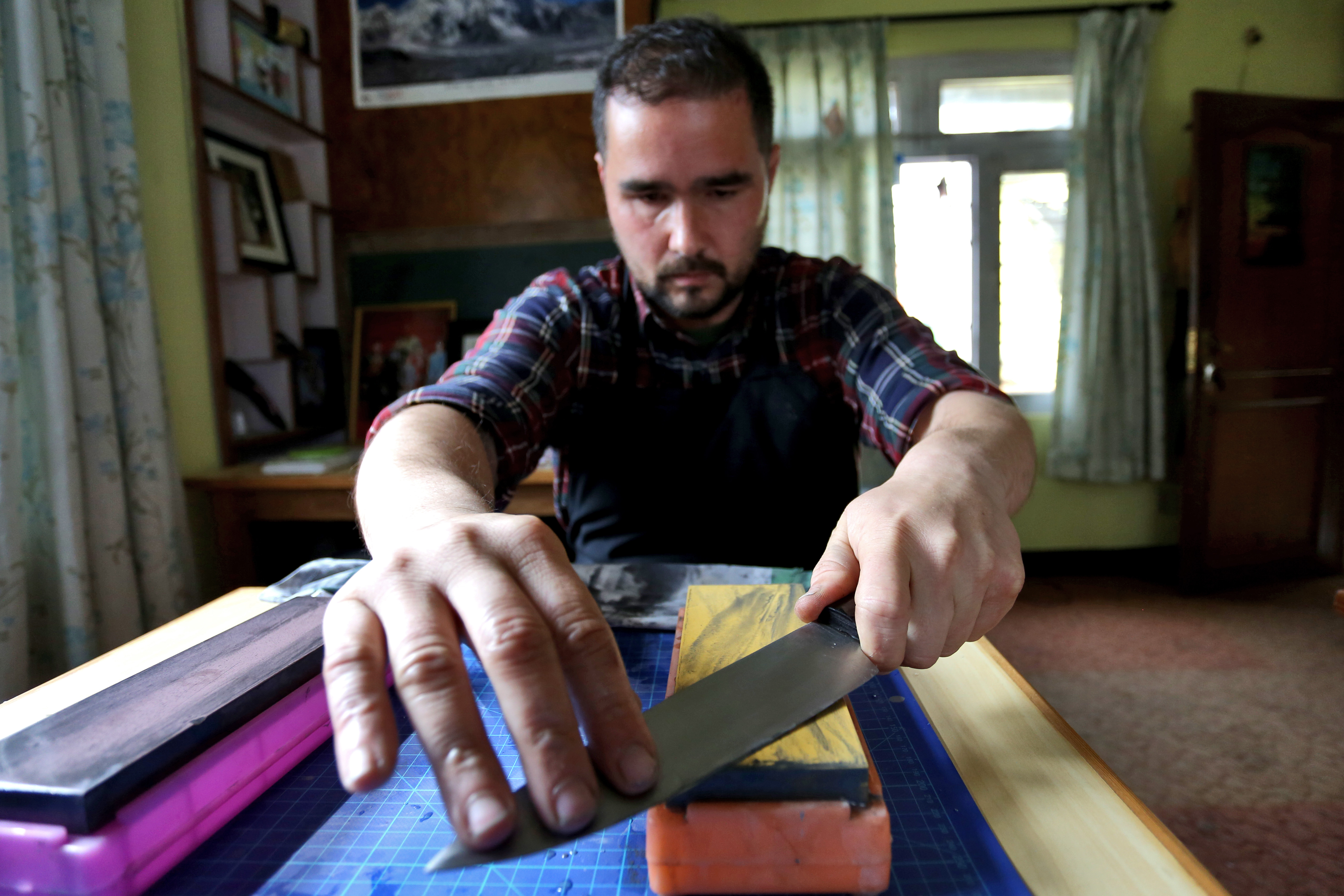 TKP/ Sanjog Manandhar
There are several differences between the bulk-made blades in the market and his knives, he says, which are forged by his team of blacksmiths in Dharan. One big difference is the type of metal used—an imported high-carbon steel—which is far harder than regular stainless steel and, in turn, stays sharper for longer. Using recycled steel, which many khukuri makers do, would make his product cheaper, but they would not last as long and the quality would be inferior, says Kunwar.
But the type of steel used does have some requirements of its owner, which has turned some tire-kicking customers off, so he has to teach people how to look after the products they buy from him.
"If you don't take care of it, it will rust literally within one day," says Kunwar. Although it's easily avoidable, so long as the knives don't sit wet and dirty, and depending on how often the knife is used, one should sharpen it accordingly.
While some customers have seen that as too much work, Kunwar believes there is an emerging market of avid home chefs that seek quality equipment for their kitchens—as well as chefs.
But it's not only a learning experience for his customers, but also his blacksmiths in Dharan.
"We also have foreign blacksmiths coming to Nepal, at least twice a year, to do training with the guys over there, so that things are done with the same quality as in the US or in Europe, or anywhere else," he says. "We import steel, which is very unusual and we oil-quench, which is very, very strange for Nepal."
The quenching process hardens the final product, and they do it by using oil instead of water, which can leave the knives brittle and prone to chipping.
"Of the blacksmiths I'm working with, I think most of them have more than 20 years of experience, they've always been water quenching," he says. "You can do it with water but it's not going to get as hard and there are chances that it might crack."
"For small knives you want the edge to be harder, for big knives you want the edge to be softer."
The big knives Kunwar refers to are the cleavers, which are mostly used for large butchery in European kitchens, but are versatile in Chinese kitchens. The impact of hitting such a knife on hard surfaces means it needs to be soft. Above that, the shapes of the knives are worlds away from the bowed khukuri shape, which has required his blacksmiths not only relearning designs, but also the types of metal.
"I've gone about both my khukuri and chefs knives in a very technical way, so when I get new blacksmiths in, for the first three months they are just on a training, a sort of apprentice to learn how things are done."
Once the knives arrive in Kathmandu, the knives are "factory sharp", and Kunwar hand-polishes and strops each knife to ensure they are "super, super sharp" before handing them over to customers.
While a lot of time has been spent researching, developing, and trialling his products, he believes that it was worth the wait to get a product he can be proud of.
"Every design took at least two months to get right. And there's a lot of time consumed ensuring the quality is right," says Kunwar. "I'm confident that our knives are among the best made in Nepal, but of course anyone who sells knives would tell you that. But we know we are the only ones doing things this way."
---
---