Online education with Kul Labs
How Kul Labs—an e-learning platform with more than  200,000 monthly users—is here to change how you view education in Nepal.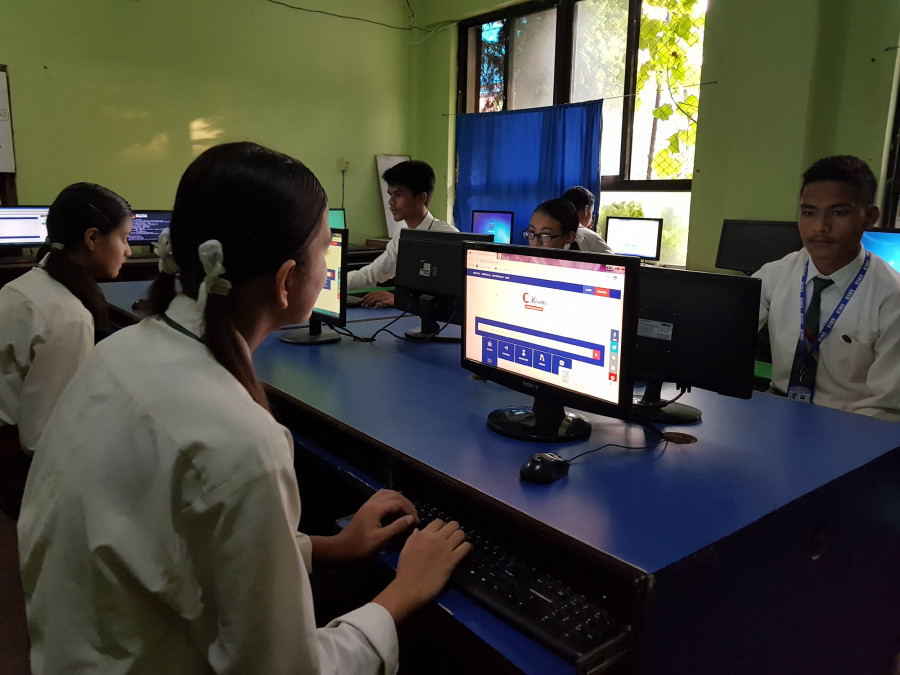 Photo Courtesy: Kul Labs
bookmark
Published at : July 8, 2019
Kathmandu
Rusha Khadka had always been an average student. Lectures did not help, as she would often be unable to keep up with her teachers. She couldn't take a crack at the study material herself either, because she needed guidance. Suffice it to say, she had problems in the classroom.
But things changed when she chanced upon Kul Labs—an online learning platform—while surfing the internet. After exploring the platform a little, Khadka found Kul Lab's videos helped her understand lessons better than her teachers could, and that they significantly helped her performance in school.
"I used to surf Facebook a lot, but after I started watching videos in Kul Labs I started utilising my time better," says Khadka. But her parents didn't like that their daughter was spending more time watching videos than poring over books. However, when her SEE results arrived, everyone was happy and surprised with her performance and progress at school. "After seeing the improvement in my scores, my parents happily gifted me a laptop so I could watch more educational videos online."
Since 2012, Kul Labs—a free e-learning system that is based on formalised teaching—has been providing quality notes, study material, corresponding academic contents and videos for students belonging to middle school up to higher secondary levels—aiding students like Khadka to better understand what they are being taught at school.
Because of its work, the platform was also recently listed in the top 10 best stories of Google Business Group Stories 2019—an annual programme that selects start-ups from around the globe, to recognise innovative business ideas' lasting impact in society.
But success for this small company didn't come easy. Adhip Poudyal, Kul Labs founder and executive director, thinks mistakes are the best thing that can happen to a person—for that's what helps one grow. "In the past five years, the most important lesson I have learned is that life is a rollercoaster ride, and the best thing you can do is make mistakes and learn from them."
The idea of starting an online education portal came to Poudyal when he was in college, pursuing a degree in computer engineering. He realised how much help such a portal would be to students. As soon as he graduated, he rolled out his business idea.
With an initial investment of Rs100,000, Poudyal, along with a partner, started Kul Labs almost seven years ago. Today, his business has grown to a family of 11 people, and he has five partners.
Kul Labs has more than 400,000 monthly users, with 260,000 users from India, the US, Kenya, Pakistan, Tanzania, Bangladesh and Philippines, says Poudyal. The number surges during exam times, he adds. "There are 124 schools in the country taking our services," he said.
In the initial days, Poudyal says he used to visit as many schools as he could in a day—pitching his business idea to school administrations. After convincing 40 schools, and providing assistance to teachers to prepare them for lectures, Poudyal launched the pilot phase, focusing only on teaching grade 10 students science.
His vision was to provide e-learning services to students for free, as opposed to other e-learning classes like MiDas eClass or Byju's, who charge money. "So we came up with the idea to run e-classes that would be available to everyone who has internet access," he said.
The model Kul Labs employs is simple: they outsource note-making, research work to teachers and graduates (currently, Kul Labs works in collaboration with around 500 teachers and graduates.) After the notes are submitted, Kul Labs employees edit the notes for language simplification. The notes are then available for anyone who uses the platform, and so are other corresponding resources, such as videos and lectures.
"We mainly tailored our service to students who feel shy or afraid of asking questions in classrooms," he said. To assist students more, the Kul Lab team has also introduced a question-and-answer segment in their service. Similarly, students can also test themselves before exams with multiple choice questions to analyse their understanding.
But all has not been easy for Kul Labs. It is easy to start a business but hard to make it grow, says Poudyal. "Two years back, we received an investment of Rs15 million which taught us many lessons," he shared. "Though we were happy and encouraged to get investment, we faced a lot of challenges, like financial management and lack of digital literacy among team members. It was also extremely tough to make people understand e-learning and its benefits."
Things were so tough a year and a half ago that Poudyal was about to give up. All his partners had left the company, and he too wanted to quit. "At that time my family pressured me to leave the project and go abroad. But one day, while I was just getting back home, I saw a boy using Kul Labs which made me realise my business has an impact on students. So, I felt determined that I should get it done."
He convinced his current partners to reinvest. With an investment of Rs5 million, they revived the business. Poudyal and his team also got involved in the trading business to collect the amount that they needed. The company also started generating revenue from online ads and selling offline course packages. Today, the company makes around Rs250,000 from ads and selling offline packages.
However, Poudyal says the toughest challenge remains in changing people's mindsets regarding online education. Generally, parents have the preconception that digital learning is not an effective way of educating children; they prefer to stick to traditional ways of schooling.
To expand and evolve with the times, Poudyal said that they are planning to introduce an educational network for interaction between teachers and students. "We will be introducing these features from the coming Nepali New Year."
They have also started conducting weekly sessions in schools across the country on digital literacy for teachers so that they can better communicate with students.
Kul Labs has also been providing their services in rural parts of the country such as Khumjung, Lukla, Baglung, Darchula and some parts of Lalitpur. For this, Kul Labs has installed offline servers in schools so both students and teachers can access services without internet access.
Similarly, in the next seven months, the company also plans to provide educational materials for students of BBA, BIM, BIT, CSIT and engineering. It also plans to introduce educational consultancy and counselling services for students. They are trying to introduce open schools for high school dropouts as well.
"It is hard to change people's thought process," he said. "But just like with other sectors, teaching and learning approaches need to be updated according to changing times."
---
---