Discipline and the public
Covid-appropriate behaviour is key to prevent, manage and overcome the pandemic as we wait for lifesaving doses.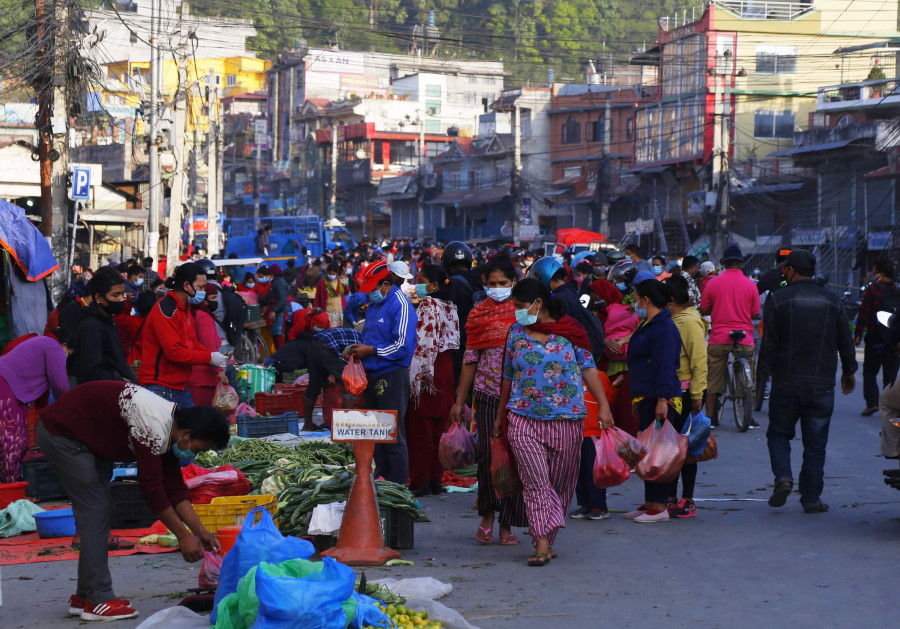 Kabin Adhikari/TKP
bookmark
Published at : May 18, 2021
Updated at : May 19, 2021 00:31
As cases spiked alarmingly on Monday after a four-day dip in new infections, the Health Ministry issued a notice asking everyone to be disciplined and continue taking precautions. Drawing from instances worldwide, the ministry also added that countries which focused on breaking the chain of transmission were more successful than countries that focused on treatment. All quarters of society must act coherently and follow the prohibitory order to stop the further spread of Covid-19, it said before alerting that the second wave had overwhelmed Nepal's health resources and the next few weeks would decide the course of the pandemic.

For over a year now, the pandemic has changed the course of our lives. We continue to adopt Covid-appropriate behaviour to safeguard ourselves and others from the killer virus. Our behaviour will play an essential role in curbing new infections and fatalities because the coronavirus spreads primarily from human to human, and in settings like mass gathering and indoors where it is transmitted more easily. As Nepal grapples with record single-day surges and deaths, public health protocols are more important than ever to minimise the life-threatening risks posed by more transmissible variants of Covid-19. The second wave is hard evidence that failure to implement public health and social measures will accelerate our risks.
A widespread community-level transmission like we are seeing right now, if left uncontrolled, can completely bring down our system, making the science-guided containment mantra of test-trace-treat obsolete. With this regard, stringent measures such as lockdowns and prohibitory orders at the cost of disruption become imperative. For two years in a row, the world has witnessed how our fragile health system can come crumbling down with a surge in new infections, resulting in more deaths, especially among the high-risk age group. Our situation has only worsened with the second wave, which within a short period has filled hospitals with severe cases resulting in an acute shortage of medical oxygen, hospital beds and other resources.
As we appeal to the world for scarce vaccines and critical resources, we have to take a moment to reflect on why we are where we are today and where we still lag miserably, for there is evidence that until everyone is vaccinated, public health measures and Covid-appropriate behaviour are our only defence against the pandemic. Prime Minister KP Sharma Oli was not entirely wrong when, in the much-ridiculed interview to CNN, he blamed the people for the second wave. While the leadership and his administration have repeatedly failed to manage the unprecedented crisis, the public is equally to blame for disregarding all protocols as cases dropped significantly after reaching peak cases in fall 2020.
What's shocking is, this continues to be the case amid prohibitory orders as people swarm like bees while out for groceries, completely disregarding precautionary measures. Worse, people are still leaving for their home districts from the Kathmandu Valley, the top hotspot in the country. It is alarming because this increases the chances of infections in far-flung villages and districts, where basic health services are hard to come by. The government needs to do three things, considering how Covid-appropriate behaviour will be instrumental when the prohibitory order is eventually lifted. First, it has to work on a massive awareness campaign and implement mandatory safety protocols at all points of contact. Second, it has to either stop people from leaving the valley or set up a safe way for them to do so. Third, it must create a relief and support system that allows people to stay wherever they are and sustain themselves until the situation gets better.
Public awareness and discipline in implementing health protocols are equally essential to contain the pandemic as much as science guided measures to be employed by the government are. It is thus a joint responsibility to prevent, manage and overcome the pandemic as we wait for lifesaving doses, but until then, the only way to get out of this pandemic or prohibitory order is through discipline. We all have to continue wearing masks, practice hand hygiene and maintain physical distance outside our homes, regardless of what variant is in circulation or if we face another wave in the future.
---