More positive news
Until Covid-19 vaccines become widely available, we must continue to follow safety protocols.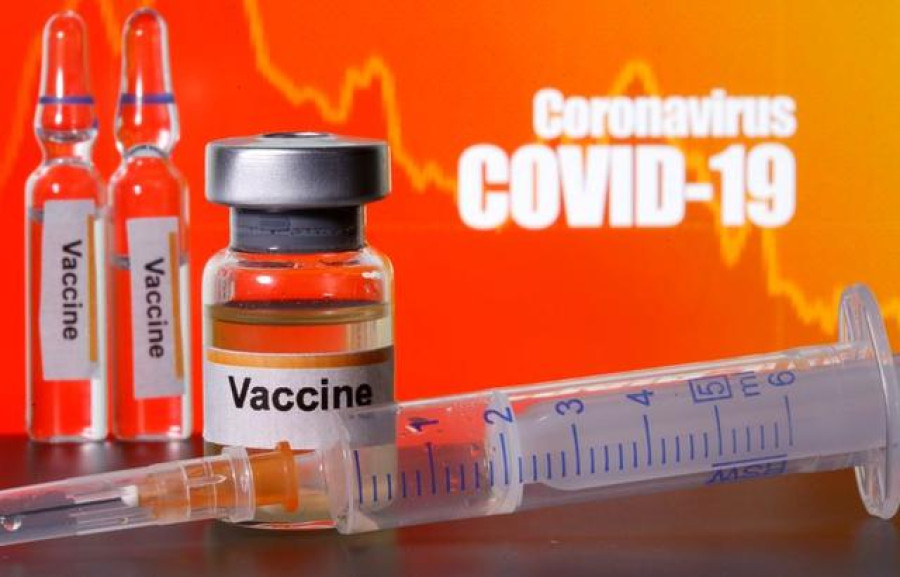 FILE PHOTO: Small bottles labelled with ''Vaccine'' stickers stand near a medical syringe in front of displayed ''Coronavirus COVID-19'' words in this illustration taken April 10, 2020. Reuters
bookmark
Published at : November 17, 2020
Updated at : November 18, 2020 01:05
Early data from US company Moderna has reportedly shown that its vaccine against Covid-19 is nearly 95 percent effective. The company has said the overall effectiveness of the trial, which involved 30,000 people in the United States, has been 'remarkable'. The company has developed an 'RNA vaccine', which means that part of the coronavirus's genetic code is injected into the body which then starts making viral proteins to help make antibodies and train the immune system to attack. Moderna's claims come on the heels of Pfizer and BioNTech announcing earlier this month that its vaccine is 90 percent effective. In addition, the Sputnik V vaccine, developed in Russia, has released early data suggesting it is 92 percent effective. The recent announcements point to a positive direction in our collective fight against the Covid-19 pandemic.
Pfizer and BioNTech have even started launching the Covid-19 vaccine delivery trial in four US states, although the logistical question about its delivery to less-developed countries remains. As a BBC report has rightly pointed out, the positive results from Pfizer, Moderna and Russia's Sputnik V vaccine in the span of a week 'have transformed our chances of ending the pandemic'. This is good news for the world that is reeling under multiple crises due to the pandemic. However, this is no time yet for people to disregard Covid-19 safety protocols. We are still faced with an elephantine task of vaccinating millions of people throughout various corners around the world.
Whereas some researchers claim we will potentially begin getting back to normal in spring next year itself, others say that remains a far-fetched dream until winter the same year. The next few months will see a mix of good news and bad. On the one hand, clinical trials of vaccines by various institutions across the world are in various stages and will hopefully be out soon. On the other hand, the number of cases continues to rise. The world has seen 55.1 million coronavirus transmissions and 1.33 million deaths as of Tuesday. There are 211,475 cases in Nepal. With 17 new deaths, the total number of Covid-19 casualties has reached 1,247 as of Tuesday.
The Dashain and Tihar festivals have been a considerably low-key affair this year, although the presence of people in the market after the restrictions were lifted, and especially during the festivals, is alarming. Chhath is just around the corner, as are several other festivals. With seemingly never-ending series of festivals, the risk of people failing to maintain the basic protocol of physical distance and limiting socialisation always remains. Unless we reach a point where the vaccine reaches far corners of the world and begins showing actual results, we have no alternative but to follow Covid-19 safety protocols religiously, more so in the case of countries like Nepal where health care system is abysmal.
---