Nepal were the favourite going into the Asia Qualifiers. Here's what went wrong.
Not being able to come out of the shadows of the Big Three once again haunted the team throughout the tournament.

Photo Courtesy: cricketingnepal.com
bookmark
Published at : July 28, 2019
Updated at : July 28, 2019 14:46
Kathmandu
The Nepali camp in Singapore is devastated. In a winner-take-all match, the national cricket team has been beaten by Singapore, a team that Nepal had crushed just a few years ago in the Twenty20 format. But on Sunday, Nepal, the favourites heading into the second phase of the ICC Twenty20 World Cup Asia Qualifiers, were outplayed in the last match, with Singapore snatching the only spot for the Global Qualifiers. Nepal lost it's chance—and it's dream.

Did Nepal see this coming? Or did the team underestimate a Singaporean side ranked 12 places below them in global standings of the shortest version of the game?
Nepal were already given a reality check when they lost to Qatar by four wickets in their tournament opener last week. A team led by the flamboyant Paras Khadka will never underestimate any cricketing nation, though they had never lost to Singapore in any format of the game. Even when the two teams met in the first phase of the current qualifier in Malaysia last year, Nepal had sent Singapore packing for a paltry 81 runs before the match was washed out due to rain.
To understand just how shocking Sunday's defeat against Singapore was, you have to go back six years, when the two teams clashed in the ACC Twenty20 Elite in Kathmandu. On a sunny day at the Tribhuvan University grounds, Nepali batsmen went on to make 210 runs on a flat batting surface—their highest score so far in the Twenty20 format.
Under pressure, Singapore skittled out for just 89 runs in 15.1 overs, handing Nepal a 121-run victory. Only three players from that squad are retained in the current Singaporean side, and one of them, Amjad Mahboob, is now leading the team.
Six years later, it was Singapore who prepared that flat surface, and like Khadka, Mahboob had no hesitation electing to bat first after he won the toss. It was home country, home ground, home pitch, and Singapore knew where the ball would come and the areas they needed to target.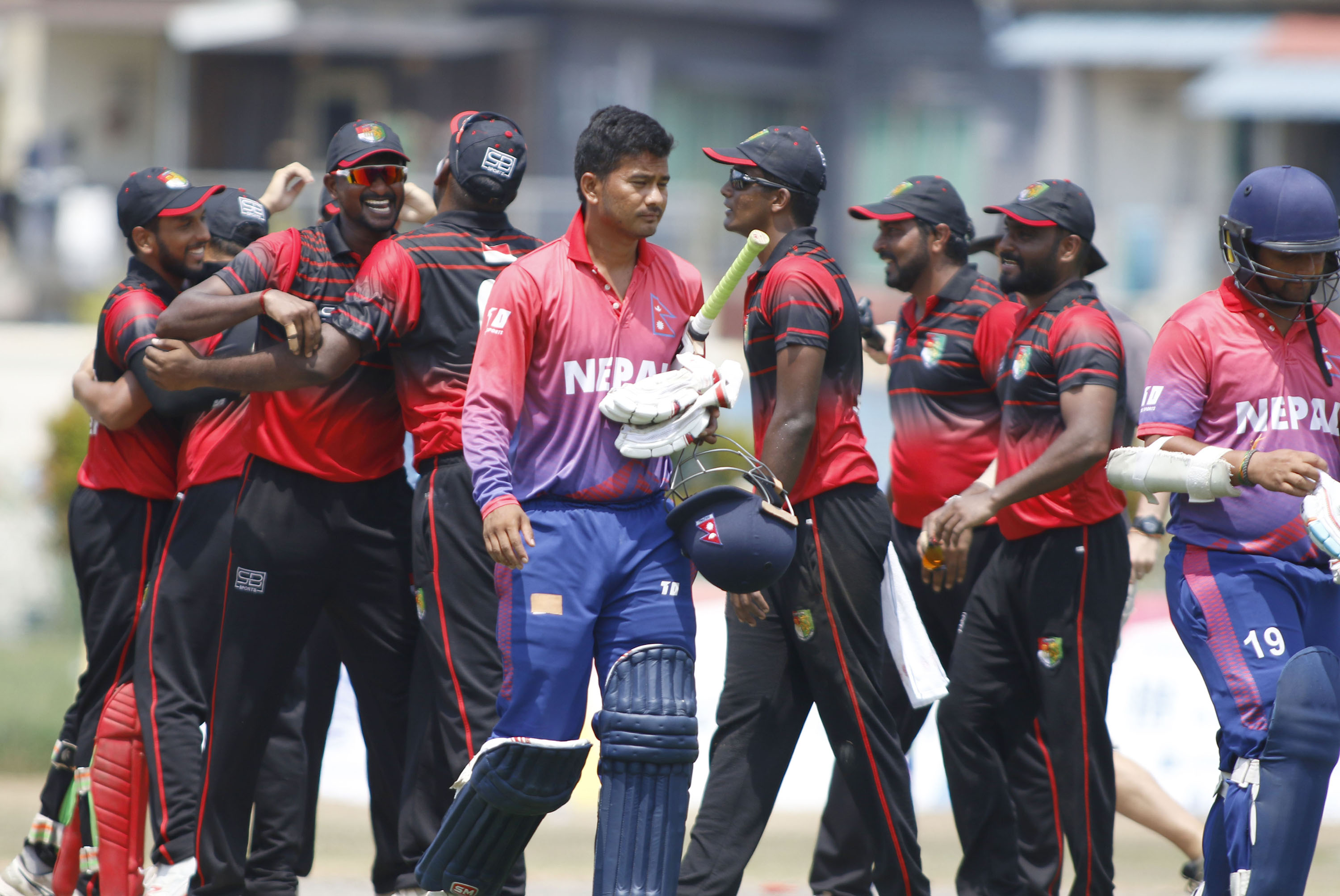 Photo Courtesy: cricketingnepal.com
Despite losing their opener Surendran Chandramohan with just 10 runs on the board, it was their two new recruits, Timothy David and Rohan Rangarajan, who made the runs. They appeared comfortable in the small ground they had worked so hard for so long, smashing Nepal's bowlers.
While Nepal's ace spinners Basanta Regmi and Sandeep Lamichhane were clueless and wicketless while bleeding 88 runs in their collective seven overs, Singapore's slow bowlers knew where they needed to aim. Aided by some sharp work on the boundary rope, Selladore Vijaykumar and Anantha Krishna accounted for five wickets, conceding just half of what Regmi and Lamichhane gave away.
It was a typical home-and-away fixture where the hosts took full advantage of conditions that favoured them and their style of playing.
On their own conditions, Singapore batted well throughout the tournament, making 186 against Qatar and cantering to victory in 14 overs while chasing 93 against Malaysia. Their match against Kuwait was washed out. They clinically beat Nepal, for whom the shock loss to Qatar ultimately didn't matter.
Nepal, on the other hand, had their problems. Not being able to come out of the shadows of their Big Three—Khadka, Gyanendra Malla and Sharad Vesawkar—once again haunted them throughout the tournament.
Khadka and Malla combined for a 49-run opening wicket partnership against Qatar before the team was bundled out for 122 in the first match. Malla had struck 51 off 22 balls when Nepal reached 86-3 in chase of Malaysia's 83-9 in a nine-over game.
Khadka smashed 68 runs off 42 balls and Vesawkar chipped in with 38 runs when Nepal responded with 143-3 to Kuwait's 141-9 in 20 overs. The middle-order batsmen were hardly tested and when Nepal needed them the most, they fizzled out. Nepal was not the team that it was known for throughout the tournament.
A place in the Global Qualifiers would have fixed Nepal some exciting fixtures, including with the likes of Test nations Zimbabwe (whose participation is unsure due to a recent ICC suspension) or Ireland, and highly-ranked Netherlands or Scotland. Their timely exposure could have been precious in their bid to settle as a Twenty20 International nation after achieving One-Day International status last year. But, on Sunday, Nepal lost everything.
---
---