Not just a man of science
Dr Nawaraj KC, a paediatrician and author, discusses how he juggles his passion for literature and committment to medical career.

PHOTO: COURTESY of Amit Rawal
bookmark
Published at : September 28, 2023
Updated at : September 28, 2023 08:15
Dr Nawaraj KC is not just a man of science—he is also a man of the written words. A paediatrician by profession, he has dedicated years of his life to the medical field, all the while holding a special place in his heart for literature. It is his passion for his work and love for words, that led to the publication of his first novel, 'Shunya Ko Mulya', a book about the struggles of motherhood and the importance of maternal health.

In this interview with the Post's Manushree Mahat, KC discusses his lifelong passion for literature and the need for medical literature that reflects Nepal's healthcare landscape.
When did your reading journey begin, and how has it taken shape over the years?
Reading has been a significant part of my life ever since I was young. My father was a teacher, so I would often find magazines and novels lying around the house. The school library also held a special place in my heart, where I fondly remember spending my early days immersed in Mahabharata and Ramayana comics.
As I grew older, I started reading the works of Bhairav Aryal and Shankar Lamichhane. My love for literature eventually led me to a career in writing. During my school days, I often penned poems and stories, earning recognition and prizes for some of my work.
My love for books continued to grow even as I moved from Surkhet to Kathmandu for my +2 education. I became a regular visitor to The British Council Library, where I spent my mornings and evenings surrounded by books. I became so familiar with the library that I could almost recite the location of every book.
However, my pursuit of a medical degree led to a decline in my reading habits. Medical textbooks dominated my life during that time. Nevertheless, I never let go of literature entirely. When I began working as a doctor, I rekindled my love for reading, although my reading preferences shifted.
These days, I find myself drawn to non-fiction and scientific research-based books that offer insights into societal change. One book that significantly contributed to my research and writing is 'Why Gender Matters in Economics', which explores how gender discrimination hinders global economic progress. However, I haven't entirely abandoned fiction, of course. I still enjoy books by Amar Neupane and Buddhisagar. Recently, I've also started reading all of Laxmi Prasad Devkota's works.
You have talked about the importance of scientific books in influencing social change. Can you share your experience in translating science and humanism into your book?
I began writing my novel when I was so touched by the people I encountered that I felt like I couldn't contain my emotions any longer. As a new doctor, my focus was initially solely on the child's condition, going through all the procedures I had to as a paediatrician—all that my medical degree had taught me.
However, I soon began to notice the mothers who had travelled for days to seek medical help for their children. Recognising that mothers are the foundation of our society, I realised that we can't achieve genuine peace and prosperity unless we do everything possible to support maternal health. Writing my book was a lengthy process involving extensive data collection. While collecting quantitative data was challenging, adding an emotional dimension to my characters to authentically portray their struggles proved to be the real difficulty.
Do you think the healthcare system is adequately represented in literature?
No, I don't believe it is yet.
Most books that medical professionals read are centred around research in communities outside of Nepal. There are very few research-based books focusing on the healthcare situations within Nepal, which can alienate our youth.
I also think patients bring life to hospitals. They bring painful yet real stories and experiences. As doctors, we witness these hardships up close. It's essential to bring the struggles of our local people into the spotlight. As healthcare workers, we have the power to shed light on these human stories and drive social and policy change. Medical literature is evolving, and I hope it continues to expand in the years to come.
Based on our discussion, it's clear that empathy is crucial in the field of medicine. How do you view the role of our education system in nurturing these essential qualities in future doctors, and how can literature contribute to this?
One of the most important things in medicine is the principle of studying the patient's medical history. Empathy is closely connected to improved diagnostic skills because being a good listener enables a more precise understanding of the patient's problems.
However, our education system has room for improvement in this regard. We should train our doctors to understand the language and experiences of local people. Personally, I felt that my medical education was incomplete until I began to observe and connect with the stories of the people in Surkhet. To enhance our medical programmes, we need to integrate humanism into the sciences. Until we achieve this, literature remains one of the most effective means to share the stories of our local communities.
The positive response to my book, both from the general audience, who appreciated its focus on motherhood, and from policymakers who provided feedback, reinforces my belief that the involvement of medical professionals in literature can significantly contribute to driving changes in our society's healthcare system.
Dr Nawaraj KC's book recommendations
Seto Dharti
Author: Amar Neupane
Publisher: Fineprint
Year: 2012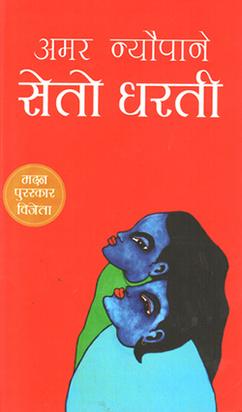 Seto Dharti explores the unjust and harmful practice of child marriage. It's written in a beautiful yet heart-wrenching prose. This book will evoke a range of emotions in you—I shed tears, shared laughter, and felt everything in between while reading it.
Karnali Blues
Author: Buddhisagar
Publisher: Fineprint
Year: 2010
This book holds a special place in my heart. It's a book set in my hometown, where I've been practising medicine for years. Many of us have read the Nepali version, and I believe the English translation is equally significant in promoting Nepali literature on the global stage.
Why Gender Matters in Economics
Author: Mukesh Eswaran
Publisher: Princeton University Press
Year: 2014
Why Gender Matters in Economics is a highly research-oriented book that examines how gender discrimination hinders economic progress. I've mentioned it extensively in my own book because it presents crucial discussions in a clear and logical way.
Buddhakalin Samaj
Author: Umakanta Poudyal
Publisher: Fineprint
Year: 2023
I recently read Buddhakalin Samaj, which is another well-researched and beautifully written novel that explores the time, culture, society and system during Buddha's times.
Sociobiology
Author: Edward O Wilson
Publisher: Harvard University Press
Year: 1975
Sociobiology is a book that explores the biological and social evolution of humans and other living creatures. I believe everyone should read it to better understand how we have evolved socially as a species.
Manche Ko Rang
Author: Anbika Giri
Publisher: Sangri-La
Year: 2014
If you're new to literature, I would recommend Manche Ko Rang by Anbika Giri. It's set during the Maoist insurgency in Nepal, and what I particularly enjoyed was the character-focused writing in this book.
---
---