Melancholy, nostalgia, and an attempt at valiant patriotism
Numair Atif Choudhury's maiden 'Babu Bangladesh!' unfurls into a cornucopia of symbols, motifs and metaphors.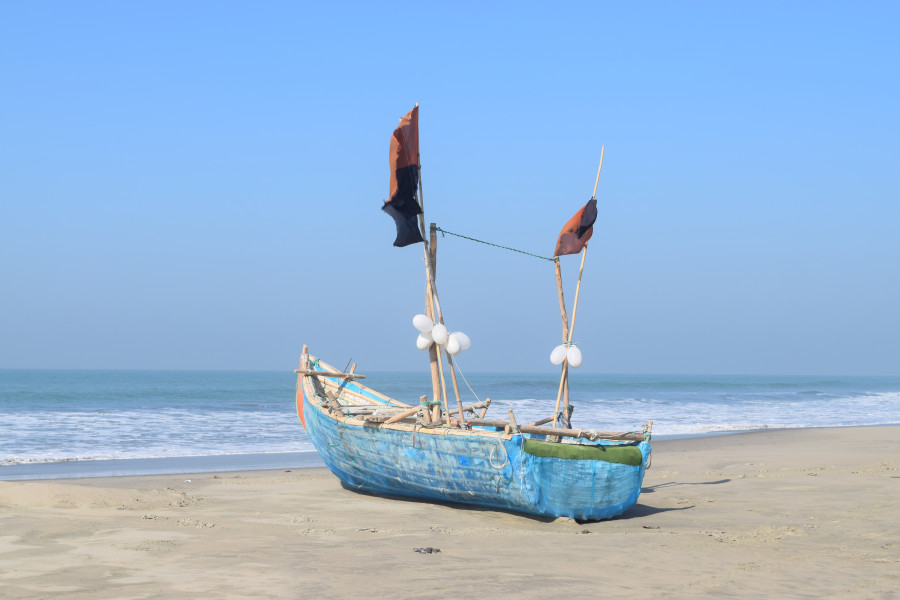 Unsplash
bookmark
Published at : December 14, 2019
Kathmandu
Bangladesh, 1971. At the roots of a venerable tree, a bot, a young couple press against each other, sobbing in desperation, to create a new life in a country that awaits a direction. A few decades later, Babu Abdul Majumdar emerges as a highly promising political leader, enthralling all he meets. One day, sometime around 2021, he disappears.
The narrator of Babu Bangladesh! then takes it upon himself to write about the life and times of this ardent environmentalist, segmenting them into five sections—building, tree, snake, island, bird. Each more mysterious than the other, with one simple entity unfurling into a cornucopia of symbols, motifs, and metaphors. It is a story that depends on the allegories of nature, a desperate plea to save the world of the environmental and social hellhole it has fallen into.
Babu Bangladesh! is not so much a novel as a historical maze, and not a particularly easy one, either. Nothing is as it seems, everything is enmeshed in the long, tumultuous history of the country. It needs the construction and understanding of a bigger picture, the birth and growth of Bangladesh in its entirety, to actually make sense to the reader. There lie its beauty and its trickery, its pull and its allure. It is an ambitious project, efficiently executed on paper, to give a voice to the intricate workings of a country.
This is done with the help of the eccentric character introduced earlier, with whom our narrator is besotted. He makes half-hearted attempts to point out Babu's flaws, and repeatedly tries to assure us in his avowal that his intention is not to "adulate or elevate (Babu) as an icon". But the rest of his time is spent in singing paeans of great Babu character, who was on his way to lead Bangladesh to a new era before his spirits collapsed midway.
For Babu's demotion, our narrator blames the political scenario, the hunger and greed of a nation's leaders to seize prosperity while denouncing citizens that do not help them in their mad ascent. Readers will feel a connection to this disrespect for people's sentiments that happens, again and again, the "abundant treacheries" on a nation and its inhabitants that leave a country hollow and bereft. The novel is, specifically, gratitude towards the numerous brave who laid their lives for the birth of a new country, and then a lamentation of how poorly the blood has been repaid. There is a distinct sympathy for the forgotten and downtrodden, with details and revelations, like sex workers abusing steroid to appear "robust and plump" to clients, shocking readers and helping them know Bangladesh all the better. It stands in solidarity with the psychology of the oppressed community in Bangladesh and beyond, that turns to violence to vent their fury over being butchered and trampled on.
In the midst of these mangled national aspirations that sashay in and out of time and space, the novel could easily have become staid, just another raw and dry decrial against politics. But Babu Bangladesh! turns out to be much more, a major reason being Numair's affair with words and sentences, literature and language. He has a formidable vocabulary, bringing words into usage seldom heard of or known, and weaving them expertly into the most beautiful of sentences. Read this, for instance: "Once again, numbers were doomed to repeat themselves, antique mammoths rose wearily, and the integers of time dances deadly to old tunes." The very preface of the novel is a delight, hinting at the exciting thing to come but not giving too much away; a nifty trick to keep readers hooked.
Just like the narrator is impressed by his hero's "mastery over environmental research debates, soul sciences, geological and marine biology, and ethno-geographic meditations," so too are readers taken aback by the writer's "spiffy verbiage and the vigour and depth of his convictions." At one point the narrator and writer and Babu merge into one character. Larger than life, carrying a nation's whorled past within him, and armed with a truly scary vocabulary.
In fact, there is always the danger that a sizeable portion of Numair's text goes over the audience's head, as it does in the book for Babu's disciples. For that reason alone, the novel needs careful attention and rigorous fact checks and references, not unlike a Bangladesh 101. And yet not all is serious, there are bouts of humour that show a wicked side to things. Sometimes that writer has fun at the reader's expense, and at other times at the protagonist's.
It is the only novel from Numair we will read—after working for 15 years on it and completing the draft, he tragically passed away. The novel was published posthumously. There are so many questions to ask the author, of his intentions and attempt, of his lack of distinction between reality and fantasy, of his impulsive rewriting of history, the hint of bilocation, of magic realism, of the surreal.
We receive a few answers, but perhaps it does not matter any more. For, as Choudhury reminds us, throughout the meandering account, we have "rotated like a dervish, with one finger pointing towards the azure and another pointing towards the ground." Even after this trance-like whirling stops, there are a hundred forms of griefs, wasted opportunities, and regrets oozing through the words. None of them is as ominous and foreboding as the last thing our narrator says to us—farewell, my friend.
Farewell, Numair Atif Choudhury.
————————————————————————
Babu Bangladesh!
Author: Numair Atif Choudhury
Publisher: Fourth Estate (Harper Collins)
Price: Rs 597
---
---