A job done with passion
'I'm made for the arts,' says painter, illustrator and designer Rashana Bajracharya.

Photo Courtesy: Rashana Bajracharya
bookmark
Published at : February 20, 2023
Updated at : February 20, 2023 08:11
Kathmandu
If you have ever seen a painting by Rashana Bajracharya, you will instantly know it's her work. While the artist is pretty shy, her paintings speak loud and clear. Her artwork features social issues—most frequently, women's issues. She says she likes portraying women's lives, struggles and emotions in her paintings as it brings light to these topics in a visually beautiful way.

Growing up Bajracharya was shy and had difficulty communicating with her parents. As her mother was very sick and had to be hospitalised often, she grew up with her grandmother and was not close to her parents. Later on, she developed social anxiety and had trouble expressing herself in general. She spent a lot of time alone—preferring to hang out by herself or with animals than socialise with other individuals. She found herself painting and doodling whenever she was alone and eventually realised how much she loved creating art. "I am made for the arts," she says.
After SLC, Bajracharya's parents wanted her to pursue science. She even joined a bridge course for science but her friends encouraged her to continue her journey in art because they could see how passionate she was about it. She remembers, "My friends told me that they would never pursue science if they had my painting skills. That is when it hit me that art was what I wanted to do as a career." She then persuaded her dad to let her major in arts and studied plus two at Srijana College of Fine Arts.
Earlier in her career, Bajracharya enjoyed creating decorative pieces but she changed her focus after the 2015 earthquake. She started basing her artwork on the people around her and their suffering. She has been weilding art as a powerful tool for storytelling ever since.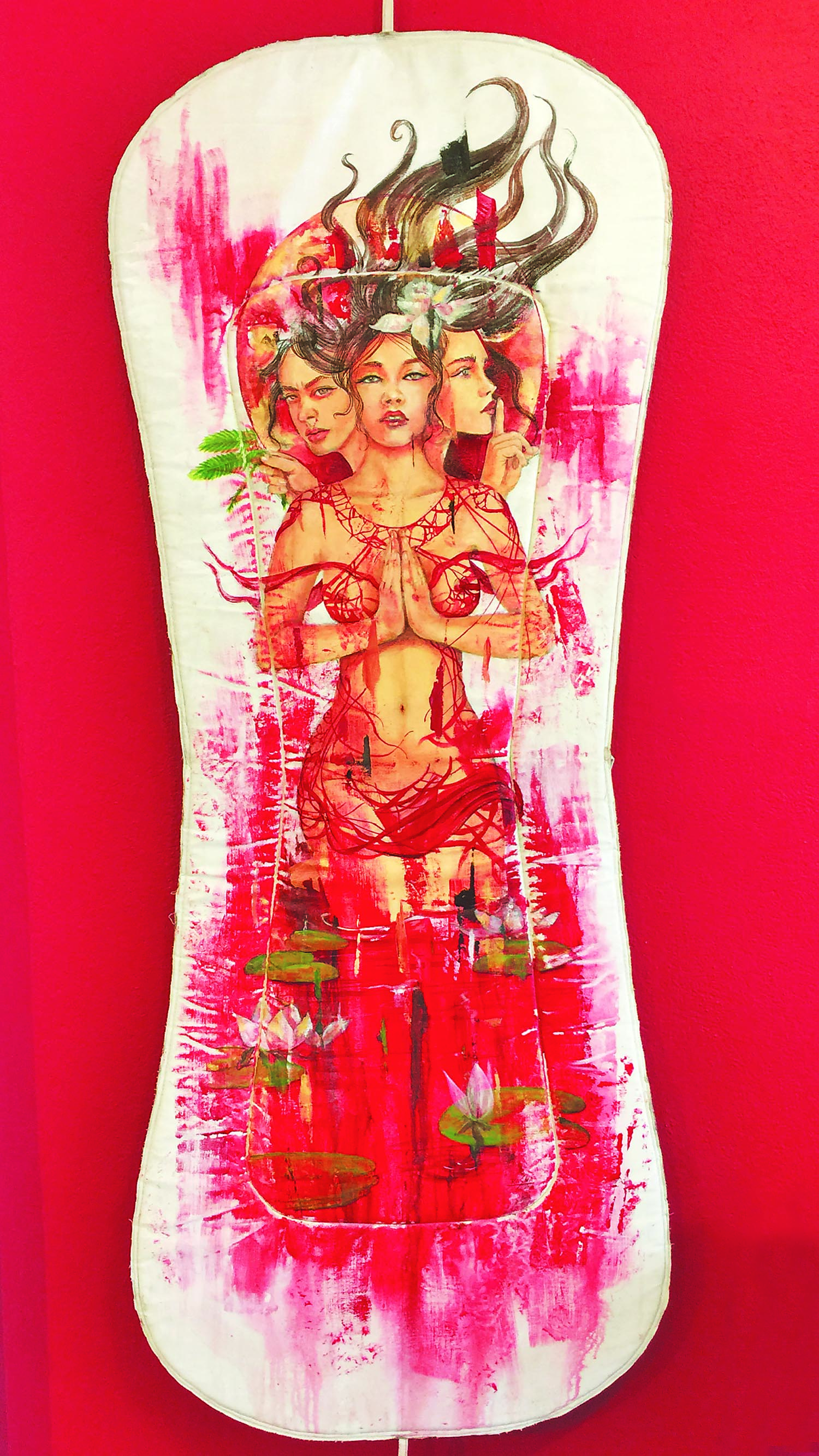 Photo Courtesy: Rashana Bajracharya
For most people, their passion and career are completely different. However, in Bajracharya's case, her passion led to her landing a job as designer at the Supreme Court. While being a government worker was not something she planned on, she claims that she enjoys her day job too. The artist says that while she is happy her parents did not oppose to her studying art, she felt like she shouldn't burden them financially as she is doing what she loves. So she used to take up any job she could get and has been earning her living since she was 16.
Bajracharya's passion has also brought her international recognition. She was invited as a culture and arts representative to the 2019 American Arts Incubator Amplify exchange programme by the US Department of State.
Among her paintings, Bajracharya considers the piece 'Laxmi Narayan' especially close to her heart as it depicts how art has been present in the world for a long time. According to her, it also includes images of gods and goddesses, which has been one of her biggest source of inspiration for her work.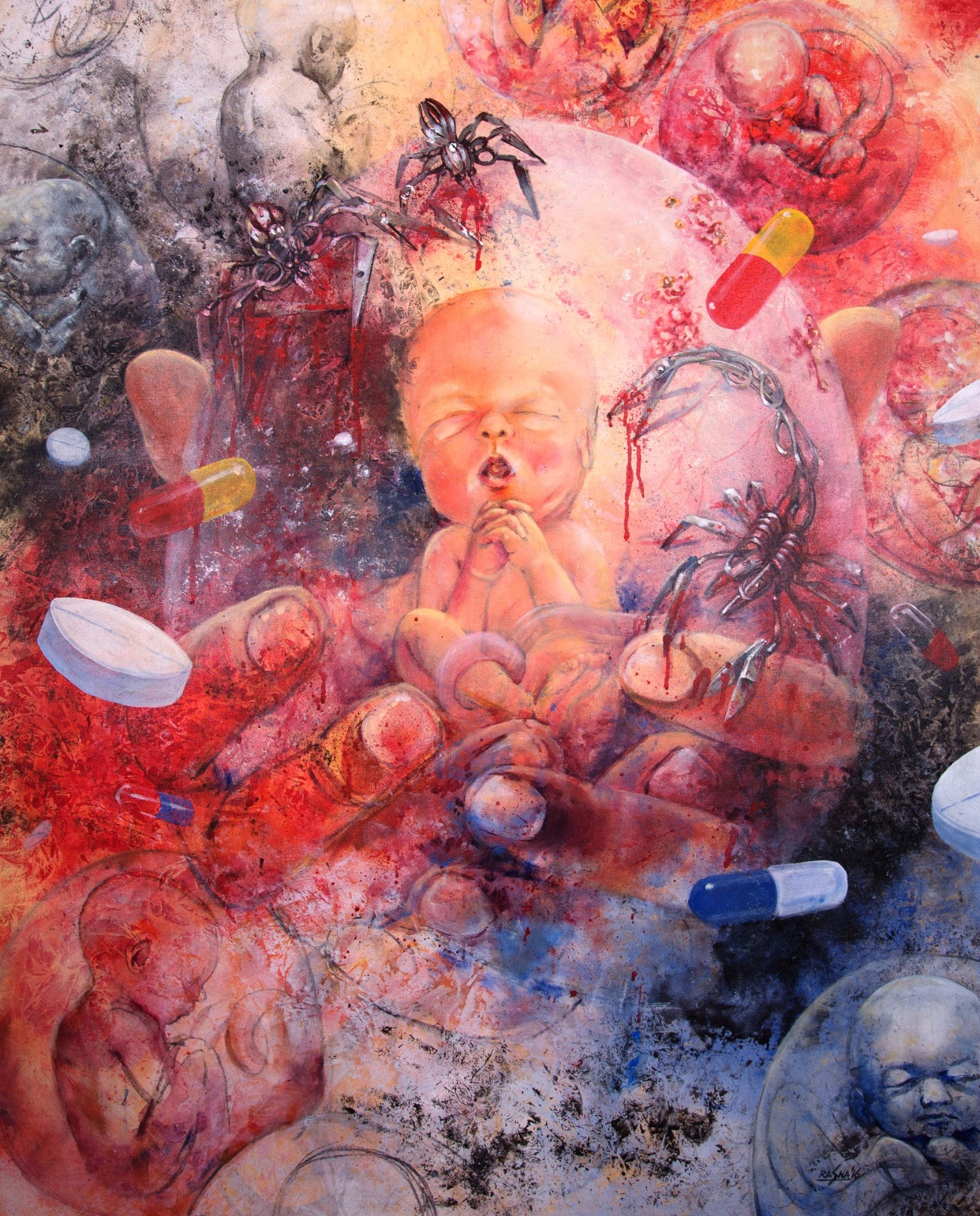 Photo Courtesy: Rashana Bajracharya
Another painting she is particularly proud of is 'Purity of Impurity'. Rather than making it on canvas, like she usually does, Bajracharya has drawn it on a huge pad. "As women we are considered impure when we get our periods. But us giving birth to a child is a celebratory occasion but the process through which we give birth is impure. I find this through process very problematic," she says, adding, that she thought this could be portrayed better through a painting on a pad than a regular canvas. The lotus in 'Purity for Impurity' indicates purity and the heads indicate goddess. She explains that image of one of the heads doing a shushing moment is meant to represent how women are encouraged to keep their periods a secret.
Bajracharya calls herself 'a lover of all forms of art' and claims that putting her thoughts into art is her greatest strength. The artist also proudly calls herself a feminist and states, "Many people look up to my work so I feel a big sense of responsibility about what I am portraying through my work."

Bajracharya's favourite artists:
Vincent Van Gogh
Ashmina Ranjit
Kai Samuel Davis
Lok Chitrakar
Judy Chicago
Remedios Varo
---
---