Niraj Khanal, a budding leaf artist, breaks down the process of drawing on leaves
On leaves, the artist has made portraits of famous personalities like Prime Minister KP Sharma Oli, Kul Man Ghising, Rajesh Hamal, Keki Adhikari, Paras Khadka, and Barsha Raut.

Photo Courtesy: Niraj Khanal
bookmark
Published at : February 12, 2020
Updated at : February 12, 2020 08:04
Kathmandu
For Niraj Khanal, the leaves of the peepal tree at his college are not just leaves. While his friends run over them or don't care about their existence, the leaves are important to him. He carefully picks and carries them to his home on a regular basis. He then takes out a blade and starts carving faces on them. The leaves have become his canvas.
On these leaves, 23-year-old Khanal carves figures of celebrities and other well-known people, which has drawn a lot of social media attention. "The way people appreciated my work on social media encouraged me. It was something I did when I was free but after receiving appreciation I started doing it more," says Khanal, who recently graduated from college, and is a student of botany.
In his first leaf art, which he made six months ago, he had carved the face of famous television journalist and personality, Rabi Lamichhane. That was around the same time Lamichhane was kept in custody in Chitwan for his alleged role in abetting a fellow journalist's, Shalikram Pudasaini, suicide. Since everyone was talking about the case, Khanal, who hails from Padampur, Chitwan, was inspired to make him his first subject, he says.
"I saw a TikTok video, where a Chinese guy made a leaf art. It intrigued me and I decided to try it out by making Lamichanne my first subject," says Khanal, who later uploaded the photo on his Facebook account, so as to extend his support to Lamichhane's release. The photo went viral, generating curiosity among Facebook users.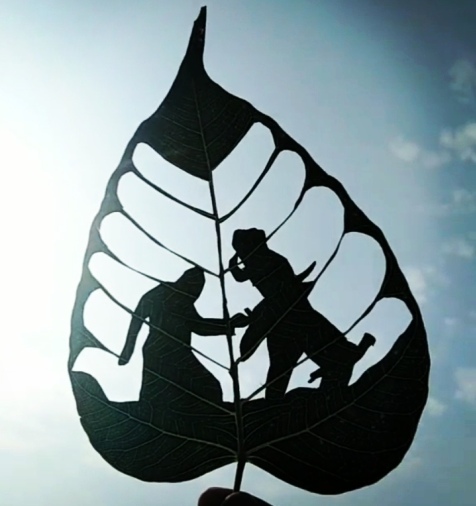 Photo courtesy: Niraj Khanal
Until now, Khanal has made leaf art featuring many known names, such as Prime Minister KP Sharma Oli, Kul Man Ghising, Rajesh Hamal, Keki Adhikari, Paras Khadka, Barsha Raut to even international figures like Lionel Messi, Cristiano Ronaldo, Virat Kohli and Shah Rukh Khan.
When asked why he picks celebrities as the subject of his art on a regular basis, Khanal says that the intention is to make more people interested in his work. "If I make art which has the face of the celebrity, more people will recognise and even share it with their friends, making my work reach out to more people," says Khanal.
With 66,300 followers on TikTok alone and 6,000 on Instagram, he has been receiving requests on social media platforms where people want him to draw something for them. For those artworks, he charges around Rs 500 to Rs 1,000 for a piece. But what he does isn't for money, he says. It's the sheer joy he gets from making art that pushes him to do more, he says.
But what's his process like? And why peepal leaves? The process is simple; Before he starts carving, he carefully sketches on the leaf with a gel pen. With the help of a pen blade, he then resorts on making the outline which helps give the required details in the artwork. However, according to him, this is the most difficult process as there's no room for error and one needs to have enough patience and precision while doing so.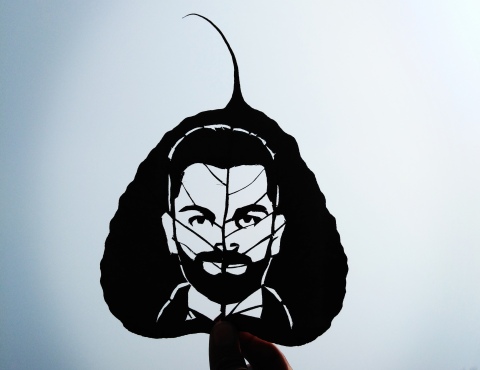 Photo courtesy: Niraj Khanal
As for the use of peepal leaves, he says he finds them comfortable to work with—thanks to its numerous veins that make it easier to use the blade for the detailing. He does sometimes use the leaves of money plants as well, he says. But what's tricky with this art form is that you get no chances to make mistakes.
"Unlike paper, you can't erase your mistakes easily. That's why it's very important to fully focus and make the details correct," says Khanal.
After he is done with his artwork, to make sure that the leaves won't decay fast, he hard presses the leaves in a paper for more than two to three days. The water in the leaves need to drain completely so it can dry, and later he makes the herbarium of his art as a process of preserving his work.
For his artwork to be complete, he, however, needs the sky, for one can see the image he has carved clearly only if the leaves are held up against the sky.
Khanal says that it usually takes one to two hours for him to complete a leaf art. And since it's a work of patience and diligence, it's challenging for him to make the exact figure on the leaves. But after finishing the artwork, he feels satisfied. "If my artwork can bring a smile on someone's face, then it's totally worth the challenge that I undertake," says Khanal.
---
---