Mountaineering is not a sport: Reinhold Messner
It has been forty years since Reinhold Messner scaled the Mount Everest without the use of supplementary oxygen with his friend Peter Habeler.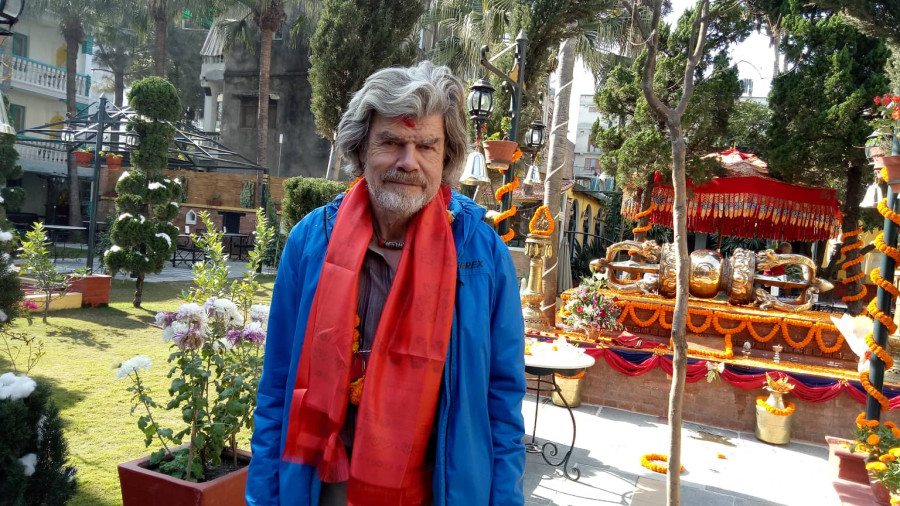 bookmark
Published at : December 30, 2018
Updated at : December 26, 2019 15:43
It has been forty years since Reinhold Messner scaled the Mount Everest without the use of supplementary oxygen with his friend Peter Habeler. Since then he has made it to the Guinness Book of Records nine times in 'World's firsts' category—six of which were for being the first person to climb different summits without supplementary oxygen. The 74-year-old, who loves to call Nepal as his second home, frequents to the country whenever possible. One of the most unforgettable memories he has from Nepal is from the 70s when he lost his six toes to frostbite while summiting the Rupal face of Nanga Parbat. During his most recent visit, the Post's Bibhu Luitel had a brief conversation with him where he shares his love for Nepal and mountaineering. Excerpts:
What brought you into mountaineering?
I was born in the mountains, in the Dolomites located in northeastern Italy. I spent a significant part of my childhood in the laps of that mountain range. As a young boy, I used to look at them and get fascinated by their beauty. I also used to dream of conquering the summits someday. While growing up, my interest shifted from the Dolomites to the Himalayas. That is what brought me to Nepal more than a dozen of times before I actually climbed the Everest. In my every visit here, I would learn not just about the beautiful peaks here but also about Nepali art, culture and history. In time, I started realising what we outsiders considered to be just mountain peaks were taken as form of gods by the Nepalis. I was amazed by the relationship between mountains and human beings. That further increased my love for Nepali mountains. Despite having learnt a lot about Nepal and its people already, I want to call myself a mountaineer because that has become my identity now.

What made you choose Nepal to pursue your passion?
Nepal is home to eight of the 14 eight-thousanders. This made me very keen about Nepal. That does not mean I have not been to other countries to climb the mountains. I have also been to countries like Pakistan, Tanzania, Argentina, and the
United States to scale the summits. But the attachment I already have with your country can not be compared to the rest.
I came here last year to do some films on Himalayas. I visited the western region including Mustang and learned about the popular culture there as well. I love how people of different religions stay together in harmony. The difference in lifestyles of people living in the western and eastern Himalayan region amazes me. I am fonder of the latter one.

Why is that? Can you elaborate?
May be because this is the region I have visited more than any other in the world. I can connect to every element of the mountainous region in the eastern part of Nepal. And another reason has to be how it affected me to see the whole region suffer after the earthquake. I have already visited the Everest region a number of times after the 2015 earthquake. I felt like they are my people and it is my responsibility to help them in the dire situation.

How did you manage to help the people in that region?
I have established a mountain museum in South Tyrol, Italy where I have put the artworks and souvenirs I took back from Nepal and other countries to my hometown. It has been a hub for tourists to know about mountains. Nepali thangka paintings and handicrafts are the most admired artworks. The place accommodates half of the exhibits from Nepal and half from the rest of the world. And with some little amount of money we make there, I contributed a good sum for reconstruction of residences at Namche after the earthquake.

Were the people in your hometown supportive of this initiative?
Yes. It may surprise you to know that people in my small German speaking community know a lot about Nepali art and culture already because of the museum, even more than many Nepalis. I feel that Nepalis do not appreciate their culture as much as they should because it's not only the mountains but many people visit Nepal for its people and the beauty of their culture and traditions. It breaks my heart to see that the development process after the earthquake has been so slow and ineffective.

Can you tell us more about your journey and the world records you have created?
I don't believe I have any world records because mountaineering is not a sport. I did not have intention of creating any world record. I was just very lucky to have done something before anyone even thought of accomplishing. Now if you see, many people have already climbed the peaks without supplemental oxygen. That does not mean that I don't appreciate what I have achieved so far, but that does not make me feel proud either. This might be even difficult of a feat now that the density of oxygen might have depleted in the mountains as a result of global warming.

How do you think the mountains have been affected by global warming?
The mountains used to be the most beautiful things anyone could ever see but now they have started to shed their beauty. The sparkle I had witnessed years ago in them has started decreasing. My lady had never made it to the Himalayas and when she finally decided to come with her 'personal guide' having heard of all praises of the mountains, I could not show her the beauty like I had seen. This makes me sad.
---
---