A mural for Satya Mohan Joshi
For the past four months, a team of paubha artists, at the request of the centenarian writer and historian Joshi, have been hard at work making a large-scale mural of Chakrasamvara, a Buddhist deity representing Vajrayana philosophy.

The ambitious mural project is the brainchild of Satya Mohan Joshi and is executed by a team of six paubha artists. Beeju Maharjan/TKP
bookmark
Published at : June 17, 2022
Updated at : June 17, 2022 17:43
Kathmandu
A few months ago when veteran writer and historian Satya Mohan Joshi met paubha artist Lok Chitrakar, he requested the artist to make an art of 'Chakrasamvara' that would be representative of "Nepal's indigenous art traditions, practices, and methods".
Whenever Joshi and Chitrakar met each other, the duo often talked about art and the need to promote Nepali art in an era defined more by contemporary art. But never had the conversation culminated into a concrete project or plan.
This time, however, Joshi's request was urgent and demanded Chitrakar's full responsibility, shares an excited Chitrakar from Joshi's house, which has now been renovated into Lok Sahitya Parisad.
"He wanted me to start work on the mural of 'Chakrasamvara' immediately, and he expressed it as his last wish, and I could not take that for granted. It demanded my commitment, and here we are making one of the most ambitious murals of our lifetime," says Chitrakar. "This project is very close to Satya Mohan Joshi's heart, and he didn't want to delay it any longer."
A few years ago, Joshi endowed one of the buildings where he lives to Lok Sahitya Parisad (which he founded in 1984) to make it a space to promote art and literature. The first floor of the building is dedicated to Nepal's art and culture, and it is on this very floor that six artists—Rabin Maharjan, Rabin Gathuwa, Laxmi Shakya, Manish Kayastha, Reena Shakya, and Chitrakar—have been meticulously painting a 22 by 5.5 feet paubha of the Buddhist tantric deity Chakrasamvara.
For those who are not very familiar with Chakrasamvara, the mural might come across as erotica. It features Chakrasamvara embracing his yogini consort Vajravarahi. But this is not the case, tells Rabin Maharjan, one of the artists involved in the project.
"Chakrasamvara is an esoteric deity, especially for Vajrayana practitioners, and this is probably why Satya Mohan baa wanted this particular painting made," says Maharjan.
One of the reasons many are not familiar with the deity Chakrasamvara is because it is believed that only those who have received dekha (esoteric initiation) can enter the chamber of the deity to worship it, explains Maharjan. This is why even many members of families whose tutelary deity is Chakrasamvara are unfamiliar with the deity.
For Maharjan and the four young artists who are part of the project, this has been a rarest of the rare opportunity to learn not just the iconography of a deity that is seldom painted but also to understand how art transcends beyond forms in cultures.
"I think this is the first time we are working on a mural that is not just meant to be art. When completed, the mural will also represent our ritualistic culture and function as a resource for study. It is an art that will most likely also be worshipped," says Maharjan.
To make the mural, the team had also organised a hasta (hand) puja in which the hands of the artists involved in the project were worshipped as the mural will also be consecrated in the future. The ritual also involved worshipping the colours and brushes that are now being used to make the Chakrasamvara mural.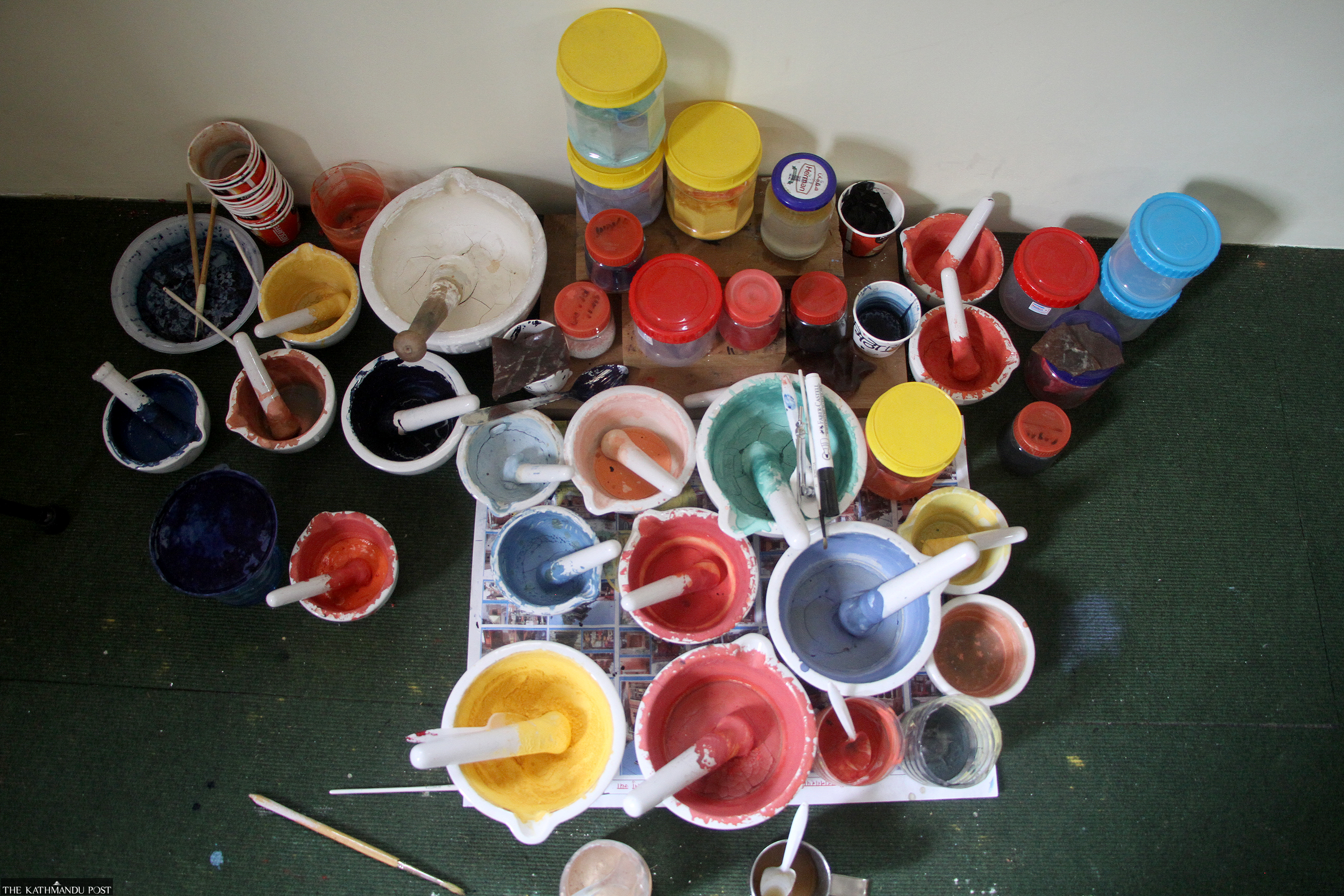 The Chakrasamvara mural uses the traditional technique of paubha making, which involves using mineral colours that are unimaginably expensive and hard to find. Beeju Maharjan/TKP
Chakrasamvara represents a philosophy in Tantric Buddhism that is bereft of duality and represents enlightened knowledge, say experts on Buddhism. "It is a philosophy meant to portray the union of compassion and wisdom which usually in the image is symbolised through the union of Chakrasamvara and Vajravarahi. Chakrasamvara is widely revered in Newa as well as Tibetan Buddhism," says Deepak Bajracharya, a Buddhist priest from Patan. "You can understand it as a type of education of meditation. Moreover, it's a medium for Vajrayana yoga. And there's so much information to pull out from the image. But for centuries, the knowledge has remained guarded," he says.
Unlike the paubhas that one sees in the market and on the walls of houses and buildings, which are made just to represent a deity's form, the mural of Chakrasamvara at Joshi's home is meant to serve a larger purpose of spreading knowledge.
"We are bringing to the public a tantra that has for centuries been closely guarded. Culturally, we have reached a point where we have to publicise the information surrounding Chakrasamvara's rituals to preserve them," says Chitrakar, who has been making paubha for over forty years.
"This project makes me proud because it combines philosophy and art and provides a window into understanding our nuanced culture. And it's also a way to safeguard knowledge by making it accessible to the general public," adds Chitrakar.
Chitrakar's mural project—which is being handled and documented by the Satori Center for the Arts, a non-profit organisation—also aims to produce a book and a documentary on the mural to provide information about the deities in the mural and the making of the mural.
The mural uses the traditional technique of paubha making, which involves using mineral colours that are unimaginably expensive and hard to find. "Some of the colours we are using are very rare, so we are very cautious while using them," says Maharjan. "We use mineral colours because, over time, these colours get richer, and they last longer as well."
Pulling off a project of this scale requires funds, and the team estimates they will need Rs 4.23 million. To kick off the project, Joshi himself contributed Rs 800,000, of which about Rs 150,000 was used to build portable frames to support the painting's canvas.
"Singer Yogeshwor Amatya contributed Rs 500,000. We have also received donations from a few others, but we are still far from raising the required funds," says Chitrakar. "We made the decision to start the project and collect funds as we go because we think that when people see our work, they will come forward and donate."
The project has so far collected 25 percent of the estimated required budget.
Chitrakar and Joshi's project is also significant in giving continuity to the paubha tradition, a unique indigenous Newa art tradition of the Valley. For many years, Chitrakar and many veteran paubha artists were concerned about the lack of interest among young people in paubha tradition. But in recent years, a growing interest among young artists in paubha tradition has given senior paubha artists like Chitrakar a reason to be optimistic.
And by documenting the project, the team hopes that it will serve as a bridge to learning more about the tradition.
"I got into paubha to make art that could identify Nepal globally. And I have already learned so much by being part of the project. I come from a community that otherwise was not allowed to learn to make paubha, but times have changed, and those barriers no longer exist," says Maharjan.
"By working on this project, we are also making it possible for people to see the importance of paubha as an artform while simultaneously sharing with the public the techniques of making such art for future reference. I believe this will encourage people to study our culture, tradition, and art," he adds.
The six artists share that being a part of a project helmed by Satya Mohan Joshi, a widely endeared figure across the country, is a great honour.
"This is a fortuitous moment for us; getting to work for such an ambitious project and that too for Satya Mohan baa, who the country considers an institution, is one of those very rare opportunities. So you cannot imagine how big of a project this is for us," says Reena Shakya, a student paubha artist involved in the project.
On days when Joshi, who has been visiting hospitals regularly for his breathing problem, is in good health, he makes it a point to visit the artists working on the mural. He sits on the chair quietly and observes the mural coming to fruition before his eyes.
"He doesn't talk much these days because of his health problems, but he loves to watch the artists work," says Bijay Awale, a close friend of Joshi and someone who also comes by often to see the artists work. "Oftentimes, when he leaves the room where the mural is being made, we can see him more relaxed and at peace. This project means a lot to him, and he really wants people to talk about art and cherish Nepali art. This is something he is doing for people for the country."
To contribute to the Chakrasamvara mural project, contact the Satori Center of the Arts at satori.nepalarts@gmail.com or 01-5536974.
---
---