A rebellious song of grief
Rachana Dahal's new song 'Hey Bhagwan' deals with anger, religious faith, and feeling of aimlessness in the face of overwhelming grief.

Versatile singer and songwriter Rachana Dahal released her new single 'Hey Bhagwan' in the Noodle app on September 30. Photo courtesy: Ratna Sambhav Upadhaya
bookmark
Published at : October 6, 2021
Updated at : October 6, 2021 00:56
Kathmandu
For artists, their work acts as an outlet for their emotions and feelings. And for some, their work can even help them make sense of their own emotions and in doing so, artists create a relatable experience for their audience.

Rachana Dahal, an indie Nepali artist famous for her distinctive pitch and tone, is back with her new single 'Hey Bhagawan' in which she explores the effects of grief without the support of faith. The song was released on Noodle app on September 30. The app, which posits itself as a direct line between artists and audience, allows people to directly purchase songs and albums to support artists.
The minimum price for a song is Rs 99 and artists are free to set the price they want for their albums.
Grief and loss is a prominent theme that emerges with a resonating pulse in her songs from time to time. Starting with her debut single 'Bhumari', which revolves around grief, anger, and loss after a toxic relationship and its aftermaths, the theme of grief has also been a central theme in her song 'Daagbatti' released on November 6, 2020. In its Youtube description, Dahal writes- "When my uncle decided to kill himself, my aunt grieved his death, longing to feel his love again. The feeling of anger at his actions but guilt for not being able to save him, haunted her."
Dahal's recent songs feel like an outlet for her bursting and underlying emotions in face of the tragedy of her uncle's suicide. It's as if she pens her feelings, emotions, and thoughts into lyrics as a coping mechanism. In doing so, she holds the hand of listeners and takes them into a journey of different stages of grief, her iconic falsettos adding emphasis to key moments in the songs.
In 'Hey Bhagawan', the feelings of anger -common in stages of grief- is apparent. Popular songs that deal with the grief of a loved one like 1974 AD's 'Sambhodhan' and Eric Clapton's 'Tears in Heaven' take a sensitive approach, harmonising soft rock with lyrics full of remorse and a sense of loss. However, Dahal's distinctive strong vocals blended with overtones of rhythmic drums and smooth guitar chords create a rebellious song, defying the traditional sombre approach to death and grief.
The intro tune of the song starts with a soft melody, similar to lo-fi music that you let carry on in the background while you work, belying the heavy themes and overall energy of the song. Dahal's voice—famous for being boisterous and commanding—is soft and fragile in the opening chorus, complementing the slow rhythm. The starting tone and music accompany the chorus lyrics go- 'Asthik ma haina/ Devi deuta chainan/ Kehima ni biswas lagdaina/ Paap anek mera/ Pwal ra ched hera/ Dharma le karma dhakdaina' (I am not a theist/ I don't believe in goddesses, gods or anything/ I have committed a lot of sins/ Notice the holes and gaps/ Creed doesn't cover one's deeds). And just as the song hits the one minute mark, the instrumentals come roaring into life with a resounding voice of Dahal, reminding us of the power of her distinctive vocals.
While 'Daagbatti' dealt with the acceptance and adjustments to grief, 'Hey Bhagawan' moves a bit further and deals with bargaining and confusing stages of grief. The beginning of the first verse which goes 'Pari chimek ghar ko/ Kaka hijo bitnu bho/ Maan ko kuna ma daha bho/ Unka thau ma bhae/ Kaal le malai lage/ Haserai saran garne thiye' (A neighbouring house's uncle has passed away/ A sense of envy crept into my heart/ If I was in his place/ If death had taken me away/ I would have happily surrendered) captures the feelings one feels after the loss of a loved one, during which people often feel a sense of unfairness in the world and attempt to bargain with supernatural powers, pleading to swap places with the deceased or joining them in the afterlife.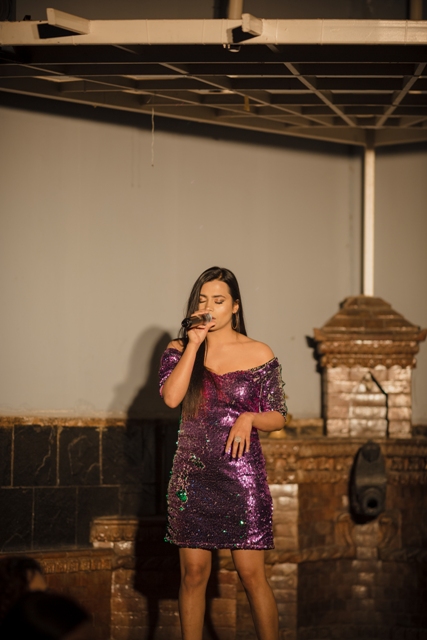 She began her full-fledged artistic journey with the release of her first single 'Bhumari' in April 2019. Photo courtesy: Fotofusion
Throughout the song, the lyrics reference an atheist's experience with grief. Grief and trauma often have a drastic impact on people—often imperceptible to the affected themselves—that they affect people to their core. Grief-stricken people start to question the fairness of life, their sense of belonging, and their identity. In these dark times, faith in religion often helps people tide over stormy waters. However, for those people who don't have such faiths, the process of grief can be extremely confusing and lonesome. The song makes a commendable effort at capturing these emotions through the lyrics, instrumentals, and changes in pitch.
A special mention must be given to a particular falsetto around the 3:30 mark. Dahal, known for her strong vocals, starts a high note, during which one instinctively braces oneself, in anticipation of a series of ever-rising notes, but the note takes an unexpected turn. The note transitions into a shrill falsetto, which at first, sounds out of place, but eventually mixes well with the theme of the song, giving a hauntingly beautiful quality to the song.
The song further emphasises the motif of aimlessness without the support of faith. Terms like 'dharma', 'dhama', 'tirtha', 'shaan', and 'karma' are repeated one after another, making the listener question if faith is a powerful enough force against grief.
The repetitions go on to culminate into a kaleidoscopic musical experience-a melodious mixture of the chorus, background vocals, and complementary instrumentals (quality headphones or earphones are recommended to experience the full depth). The result is a surreal experience, where one feels as if one has been transported into the mind of a person going through the stages of grief with the cacophony of voices, emotions, and feelings bubbling all within oneself.
Anyone who has experienced or is experiencing grief from the loss of loved ones will relate to anger, isolation, and the sense of confusion portrayed in the song. And for those lost in the sea of confusion, Dahal's new song 'Hey Bhagawan' extends a helping hand, which might not help us find solid ground again but certainly helps us with relatable lyrics and a companion for the seemingly unending days lost at sea.
The song can be purchased in the Noodle app for Rs100.
---
---