Ignored and misunderstood but driven by passion
For a sport that has already been included in the Olympics, skateboarding is largely an unrecognised sport in Nepal with little to no government support.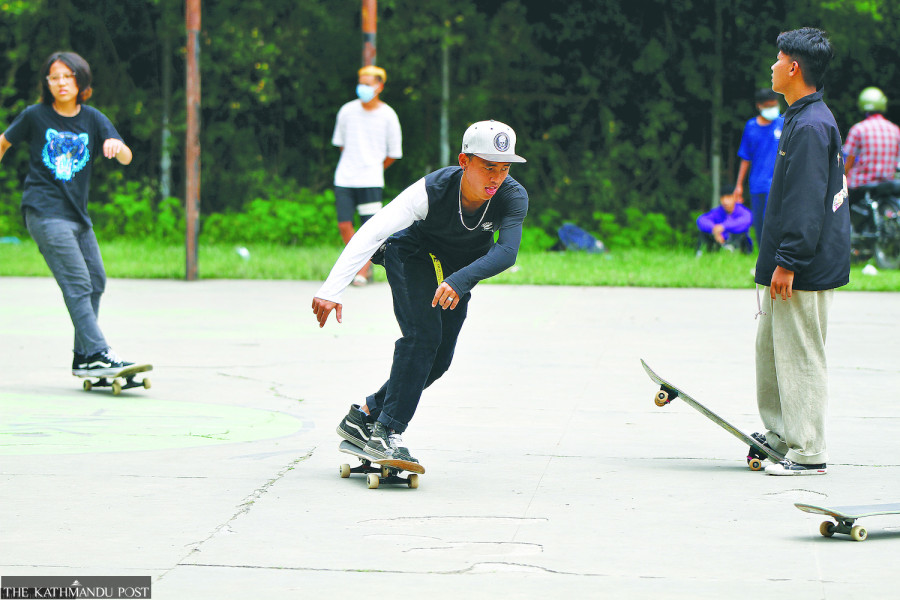 In Nepal, skateboarding is viewed as a hobby, a phase, or more commonly an activity for rebellious and angst-ridden teenagers. Beeju Maharjan/TKP
bookmark
Published at : August 18, 2021
Kathmandu
Gajendra Bardewa scours parks, basketball courts, football grounds or any free ground whenever he goes outside. He is always on the lookout for any open space ideal for skateboarding.

Full-time skateboarding athlete Bardewa is a winner of 3rd National Open Skateboarding Championship 2019. For now, he practices skateboarding on the old basketball court in Tribhuvan University, Kirtipur.
"We are doing this[relocating from one place to another] from the beginning. We started playing in an open space in Chyasal, from there to Satdobato, then here[TU basketball court], then we were forced to leave here too, but we returned after talking to the people here and reaching an understanding," says Bardewa with a determined look.
"But a few months later, they[local basketball players] might get strict again and not let us use this space. Then, we will once again go searching for a new open space again."
For a sport that has already been included in the Olympics, skateboarding is largely an unrecognised sport in Nepal. Many do not even consider it as a professional sport akin to football or cricket. It is viewed as a hobby, a phase, or more commonly an activity for rebellious and angst-ridden teenagers. But for others, it is a passion, a career path, even a lifestyle. "There is something within us that gives us hope that we can achieve something with skateboarding. I can't even explain what it is.…I can't even go to sleep if I haven't skated during the day," says Bardewa.
He along with an organisation 'Yuwa For Change' have been organising workshops and events to spread awareness about skateboarding. Recently, they have started skateboarding beginner classes for girls on Saturdays called 'Girls On Board' on the same basketball court.
Now every Saturday, the basketball court in TU echoes with the playful shrieks and screams of beginners learning how to balance themselves on top of a skateboard. The experienced skateboarders lend a hand to beginners, literally and figuratively. The beginners' faces start to lighten up as they start to get the hang of balancing and steering their bodies.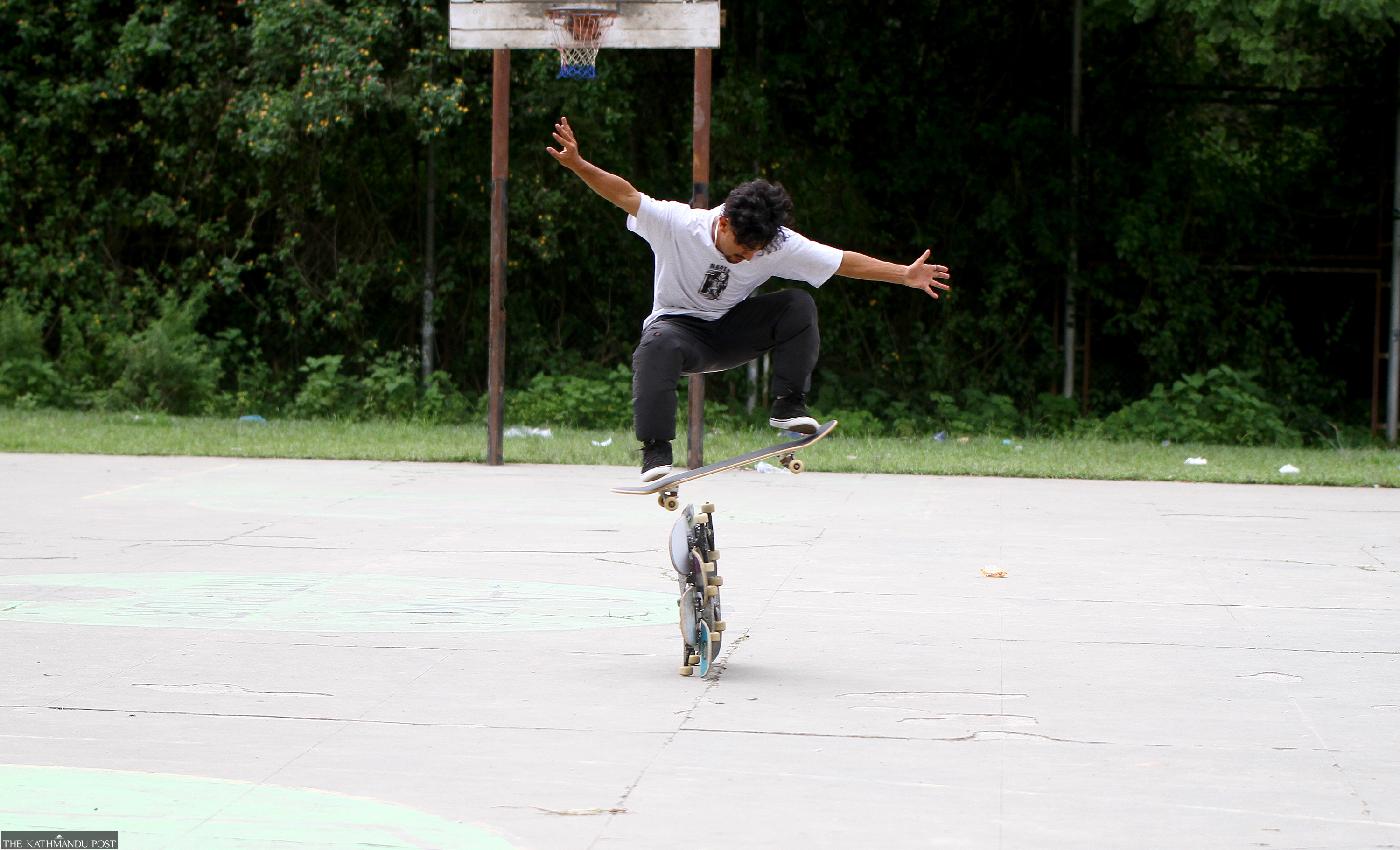 Gajendra Bardepa shows off his skateboarding prowess at the old basketball court in Tribhuvan University, Kirtipur. Beeju Maharjan/TKP
"We don't have any other space to teach skateboarding to beginners so we have settled here. If we don't manage an open space, then beginners often practice on roads which is risky. We are only allowed to use this space from late morning to late afternoon," Bardewa says as beads of sweat trickle down his face from the scorching sun.
At the moment, Annapurna Skatepark in Pokhara is the only skatepark in Nepal. It was built under the coordination of the National Sports Council(NSC), National Skating and Skateboarding Association(NSSA), and US-based NGO 'Make Life Skate Life'. It is a skatepark built on government land with financial and technical help from the US-based NGO.
Meanwhile, Ktm Skate Park, the sole skatepark in Kathmandu, shut down recently in May 2021. It was a skatepark leased on private land and during the second lockdown, it was closed down.
Ujwol Dangol, a veteran skateboarder and owner of Hamro Skate Shop, who managed the KTM Skate Park says that the financial burden was too much to handle during the lockdown. He adds that he asked for assistance from concerned authorities but "they would rather let the sole skatepark in Kathmandu shut down instead of lending financial help."
NSSA president Achut Khanal says that they have been pressuring the NSC for funds to build a skateboard park in Kathmandu for years. He says, "Not having a single skating park in the capital is something that is shameful for me and even the entire country." He says that the NSC has provided land in three locations in Kathmandu valley—Satdobato, Mulpani, and Chobar—to build skateparks. However, the NSSA hasn't yet received the allocated funds from the national budget to build a skatepark.
Skateboarding as a sport is developing in Nepal at the grassroots level from individual players and organisations. It is developing despite little to no government support.
Samiksha Rai (aka Lorin), a full-time athlete, says that she doesn't have any hope from concerned authorities to lend a hand at all now. "We have tried so hard to get them to help us and build a skatepark but they just ignore us," she says with frustration.
She shares her experience competing at a skateboarding competition in India called 'Jugaad Skateboarding Competition'. For her, there was a world of difference between the skating scene in Nepal and India. "There are skating parks everywhere in India. And they are all free." She says if she could have access to a skatepark, then she could practice to her heart's content and improve her skills. For now, she barely gets to practice three hours a day in an abandoned and dilapidated park in Thapathali.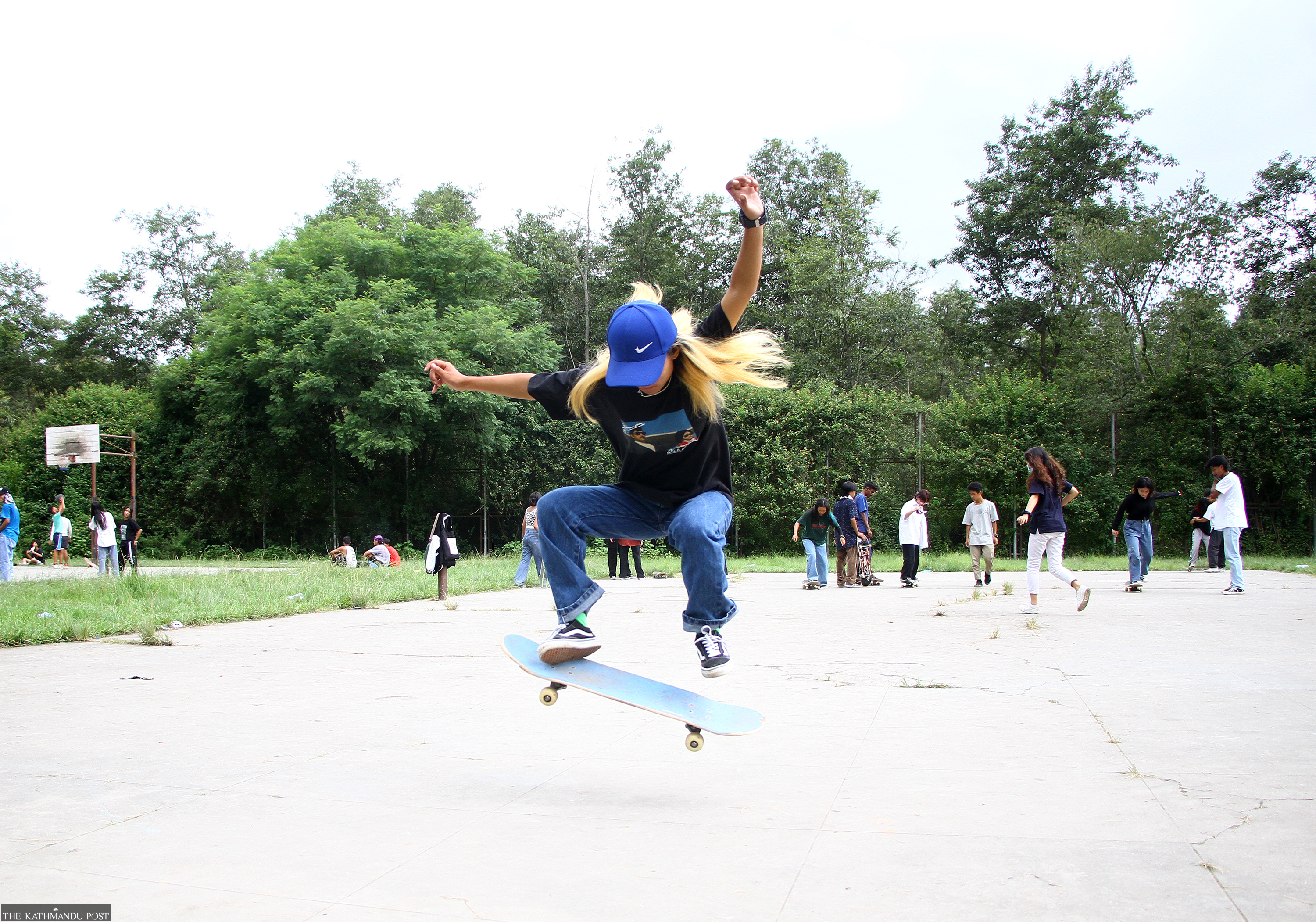 Samiksha Rai, a full-time skateboarding athlete, performs a trick as beginner skateboarders learn the basics in the background. Beeju Maharjan/TKP
In spite of the lack of resources, Nepali skateboard athletes have proven their skills and talents in international competitions time and again. International competition victory is not a pipe dream for Nepali athletes. In the Indian skateboarding Competition 'Jugaad', Nepali players frequently clinch high ranks. In the 2019 Jugaad Skateboarding Competition, Basanta Rai won first place in the men's category while Samiksha Rai won first place (tied with Kamali from India) in women's category.
Competitive skateboarders like Bardewa and Samiksha are determined to improve their skills and talent by persevering and struggling on their own, overcoming one obstacle after another. Yet, the lack of support from concerned authorities discourages them from time to time. Bardewa says, "My mother has pawned her gold jewellery and collected money so that I could cover the travel expenses to Indian competitions and represent Nepal." Samiksha also shares her confusion at the lack of support from concerned authorities. She says, "I am representing Nepal in competitions, and as an athlete, I feel like I should be focused on my own practice and growth rather than worrying about the travel expenses and logistics."
Dangol says that he understands the bureaucratic nature of Nepali government. He says, "The association[NSSA] is trying to do things and improve things and we can see that. But it's not enough." He believes that the association should focus on creating a national skateboarding team of Nepal so that "players can get national recognition and have credibility while approaching sponsors." He is confident that this is the least that the concerned authorities could do to help Nepal's skateboarding scene.
Meanwhile, athletes are now being supported by foreign skating brands. Bardewa is sponsored by a Hong Kong skateboarding brand 'HKIT' while Samiksha is sponsored by 'RampKing Skateteam'. They are provided skateboard deck, wheels, and other gears and merchandise like shoes and clothes.
Bardewa is hopeful that the skateboarding scene in Nepal will continue to grow. His face brightens and there's a hint of cockiness in his voice as he says, "If the skateboarding sport is included in South Asian Games(SAG), then I am fully confident that Nepal will win the gold medal." His confidence is shared by fellow athletes like Samiksha.
NGO like Yuwa for Change have been trying to uplift the skateboarding scene against the odds. Founder and President Jagrit Pahadi says that they coordinate with foreign brands to provide sponsorship for players, organise events like 'Skate Yatra 2021', and even provide necessary equipment and gears for hopeful beginners. Pahadi says that he is confident that if given the proper facilities and opportunities, Nepali skateboarding athletes can compete with the best internationally.
"I hope that our skateboarding scene in Nepal continues to grow so that players can showcase their talent and reach greater heights," says Bardewa. "I am hopeful that in the future, no other athlete will need to pawn their mother's jewellery to afford travel expenses and represent Nepal in foreign competitions."
---
---