Social media: A lifeline to the world
With the lockdown enforced, the internet has been crucial in keeping people connected to what's going on outside and in making them feel part of a larger whole.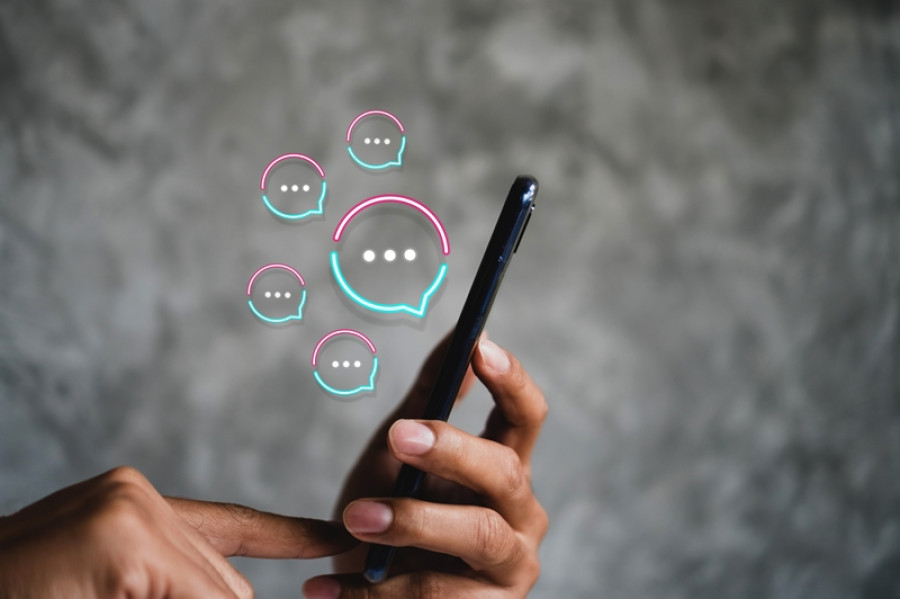 Shutterstock
bookmark
Published at : April 8, 2020
Updated at : April 8, 2020 08:32
Kathmandu
Last week, Buddhist priest Deepak Bajracharya went live on Facebook from his home in Patan to share Buddhist folktales, something he has been doing for years. Only this time, his listeners were present virtually.
"I didn't know we could go live on Facebook; it was one of my colleagues who asked me to try it, as the lockdown has made many of us anxious and stressed. Listening to stories makes people feel better," he said. "The internet has become a crucial platform for interaction and sharing at this time, and I just hoped the stories could reach out to more people this way."
The lockdown, to quell the global novel coronavirus outbreak, has abruptly forced life indoors, obstructing social interaction and engagement. But while the world outside is grappling with the pandemic, in much of the virtual world at least, things remain vibrant. The internet has become the centre of people's lives, a bridge reducing social gaps. Like Bajracharya giving sermons, there are gyms giving live classes on Instagram, musicians giving live concerts, chefs cooking live on Facebook, friends Facetiming each other over coffee—all efforts to imitate real-time events, to do things people normally did before the pandemic.
Last week Shweta Shakya, an architect, joined a virtual yoga session organised by Bhakti Yoga Events, a Melbourne-based spiritual centre, through Zoom from Kathmandu. "It was an intense 45-minute-long session, and the programme was free of cost due to the current situation," said Shakya. She accompanied another friend and committed to the whole sitting, not wanting to give up because her friend was enjoying it.
"These are lonely times, and as humans, we look for attention and interaction and the internet right now is erasing the boundaries and giving us opportunities for interactions," Shakya says.
Sunita Dangol had also started giving live Ranjana Lipi calligraphy courses through Facebook to help her and others cope with the paranoia of Corona. Dangol is a member of Calijatra—a group of young calligraphers, artists, designers, illustrators from around Kathmandu—who has organised many Nepal script calligraphy workshops in and outside the Valley.
"At the beginning of the lockdown, I was also anxious to do anything, but I realised this feeling that was consuming me was something everyone is going through," she says. Dangol had been teaching people Ranjana calligraphy with assistance from Nepal Lipi Guthi, an institute that studies Nepal epigraphy and her Calijatra team.
Since everyone is home and glued to their phones, laptops, and tablets, participation has surged in these live events, says Dangol. "We have been able to reach out to a lot of people," says Dangol. "It seems physical lockdown is an obstacle that technology can overcome." Dangol recently finished online Rajana Lipi classes and is preparing to start a workshop in the upcoming days to teach Nepal Bhasa with her team as the country lockdown has been extended. "The reception was very positive, many are still sending in their works for feedback," says Dangol.
In fact, internet usage across the country has increased. In an interview with the Post last week, Bhoj Raj Bhatta, president of the Internet Service Providers' Association Nepal said the lockdown has increased the utilisation of internet by 30 to 40 percent.
Another means through which people are staying connected to each other is through humour. Memes have not only become a great way to pass time but are becoming quick reminders that everyone is in this together. Only last week, an image of a virtual meeting gone wrong, with one of the members accidentally turning herself into a potato, was being shared by people. Videos of families dancing to songs together, the young challenging each other with various nuisance to keep-busy in this trying time, stories of mountain goats taking over the streets of Llandudno have also gone viral.
And as the country strictly persists, in its third week of the lockdown, more and more people are learning to explore the internet. Many users have also been using their social platforms to share audio stories for children in various indigenous languages. "There certainly has been a shift on how people have been using the internet," says Dangol.
This perhaps is also a time when people will understand the real potential of the internet in the country, says Kailash K Shrestha, a visual artist. Shrestha's Artudio, a hub for contemporary art, recently reached out to parents to send in their children's drawing in the theme 'family portrait' to engage children in art, after they had to cancel their bi-annual Little Araniko, an art camp for children. Following the announcement on their Face, the studio received more than 50 artworks from children across the country. Many of the works that they showcase on their website also give an insight into the impression children have about the current global pandemic.
"Although the internet has been around for many years now, many in Nepal have used the internet for entertainment. Not many have explored the technology to create content," says Shrestha. "But this very time can teach people to be creative with the use of the internet, not just to consume data but to create content and knowledge," he says.
But social media is essentially a means to socialise in this time of quarantine. It has become salvation for many, despite being blamed for societal ills in the past, by making up for the missed coffee time and dates during the lockdown, people have been making online video and audio calls to talk and see each other.
"Our work can be done from home but, more than anything, we miss socialising in-between our work, meeting friends and families. And we are lucky, privileged, to be enjoying the internet," says Sajana Shrestha, a Kathmandu-based photographer.
Shrestha had been using telecommunication apps only for work purposes, however, that has changed since the lockdown. "I have been video chatting with my friend who lives alone and I think with all the news about the virus she is mentally wearing down. During this time of lockdown, I think our long video chats keep her company," she says.
---
---