Discovering the joys of purposeless hiking
For those who love scenic hikes, the hills of Lapsiphedi should be on the list.

The view from Ghattekholo. Tsering Ngodup Lama/TKP
bookmark
Published at : January 10, 2020
Updated at : January 10, 2020 18:28
Lapsiphedi
After an hour into the hike, which was mostly uphill, in the hills of Lapsiphedi, my hiking partner's short laboured breaths began to worry me. I asked her how she was faring and whether we should cut our hike short and head back to the homestay. "No," she said. "Don't worry. It is the dal-bhat that we had right before we started the hike. Normally, I take a nap after lunch. I'll be fine. You know, had it not been for the dal-bhat, you would have a problem catching up with me."
Then, she gave a warm, reassuring smile that was enough to dissipate my concerns. Sahara Thapa, my hiking partner, runs a homestay aptly named Amaghar Homestay in Tiwari Basti, Lapsiphedi, which is around two kilometres east of Sankhu. I had reached her homestay just before noon, and not long after I had checked in, Thapa fed me an ungodly amount of bhat, sabji, and khasi ko masu.
When I told her I was going on a hike after lunch, she, not wanting me to hike alone, opted to tag along. Since I was the only guest at the homestay, her decision made sense for the both of us. We opted against setting a clear hiking destination and instead decided to just keep hiking until we wore ourselves out.
For the first ten minutes of the hike, we walked alongside the motorable road to Jarsing Pauwa. Just when the road climbed uphill, we left it and took a narrow single-track trail that led us to a water mill housed in a stone house. Manning the old mill was an equally old woman named Kanchi Tamang. "Back in the days, there were several mills like this one all across the hills. Everybody used to come to the mills to ground wheat, rice, corn. These mills played a vital role," said Tamang. "But then the machines came, and one by one, the mills shut down. Our mill is one of the very few in the area still operating. It's not busy like it used to be."
We bid Tamang farewell and crossed a short but very wobbly suspension bridge. The trail then climbed upwards still, and we were now walking on an unpaved motorable road. For the next hour, the trail snaked its way, with jungles on both sides. The only sounds that we could hear were of birdsongs and our footsteps. For a 59-year-old, Thapa's ability to hike took me by surprise. She had asked me to guess her age not long after we started our uphill climb. I told her she looked like someone in her early 50s. She let out a laugh and said, "I turn 60 in a few days."
Seeing the look of disbelief on my face, she told me, "Yes, I am that old. And don't worry, I am fit enough to hike."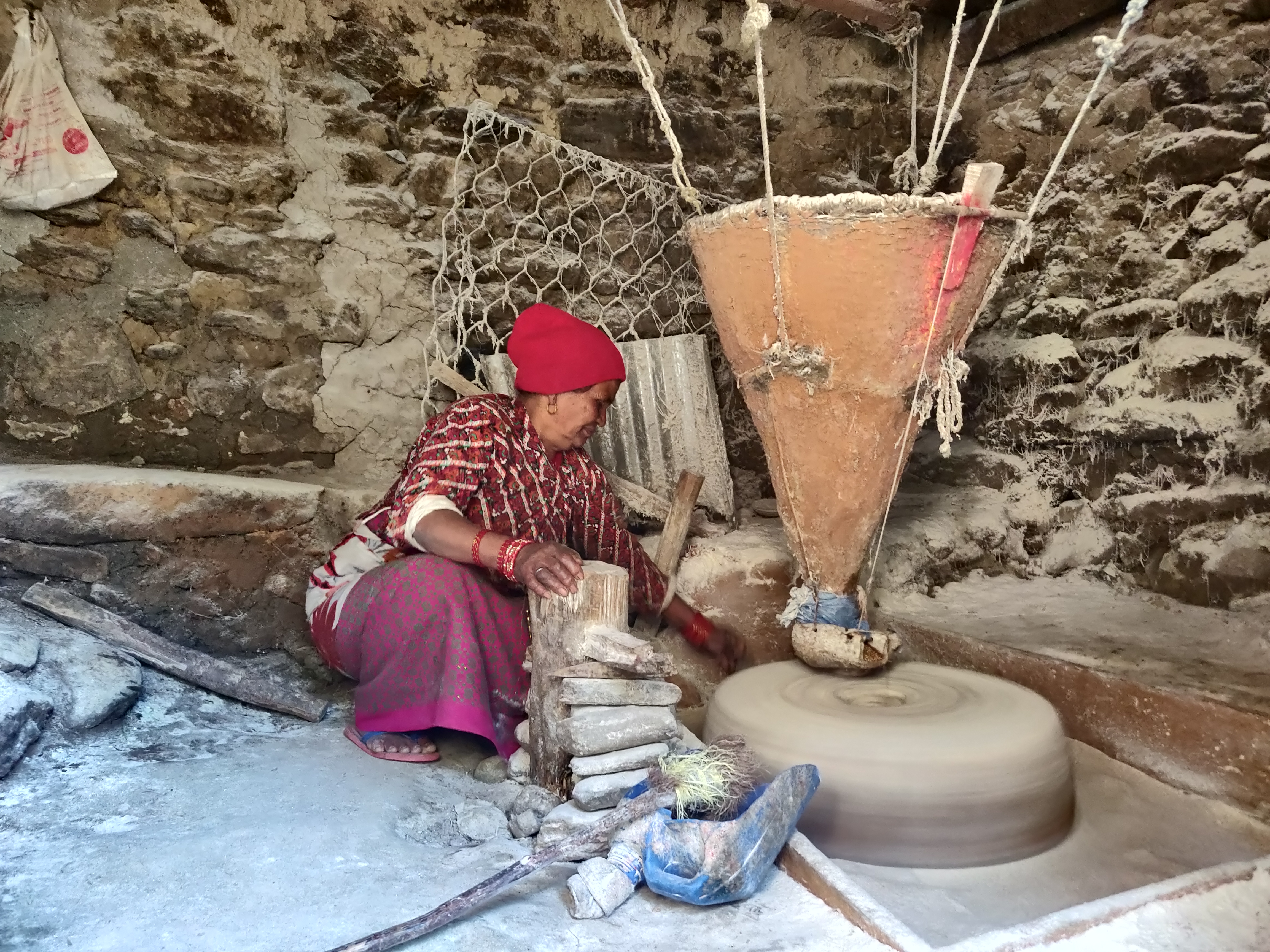 Kanchi Tamang runs one of the last few remaining watermills in the hills of Lapsiphedi. Tsering Ngodup Lama/TKP
The homestay, her latest venture, is one of the few businesses the enterprising Thapa runs. "My first business was selling newspapers. I have come a long way, and I am proud of all that I have done," said Thapa. "You have to have faith in yourself and be able to persevere. That's the key to success."
The farther we went, the more rural the landscape got. Around an hour into the hike, we asked a villager where the trail we were walking on led to. With a confused look on his face, he asked where we were headed. We told him we have no clue. The man told us that we could either hike to Jhule or Jharsing Pauwa.
Nearly an hour and a half into the hike, we reached a village called Ghattekholo. We stopped to rest at a small tea shop, which overlooked several rows of rolling hills. Some of the hills were carved with terraced fields. At the bottom of the hills, a river flowed. It was barely visible, owing to the trees, but the sound of the water rushing was audible and was soothing to the ears. I couldn't believe such beautiful pockets of villages existed so close to Kathmandu.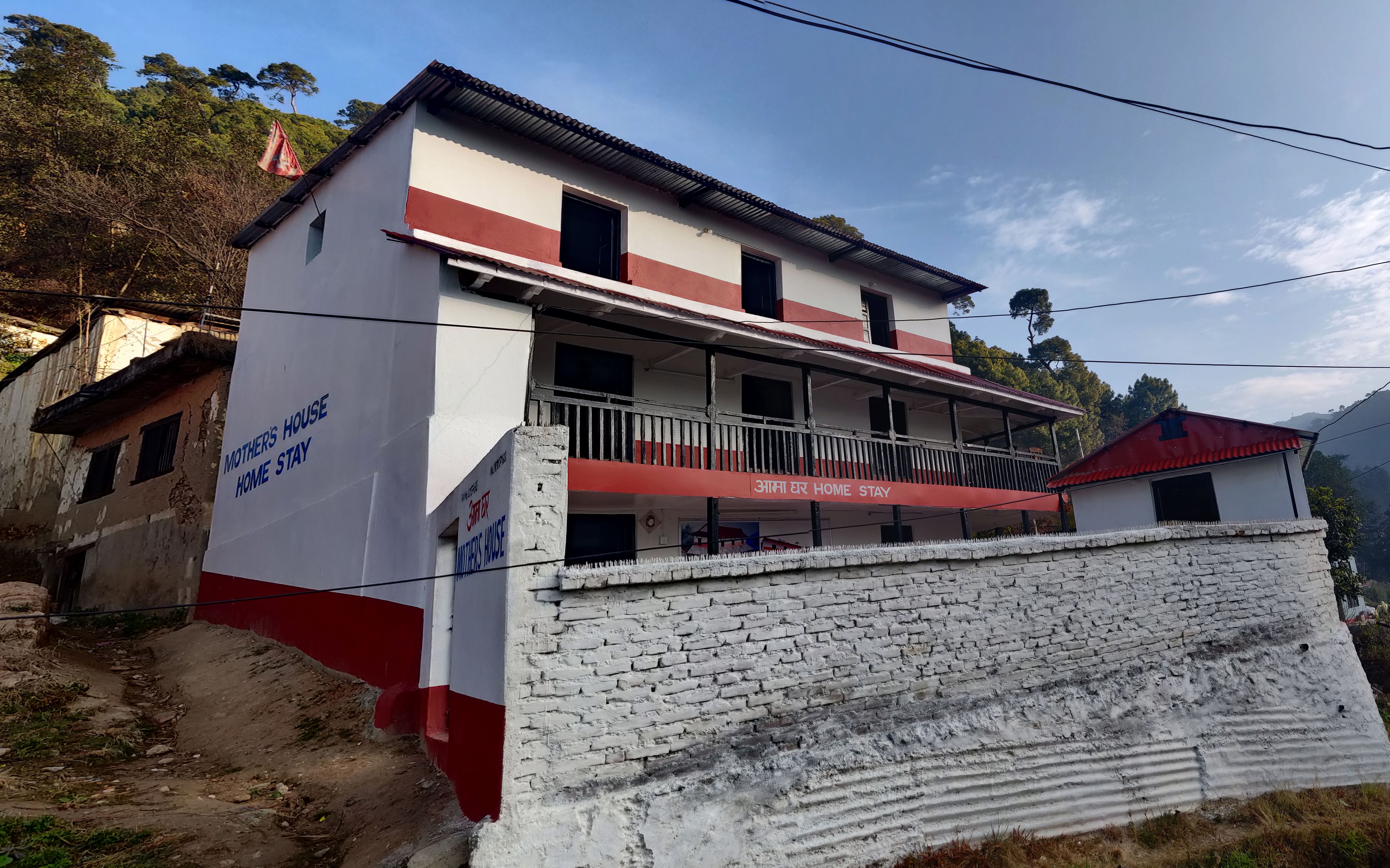 Amaghar Homestay is located in Tiwari Basti, Lapsiphedi. Tsering Ngodup Lama/TKP
Not far from the tea shop, we came across an ankle-deep creek, and we crossed it on a makeshift bamboo bridge. At a small hillock overlooking the creek was another watermill. We asked a young boy at the watermill where this new road led to. "Where are you guys going?" he asked. "Wherever this road leads to," I replied. "Don't leave the road, and you will find yourself in Jarsing Pauwa," he told us.
The trail from Ghattekholo to Jarsing Pauwa had more human settlements than the trail we had left behind, but it was equally scenic. There were more rolling hills, which were dotted with village houses. Little young girls and boys carrying fodder for livestock giggled as we passed them. By the time we reached Jarsing Pauwa, we had hiked for over four hours. The sun was fast setting, and we were both weary and decided to return via the main road to the homestay.
We reached the homestay just as daylight was leaving. Thapa soon got to work and started preparing both of us egg noodles. While she got busy in the kitchen, I stayed in the front porch of the house and watched the night sky turn from dark blue to a deep, inky blue. Soon, darkness blanketed everything. Far beyond, the town of Sankhu glittered in shiny lights. "My guests usually hike to Nagarkot, which is an hour from the homestay, and come back. The less adventurous head to the nearby Bajrayogini Temple, a 30-minute hike from the homestay. But none of my guests has walked as much as we have today," said Thapa, with her infectious smile. She handed me a bowl of noodles, which I emptied in record time.
The night's quietness was occasionally broken by the few vehicles plying on the road and dogs barking. Thapa asked me what I would like to have for dinner. I told her not to bother cooking anything for me and urged her to call it a night as well and get herself some rest. She seemed relieved not having to prepare dinner. I thanked her for being such an amiable host and a great hiking companion and headed to my room and soon fell asleep.
Where to stay
Amaghar Homestay (one night package with three meals and room costs Rs 1,800 per person)
Contact: 9818071600
---
---