Nepal government puts all tourist visas on hold and cancels all spring climbing expeditions
The visa suspension will begin March 14 and last until the end of April, depriving Nepal of millions in Everest climbing fees.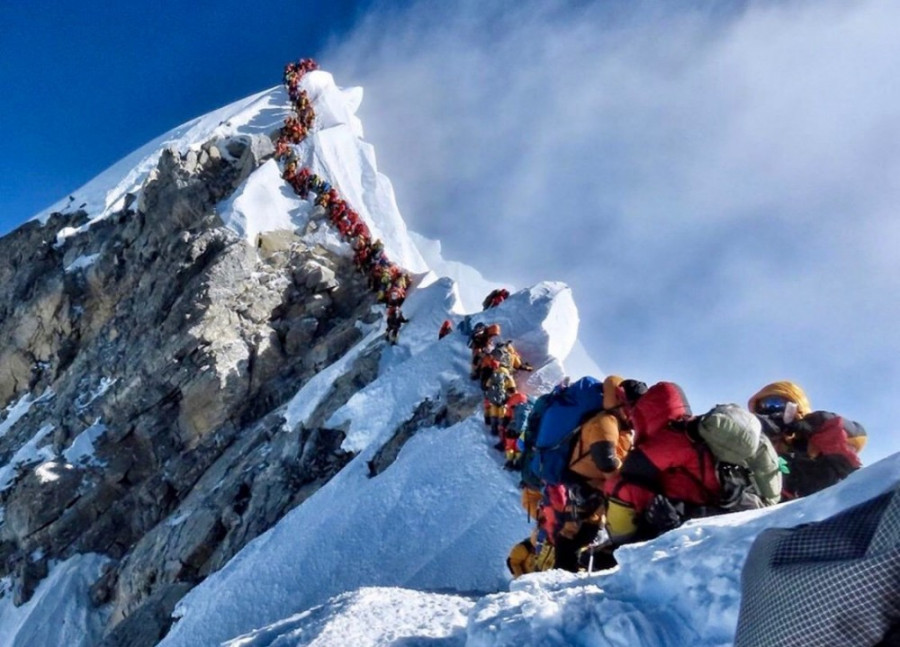 Photo: Nirmal Purja for Project Possible
bookmark
Published at : March 12, 2020
Updated at : March 30, 2020 12:20
Kathmandu
The Nepal government, late Thursday night, decided to temporarily stop issuing on-arrival tourist visas to all countries and has put an end to all spring mountaineering expeditions, including Everest ascents.

The decision comes a day after the World Health Organization declared the Covid-19 outbreak a pandemic and urged countries to take precautionary measures.
"The visa suspension, which excludes diplomatic and official visas, will come into effect on March 14 and last until April 30," a government official told the Post on condition of anonymity.
A high-level coordination committee led by Deputy Prime Minister and Defence Minister Ishwar Pokhrel took the decision to this effect on Thursday.
The meeting also decided to restrict traveller movement to and from India via land routes and adhere to strict quarantine measures at the border. No decision has been made to close down schools and colleges.
"In case of emergency, any foreigners wishing to come to Nepal will need to submit a medical certificate declaring that they are free of the coronavirus while applying at Nepal's consulate in their respective countries," the official said. "The government has also decided not to issue visas for tourists entering Nepal via land routes."
According to the official, all spring expeditions, including Everest, have been cancelled.
The decision effectively puts an end to the lucrative spring climbing season, which is when most Everest attempts take place.
Mountaineers generally apply for Everest permits from the end of March. The spring season begins in early April as hordes of climbers start trekking for the Everest region. From hotels to restaurants, guides to potters, and airlines to helicopters, all eagerly await the spring climbing season as it generates much-needed income and jobs for the mountainous region.
The government alone earns around $4 million by issuing Everest climbing permits every year. The two-week summit window normally begins in the second week of May. Millions of dollars in income are expected to be wiped out from the market if the Spring ascents are called off.
In the wake of the global coronavirus outbreak, China has already cancelled all Everest expeditions from the Tibetan side.
The China Tibet Mountaineering Association, the body that issues climbing permits, notified expeditions on Wednesday that all Everest ascents from the northern side had been cancelled due to the ongoing coronavirus outbreak.
Earlier on Thursday, expedition operators told the Post that they were looking at an unusual situation.
"Cancellation of this year's spring Everest expedition will mean a big blow to expedition operators," said Mingma Sherpa, managing director of Seven Summit Treks.
Seven Summit Treks, the largest expedition operator in Nepal, said that 60 climbers have already registered with them to climb Everest. But on Thursday, six climbers cancelled their plans.
Meera Acharya, director at the Tourism Department which issues climbing permits, said that they had issued permits for five climbers for different mountains as of Thursday, but no one has applied for Everest as of now.
Countries across the world are stepping up measures and revising travel advisories to control the virus spread.
The United States has suspended all travel from Europe to the country for 30 days and India is temporarily suspending almost all travel visas starting Friday as part of its efforts to contain the Covid-19 pandemic. India's ban will be applicable until April 15.
Following China's announcement, aspiring mountaineers from around the world were eagerly awaiting the Nepal government's response.
In the last few years, it has mostly been Indians who've sought Everest climbing permits, followed by Chinese, Americans and the British. With China still battling Covid-19 and India reporting more and more cases by the day, things were not looking good for Nepal's mountaineering season, said Rishi Bhandari, managing director of Satori Adventures.
Bhandari said that his company had cancelled seven expeditions on the Chinese side following Wednesday's notification while seven others have registered with them to climb Everest from the Nepal side.
Last year, the department had issued permits for 1,024 climbers, including 382 foreigners. Among them, 644 climbers reached the top.
Frequently asked questions about the coronavirus outbreak
UPDATED as of September 22, 2020
What is Covid-19?
Covid-19, short for coronavirus disease, is an illness caused by the coronavirus SARS-CoV-2, short for severe acute respiratory syndrome coronavirus 2. Common symptoms of the disease include fever, dry cough, fatigue, shortness of breath and breathing difficulties. In severe cases, the infection can cause pneumonia, severe acute respiratory syndrome, kidney failure and even death.
How contagious is Covid-19?
Covid-19 can spread easily from person to person, especially in enclosed spaces. The virus can travel through the air in respiratory droplets produced when a sick person breathes, talks, coughs or sneezes. As the virus can also survive on plastic and steel surfaces for up to 72 hours and on cardboard for up to 24 hours, any contact with such surfaces can also spread the virus. Symptoms take between two to 14 days to appear, during which time the carrier is believed to be contagious.
Where did the virus come from?
The virus was first identified in Wuhan, China in late December. The coronavirus is a large family of viruses that is responsible for everything from the common cold to Middle East Respiratory Syndrome (MERS) and Severe Acute Respiratory Syndrome (SARS). After an initial outbreak in Wuhan that spread across Hubei province, eventually infecting over 80,000 and killing more than 3,000, new infection rates in mainland China have dropped. However, the disease has since spread across the world at an alarming rate.
What is the current status of Covid-19?
The World Health Organisation has called the ongoing outbreak a "pandemic" and urged countries across the world to take precautionary measures. Covid-19 has spread to 213 countries and territories around the world and infected more than 31,405,983 people with 967,505 deaths and 22,990,260 recoveries. In South Asia, India has reported the highest number of infections at 5,557,573 with 88,943 deaths. While Pakistan has reported 306,304 confirmed cases with 6,420 deaths. Nepal has so far reported 65,276 cases with 427 deaths.
How dangerous is the disease?
The mortality rate for Covid-19 is estimated to be 3.6 percent, but new studies have put the rate slightly higher at 5.7 percent. Although Covid-19 is not too dangerous to young healthy people, older individuals and those with immune-compromised systems are at greater risk of death. People with chronic medical conditions like heart disease, diabetes and lung disease, or those who've recently undergone serious medical procedures, are also at risk.
How do I keep myself safe?
The WHO advises that the most important thing you can do is wash your hands frequently with soap and water for at least 20 seconds or use hand sanitizers with at least 60 percent alcohol content. Avoid touching your eyes, nose and mouth with unclean hands. Clean and disinfect frequently used surfaces like your computers and phones. Avoid large crowds of people. Seek medical attention if symptoms persist for longer than a few days.
Is it time to panic?
No. The government has imposed a lockdown to limit the spread of the virus. There is no need to begin stockpiling food, cooking gas or hand sanitizers. However, it is always prudent to take sensible precautions like the ones identified above.
---
---