Holi revellers warned against drink driving, overspeeding
Traffic police set to deploy 1,300 personnel from morning to evening at 63 places of three districts in Kathmandu Valley today.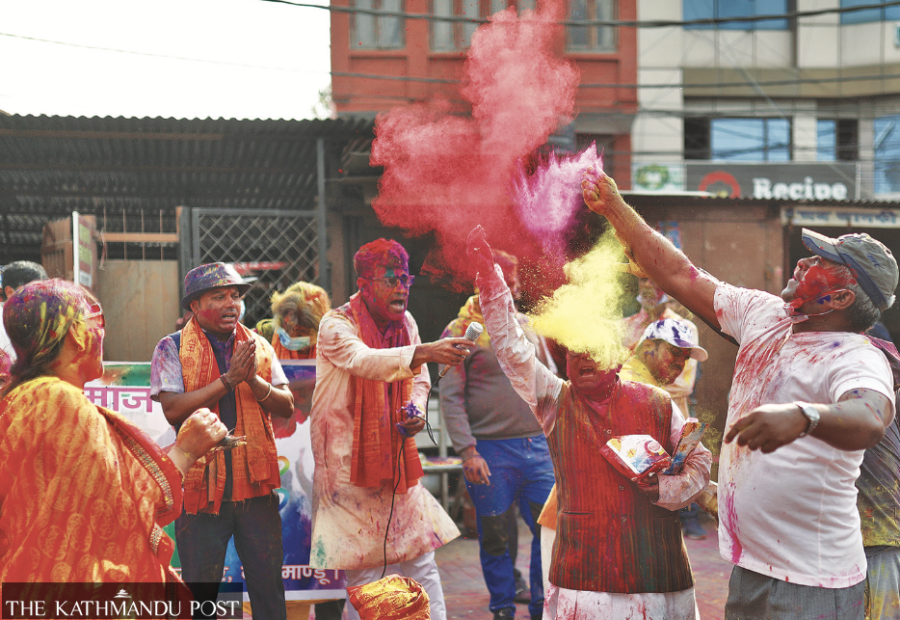 People from Mithila Sanskriti Samaj play Holi a day before the festival at Maitighar Mandala in Kathmandu on Wednesday. Sanjog Manandhar/TKP
bookmark
Published at : March 17, 2022
Updated at : March 17, 2022 01:05
Kathmandu
The Metropolitan Traffic Police Division has warned motorists against drink driving during the Holi festival Thursday and announced that traffic rules violations will be dealt with stringently.

Issuing a press release Wednesday on the eve of the festival, the division said it will deploy 1,300 traffic police at 63 places of the three districts of the Kathmandu Valley to curb especially drink driving, which is more prevalent during Holi.
"There would be no compromise on traffic rule violations," said Senior Superintendent Sanjib Sharma Das, also the spokesperson at the division.
He said checks against drink driving will be started from 7 am till the evening on Thursday.
He said more people are expected to come out to play Holi this time as they could not celebrate the festival of colours for the past two years due to Covid restrictions.
Unlike the pre-pandemic years, the Capital saw fewer revelers on its roads, streets and squares during the past two Holi festivals as people confined themselves to their homes fearing the virus.
Several youth groups and clubs have planned Holi celebrations at various places in the Valley for Thursday.
"In order to avoid mishaps, we announced these additional measures so that people would celebrate the festival responsibly," said Das.
The division said it will monitor overspeeding with the help of radar guns at Gatthaghar and Suryabinayak in Bhaktapur, and in Sanepa and Satdobato area in Lalitpur. The division has also asked motorists to carry vehicle registration documents, driver's license to avoid fines. Also, motorcyclists have been warned against carrying more than one pillion rider.
Meanwhile, the District Administration Office, Kathmandu issuing a public notice on Wednesday asked people to celebrate the festival by following Covid safety protocol saying that the pandemic is not over yet. The office has asked revelers to celebrate the festival in a responsible manner.
"Unlawful activities such as smearing colours forcibly on people, throwing water balloons at people without their consent, and causing public disturbances by drinking alcohol are strictly prohibited," according to the notice.
"Anyone found violating the rules will be punished as per the law," reads the statement.
Unlike during the past two years, the authorities have not announced restrictions on mass gatherings this Holi.
---
---