Despite steep fines, taxis continue to cheat customers
If customers complain to the police via social media or in person, they are ready to take action, say traffic police personnel.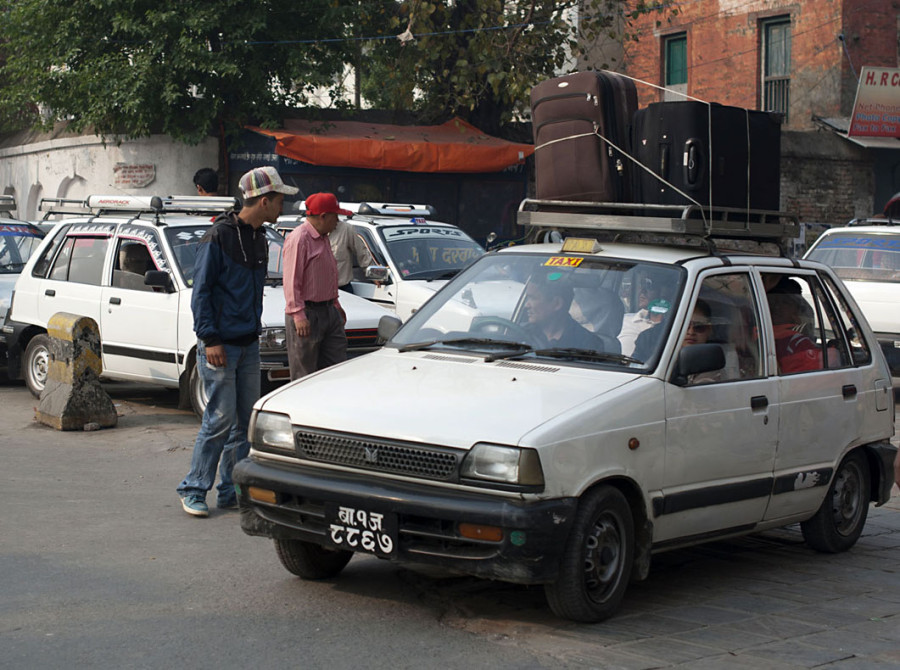 Taxis wait for passengers at Khichapokhari in Kathmandu. Post File
bookmark
Published at : August 17, 2019
Updated at : August 17, 2019 06:52
Kathmandu
On Wednesday, Om Bahadur Neupane was manhandled by taxi drivers when he asked for a ride to Ranibari from outside the Norvic Hospital in Thapathali. When Neupane asked one of the taxi drivers to take him to his destination, he was quoted a fare of Rs 600, and a flat refusal to run on the meter. Neupane approached a second driver, who similarly refused him,

"It was urgent so I asked the taxi driver, Raj Kumar Tamang, to immediately take us to Raniban. But he made excuses and refused to take us," Neupane said.
Frustrated by the taxi drivers' demands, Neupane took out his phone and took a picture of Tamang's vehicle, with its number plate Ba1Ja 7291. Tamang saw Neupane take the picture and reversed his taxi, hitting Neupane and causing minor injuries.
Things escalated when Tamang, accompanied by half a dozen taxi drivers, began to manhandle Neupane. The scuffle only subsided after the traffic police got involved. Tamang was fined Rs3,000 and his taxi sent to the Traffic Police Office in Bagikhana.
"A lot of taxi drivers are found overcharging customers. When the drivers tried to cheat us, I could not tolerate it and wanted to lodge a complaint at the traffic police, but instead I was manhandled," Neupane said.
In recent times, the number of cabbies booked for traffic violations has been on the rise, with 12,749 drivers booked in the fiscal year 2018-19, a significant rise from 8,700 drivers the previous year. Among the 12,749 drivers, 700 were booked following complaints on social media platforms.
Traffic police levy a fine of Rs 3,000 to taxi drivers found tampering with their meters and overcharging customers, and Rs 500 for those unwilling to take passengers to their destinations.
Tamang, however, said that he had no fault in the situation, and that he was actually the victim.
"It was not me but the other driver who tried to overcharge them. He was not willing to run on the meter," 38-year-old Tamang told the Post. "When Neupane approached me, I told him that I needed to go home. I didn't like it when he started taking pictures of my vehicle number plate to report to the traffic police."
According to Tamang, taxi drivers cheating customers are rampant around Patan Hospital, Bir Hospital and Teaching Hospital.
"Taxi drivers around Patan Hospital charge a minimum of Rs 1,200 during the day to go to Ranibari and Rs 2,000 during the night. But the traffic police never looks into that," Tamang said.
Superintendent of Police Rabi Kumar Paudel said the traffic division gets at least 15 complaints of cabbies violating traffic rules on a daily basis. Social media has been a huge help in booking errant taxi drivers, he said.
"We are certain that there are many taxi drivers still cheating customers. Many customers hesitate to speak out, and those who wish to do so fear being attacked by drivers. Also, most customers are busy so they don't feel like getting involved in such situations," Paudel told the Post. "But if the public complains, we are ready to take action."
Paudel said the division office has also been mobilising traffic police in plain clothes to nab 'unscrupulous taxi drivers', but cabbies continue to cheat their customers in large numbers.
---
---