E-buses launched: Electric mobility action plan aims big
The government on Tuesday announced an ambitious national action plan for electric mobility at an event organised in the Capital to unveil Nepal's first battery-powered electric buses.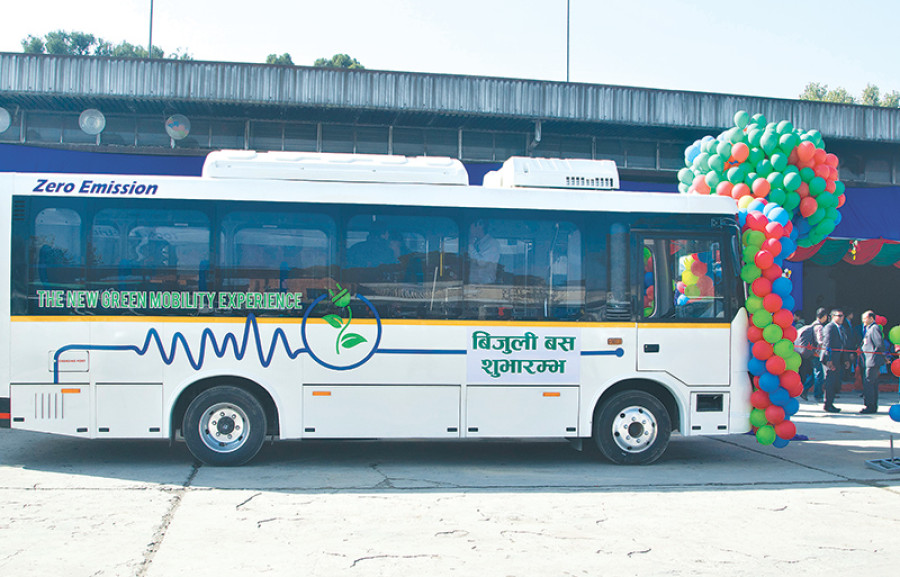 bookmark
Published at : October 24, 2018
Updated at : October 24, 2018 16:01
The government on Tuesday announced an ambitious national action plan for electric mobility at an event organised in the Capital to unveil Nepal's first battery-powered electric buses.
The action plan jointly prepared by the Ministry of Forest and Environment, the Ministry of Physical Infrastructure and Transport, and the Global Green Growth Institute envisions accelerating the growth of electric vehicles in the country.
"We need to have a strong commitment and more action so that we can achieve our Nationally Determined Contributions targets while fighting climate change, which affects countries like Nepal the most," said Minister of Forest and Environment Shakti Bahadur Basnet.
The action plan, which identifies priority actions like setting up a high-level national unit, national programme for infrastructure and market development, and arranging financing for electric, aims a 20 percent share for electric vehicles by 2020. The plan also aims to halve fossil fuel consumption by 2050, to significantly improve air-quality by 2025 and to run an electric railway network by 2040.
Electric vehicles have long been touted as a solution to the country's economical and environmental issues but the test drives of Nepal's first battery powered electric buses on select roads in the Capital from Tuesday indicate positive policy interventions.
Inaugurating two BYD C6 electric buses, Prime Minister KP Sharma Oli remarked that operation of clean energy buses as mass transport will encourage other cities to follow suit.
"I'm confident that the electric buses that will start plying the roads of the Valley from today will write a story of success, which will stimulate introduction of battery-operated, environment-friendly transport in other cities and towns around the country," said PM Oli.
"Within the next few years, the country is going to be self-sufficient in hydropower. Leaving behind our present reliance on petroleum fuel, we will be entering an era in which hydroelectricity generated in the country will at once benefit our economy, environment and public health."
The first of its kind in the country, the C6 electric buses have been provided to the Lumbini Development Fund as assistance from the Asian Development Bank and will be used to ferry passengers from the Bhairahawa airport to various tourist sites in Lumbini.
However, as the construction of the Gautam Buddha International Airport in Bhairahawa is yet to be completed, these buses will be operated by Sajha Yatayat in the Valley for now.
Produced by the Chinese e-vehicle manufacturing company BYD, the C6 buses have 19 seats and can accommodate up to 35 passengers. Two buses have arrived while three others are on their way to Kathmandu.
"The government is planning to expand electric vehicle service in other parts of the country as well. We will be operating clean energy vehicles in all the major tourist destinations including protected areas," said Minister for Culture, Tourism and Civil Aviation Rabindra Adhikari, adding that construction of charging stations was under way in Lumbini.
The action plan also envisages developing guidelines to facilitate conversion of conventional vehicles to electric or hybrid. It also recommends development of an electric Bus Rapid Transit in urban areas of the country.
Among other key policy recommendations, the action plan proposes a national subsidy scheme to encourage the public and institutions to switch to e-vehicles and setting up a facility to manage exhausted batteries.
---
---