Gateway to heaven and beyond
Besides seeking spiritual solace at Swargadwari, visit Pyuthan for a greater travel experience.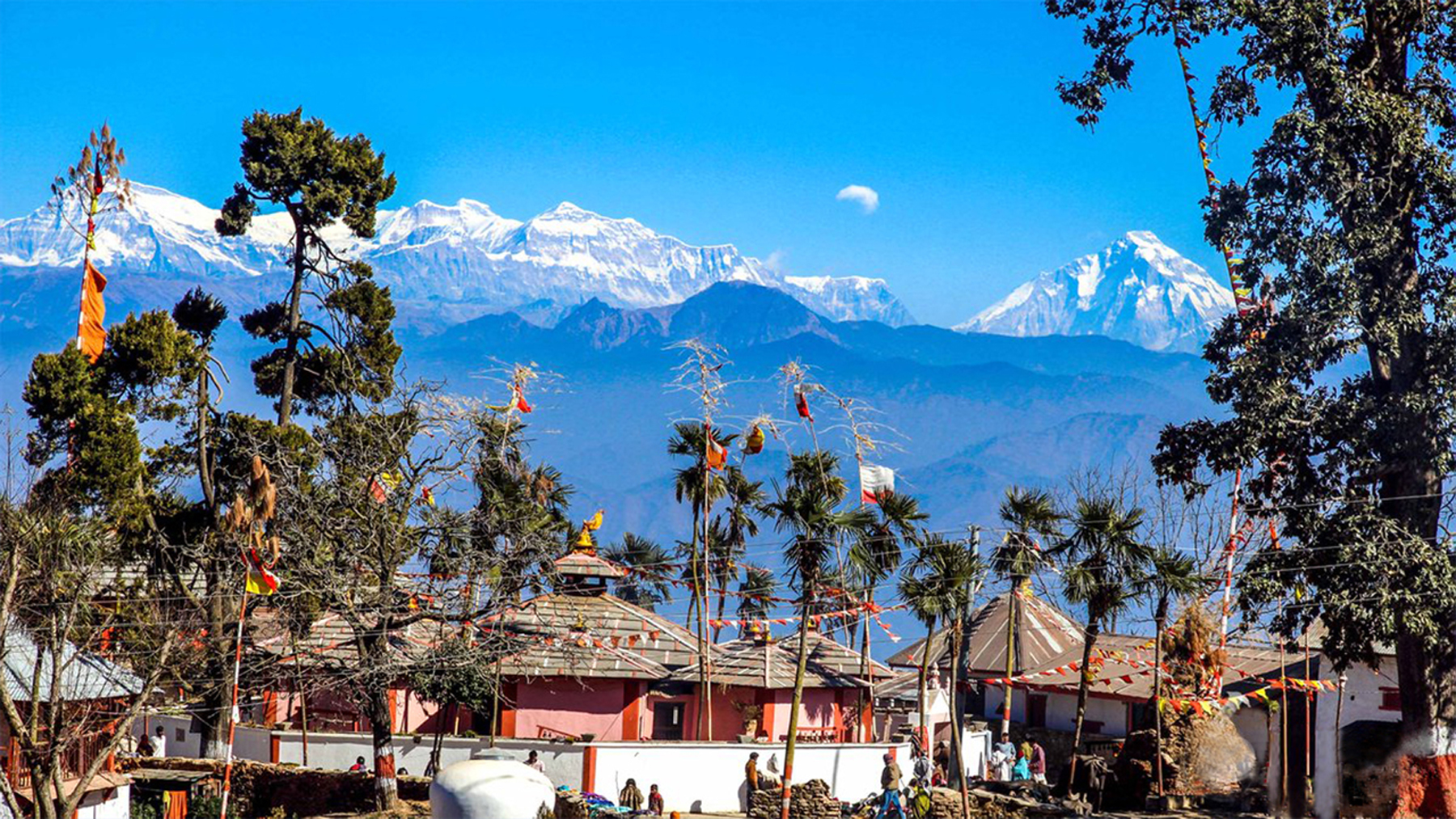 Swargadwari ashram with Dhaulagiri mountain range in the background. All photos by Giru Prasad Bhandari/TKP
Published at : January 18, 2020
Updated at : January 18, 2020 08:29
The literal meaning of Swargadwari is "doorway to heaven". Legend has it that Swargadwari in Pyuthan hosted Panch Pandavas, putting the destination in the must-visit list for Hindu pilgrims all over.

Lending fame to Swargadwari is an ashram sitting atop a hill in Khal, 2,300mt above the sea level. The ashram although humble in its exterior design, is significant in what it holds inside its four walls—a Yagya Kunda (sacrificial fire altar), tracing its origins to the 1800s. The flames of the fire that was lit in 1895, to be precise, has never died out. It still burns as brightly as it did back then.
It is believed that Narayan Gautam, born in Rumtigadhi, Rolpa, had started the sacrificial fire on a full moon day of Baisakh, the first month of Nepali calendar in 1895. Gautam, who was later decorated as a Yogi, was a leprosy patient when he arrived in Swargadwari. He then made Swargadwari his home and started living in the area. He meditated his way to enlightenment hence earning the title of a yogi. The yogi, an ardent Hindu, raised cows while in the ashram. Today the ashram is home to more than 300 cows, according to Dhurba Shree Mishra, a member of Ashram Management Committee. "Since cows are central figures in Hinduism, and because the ashram is home to several of them, the priests use cow milk, ghee and curd during pujas," he said.
Locally known as Swargadwari Mahaprabhu, the yogi's statue stands tall in the ashram, beckoning pilgrims from far and wide to offer their prayers.
The ashram which has been open to visitors for the past six decades covers around 2,600 hectares of land and can host up to 400 pilgrims at a time. "Our visitors are mostly Indians since Swargadwari is an important part of a religious pilgrimage for Hindus. We manage the ashram and its upkeep with the offerings made by the devotees," said Mishra.
The ashram hosts the most number of pilgrims in the months of April, September and January—months when a majority of religious Hindu festivals are observed.
"The number of pilgrims visiting the ashram has increased after the roads connecting Pyuthan and Dang districts were upgraded," said Mishra. More than 500,000 pilgrims visit Swargadwari annually, he said.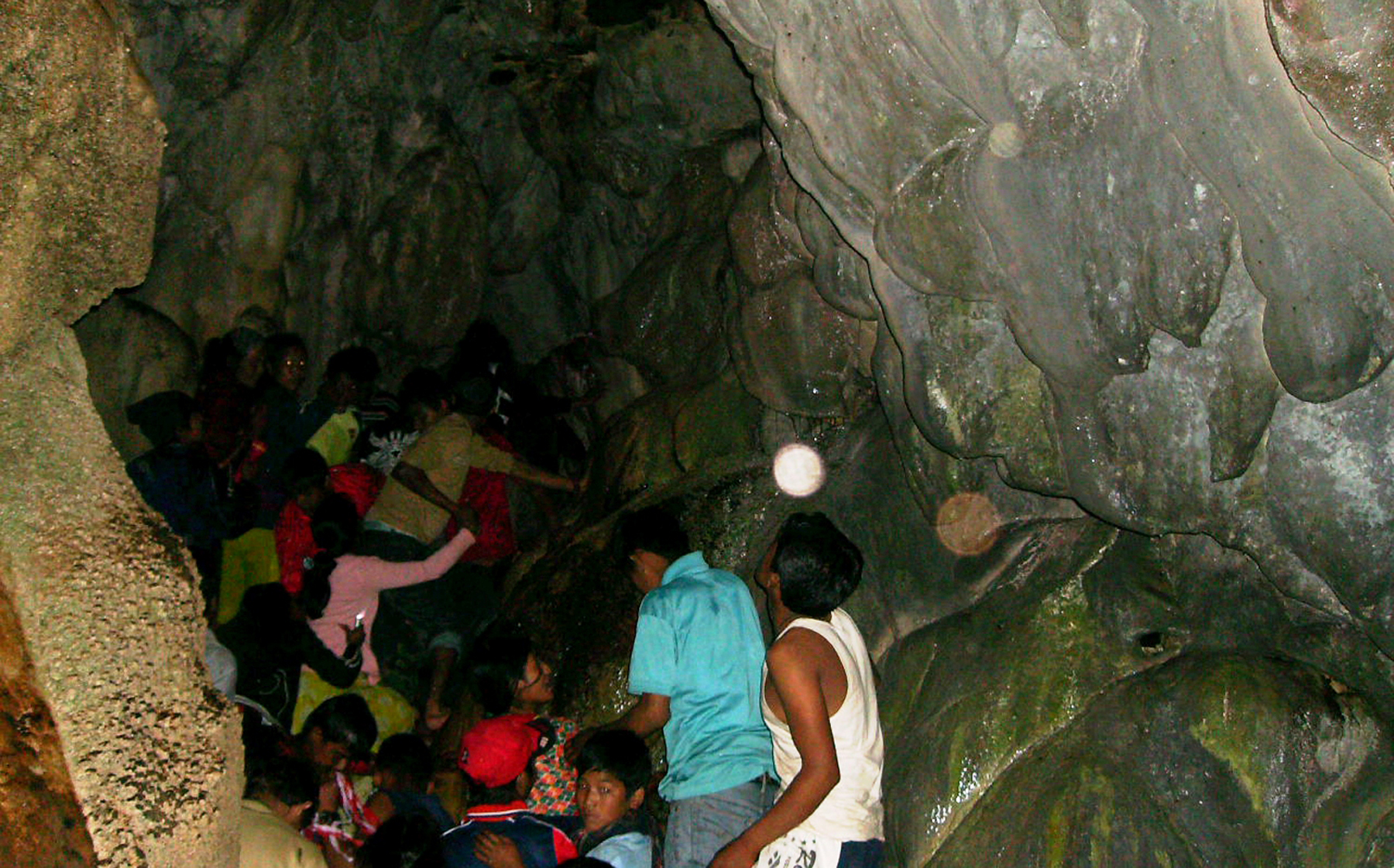 Visitors make their way inside Gaumukhi cave.
Ram Yadav from Gonda, India, on his recent visit to Swargadwari, said, "We believe that the doors of the ashram lead to heaven. For Hindus in Uttar Pradesh, where I come from, a visit to Swargadwari once in a lifetime is important."
The ashram sees a significant number of pilgrims from various parts of India—Maharajganj, Gorakhpur, Balrampur, Tulsipur, and Krishnanagar.
The ashram also has Veda Pathshala (an educational institution that provides Sanskrit education to students), Govardhan Parvat (a molehill akin to Govardhan Parvat in India related to the life of Lord Krishna), several temples, a large Banjh tree (in the southern part) and a cave where the Mahaprabhu is believed to have meditated.
However, if religious pilgrimage is not part of your travel plan, you can still include Swargadwari in your itinerary for the place has a little bit of everything. The hill where the ashram sits offers magnificent mountain views—from Annapurna to Dhaulagiri to Machhapuchhre, among others.
The potential of Swargadwari to become more than a religious destination has not gone unnoticed in the eyes of the locals and that of the local unit. The Swargadwari Municipality has allocated Rs 2 million for the management and sanitation of Swargadwari this fiscal year. According to Netra Bahadur Rokaya, mayor of the municipality, his office provided Rs 1.5 million to construct a guest house in the ashram's vicinity last fiscal year. "The development of Swargadwari is in our policies and programmes. We would want visitors to come to the ashram and stay back to explore other parts of the municipality too," said Rokaya.
So here's what you can do besides seeking spiritual solace, when in Pyuthan.
Go for a week-long trek along Swargadwari-Gaumukhi foot trail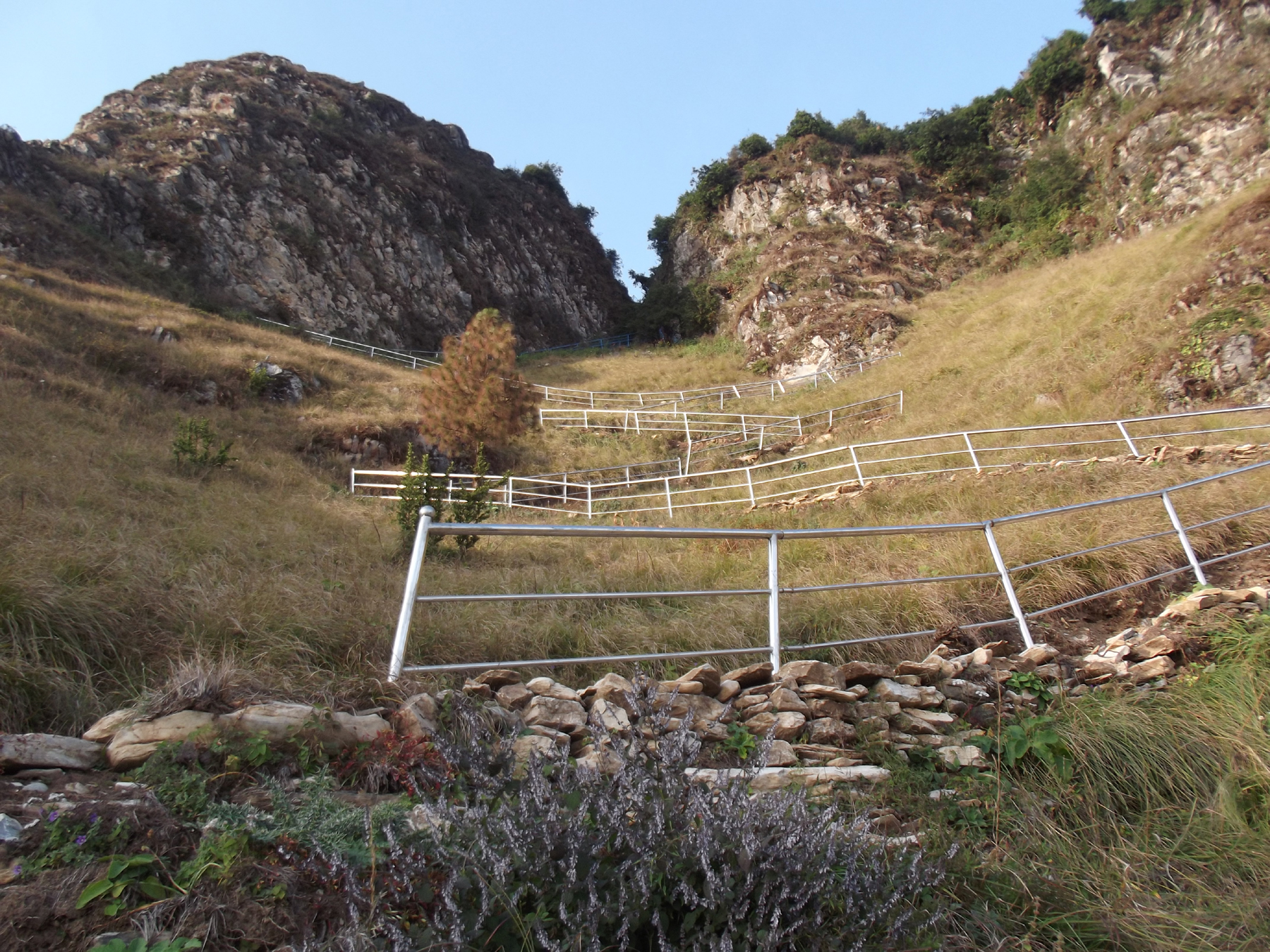 A section of the 150km long foot trail from Swargadwari to Gaumukhi.
A 150-km long foot trail has been developed from Swargadwari-Belbas-Jumrikada-Majhkot-Phopli-Luplung-Lung-Libang-Puja to Gaumukhi area. Trekkers have to allocate at least a week's time to complete this trek. Lisne Lek, Jhuleni, Dahihanna Chaur, Tamakhani, Baismul Waterfall and Jhankridhunga among other attractive destinations fall on the trail giving trekkers the variety they seek.
The trail culminates in Gaumukhi which roughly translates to "a cow's mouth". Gaumukhi is a natural spring whose water is believed to have the power to wash away sins, as believed by Hindus. This spring is also where Jhimruk river along the trekking trail finds its source. In the vicinity of the spring lies a cave, which is also an attraction for visitors. Mahabir Rana, a local, said, "If you are keen to take the trail, a visit to Gaumukhi and its surrounding areas is recommended."
Baismul waterfall, around 200 mt tall, in Lekchhahara, Arkha is also a popular destination for travellers taking the aforementioned trail. Twenty two streams and rivulets originating from the high hills feed the waterfall. Those who undertake the Swargadwari-Gaumukhi foot trail can easily spot the waterfall on their trek.
Mitra Thapa, a local in Aarkha, said the waterfall is one of the main attractions among hikers and trekkers who pass along the foot trail. "It's mostly trekkers who stop by the waterfall but of late we have seen visitors who come to Swargadwari detouring towards the waterfall."
The waterfall is situated 13km from Thulabesi, the administrative centre of Gaumukhi Rural Municipality.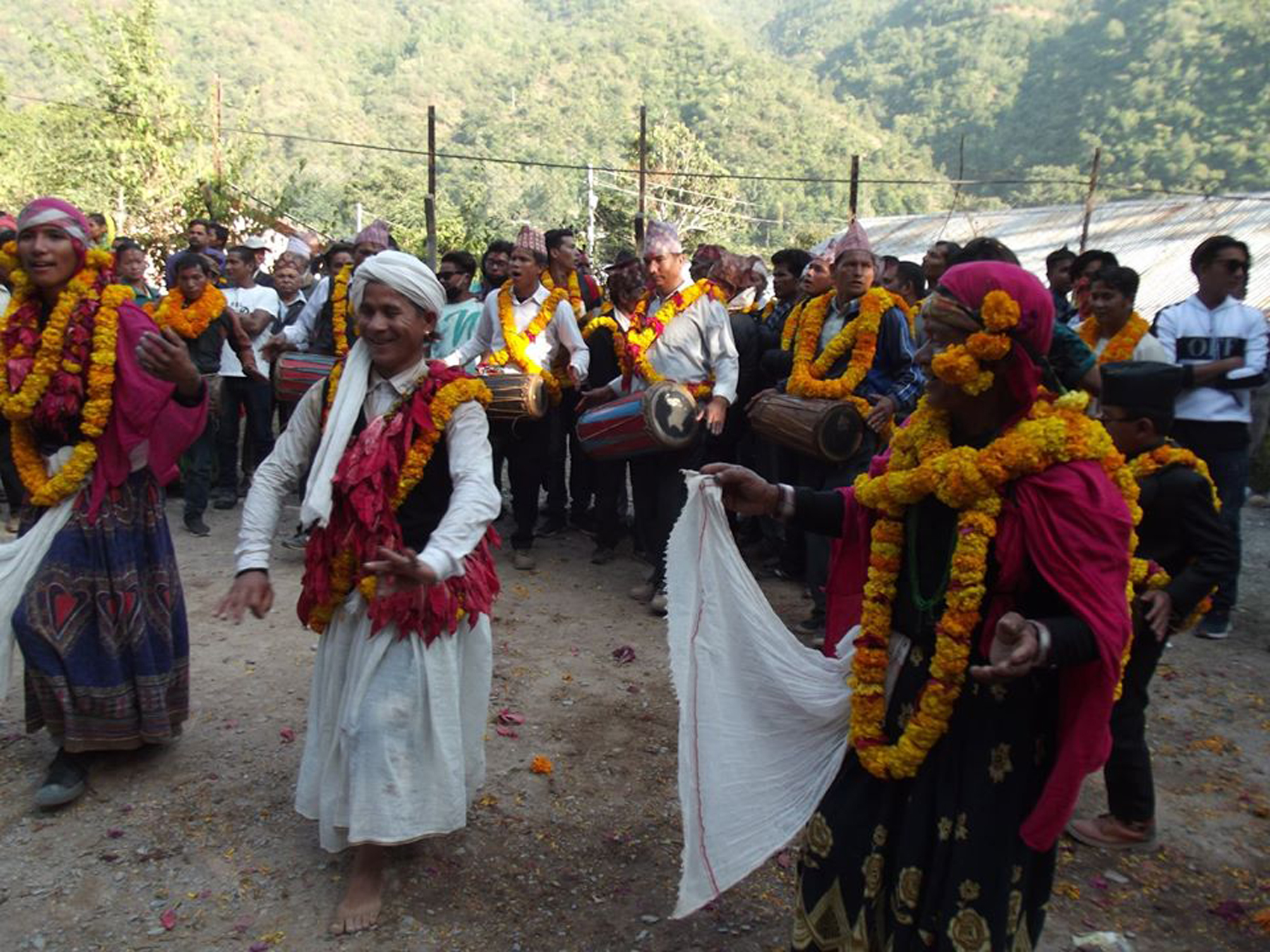 Locals of Pyuthan performing the Maruni Naach.
The entire district of Pyuthan is popular for Maruni Naach—a dance form practised mostly in the eastern hills of the country. Pyuthan hosts Maruni Naach with fervour during Dashain and Tihar festivals but market fairs and community gatherings in the district are incomplete without the dance being performed. This means that you can observe Maruni Naach performed by the locals any time of the year.
The dance form to be performed to its absolute potential needs around 20 to 25 people—10 to 15 singers, 5 to 7 drummers and four shingar ras (performers). The dance routine features nine musical instruments (naumati baja) along with flutes and drums but what puts more flavour to the routine is the presence of dhatu warey (liar), a character who provides comic relief to the elaborate routine.
Lila Punmagar, a local of Tari, said, "We are proud of what we can showcase through Maruni performances. It's embedded in our local culture and we do all we can to preserve the dance form."
Rajendra Raut Chhetri, a local of Markabang, feels equally proud of keeping Maruni Dance very much a part of their local culture. "Maruni dance carries history and although it demands an elaborate performance, the dance form is primarily for enjoyment."
How to get there: There are two motorable roads to Swargadwari. One way is through Ghorahi-Holari stretch in Dang about half a day's journey. The other route is through Bhalubang-Bhingri road in Pyuthan, also half a day's journey on a bus.
Where to stay: If your visit culminates in Swargadwari then a stay in the famed ashram is recommended. You can offer a small donation in exchange of your stay. There are also hotels in surrounding areas like Bad Danda, Jaspur and Bhingri. If you're seeking a "live like a local' experience then stay at Dhanbang Community Homestay at Dhanbang.
What to eat: If you stay in the ashram, your meals will consist of organic green leafy vegetables, milk, and yoghurt and other milk products. The hotels and the homestays serve Nepali food—dal, bhat and tarkari set with local fish and chickens.
Detours: Visit Jhankristhan, Mallarani area for a greater travel experience.
Budget: Around Rs 1,500-2,000 per day.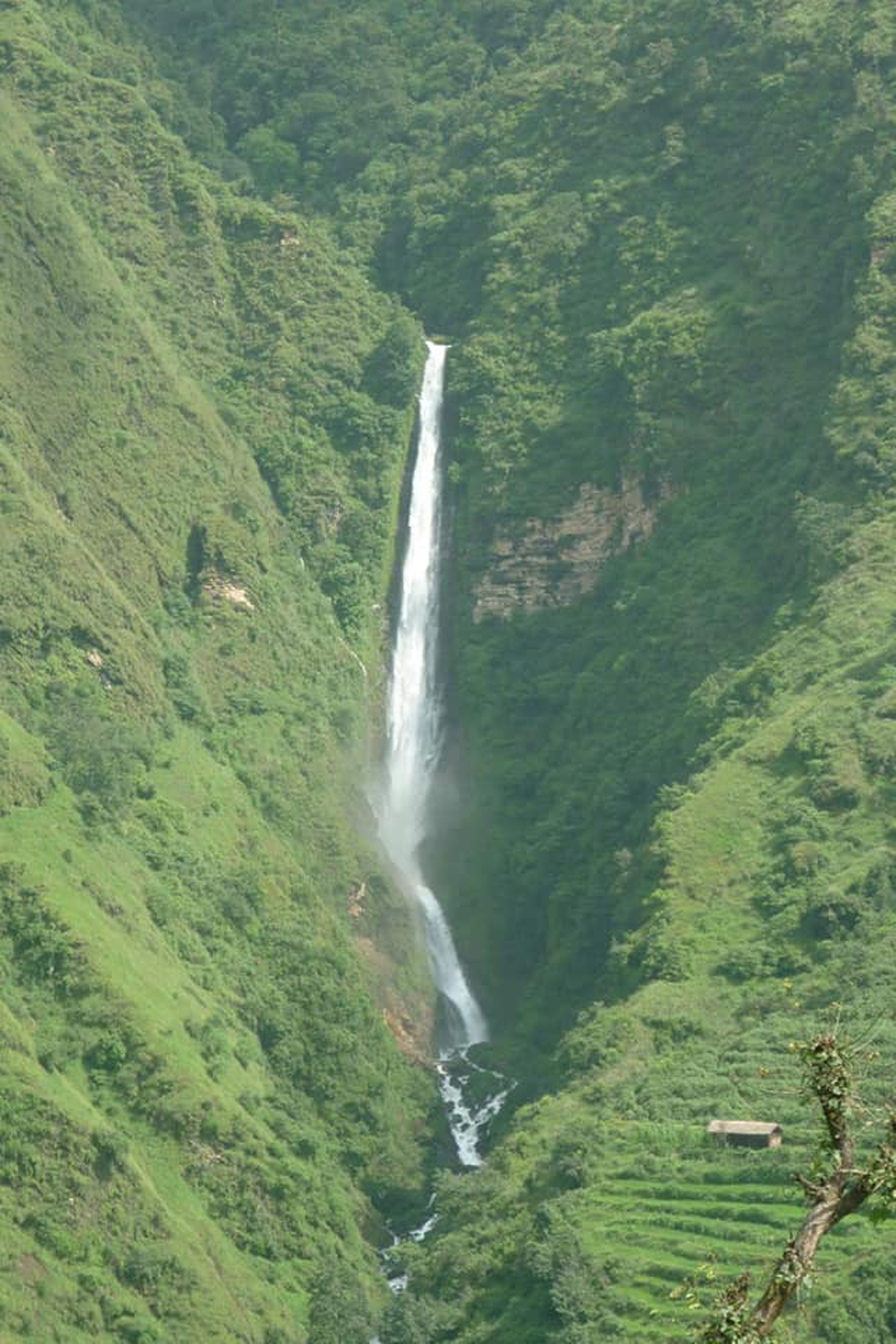 Baismul waterfall which lies on the Swargadwari-Gaumukhi trail.
---