This is what it's like to spend a day in Kathmandu with a tourist guide
When a local guide meets a local tourist, you can bet things are going to be awkward.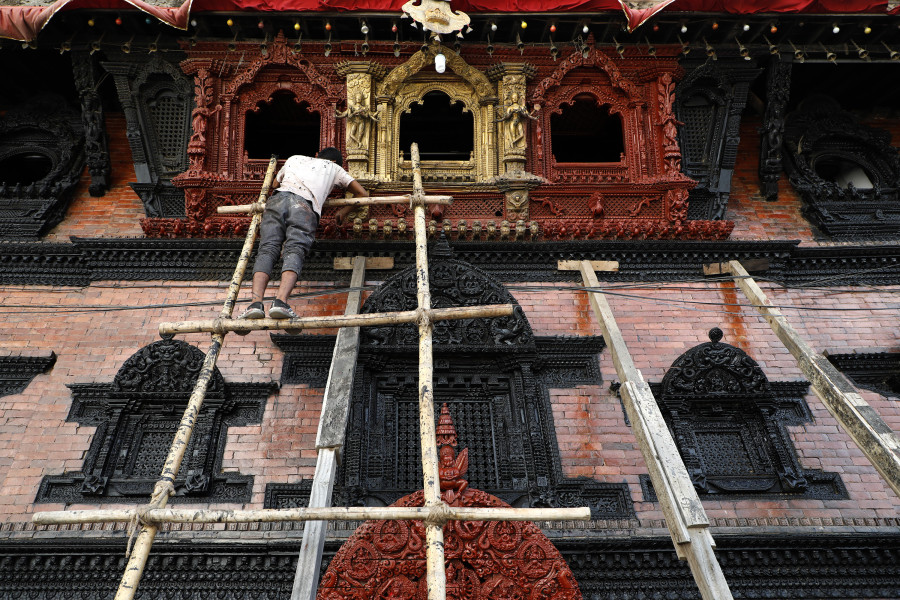 Sanjog Manandhar/TKP
bookmark
Published at : August 23, 2019
Updated at : August 23, 2019 12:41
Kathmandu
It came as a shock to this group of guides sitting idly in front of Kumari Ghar, Basantapur, when I asked them if I could hire a guide. A local person needed a guide to be shown around the city. The air obviously was filled with suspicion. Their heads huddled close to inspect my nativeness; bemused they asked me, "Are you really a Nepali? Were you living abroad? Where is the tourist group?"
It became quite apparent that no one wanted to show me around. The group of local guides tossed the task to one another, excusing themselves from the conversation until only one was left to oblige. But Rajendra Bahadur Kunwar didn't agree just to show me around. My interest in the guides had piqued his curiosity in me, and he wanted to know more about me, just as I wanted to know about him.
Most locals believe that the experience local guides give to tourists isn't authentic. And that was what I had set out to know. But it was obvious that Bahadur could see right through my intentions.
Bahadur, short, tanned-skin, has a frisky white beard. His toes bulge out from his rubber chappals, worn out from walking too much. He says he came to Kathmandu from Dhading with his parents almost 40 years ago as a child, and says he learned to be a tourist guide by seeing others do it. "I have no educational qualification. But I am a dependable guide, I have received proper training from the government—and so our information is authentic," he says.
As Bahadur starts guiding me inside the Kumari Baha, he immediately starts speaking in English. And it's noticeable that this is not the first time he is narrating the history of the Kumari Baha. Bahadur is confident about all his information. No matter how vague his facts, there is a conviction with which he tells you stories—making you believe everything he says.
"This place was built in 1757, by Jaya Prakash Malla, and houses the Living Goddess Kumari, who will turn five this year," says Bahadur. He draws my observation to many intricate details of the Kumari Ghar, details I had never noticed in the years I have been to this place, like the terracotta carvings spread across the base of the Kumari Ghar structure.
As we look around, the Kumari, Trishna Shakya, looks out her window briefly—barely for 15 seconds. This is one of the highlights of Bahadur's tour, he says, as the Kumari has deep ties with the history of Kathmandu. We then head out of Kumari Ghar. As we're stepping out Bahadur explains that the doors in temples were built short intentionally, to make devotees bend before the deities residing inside. "The logic is fascinating, isn't it?" he says.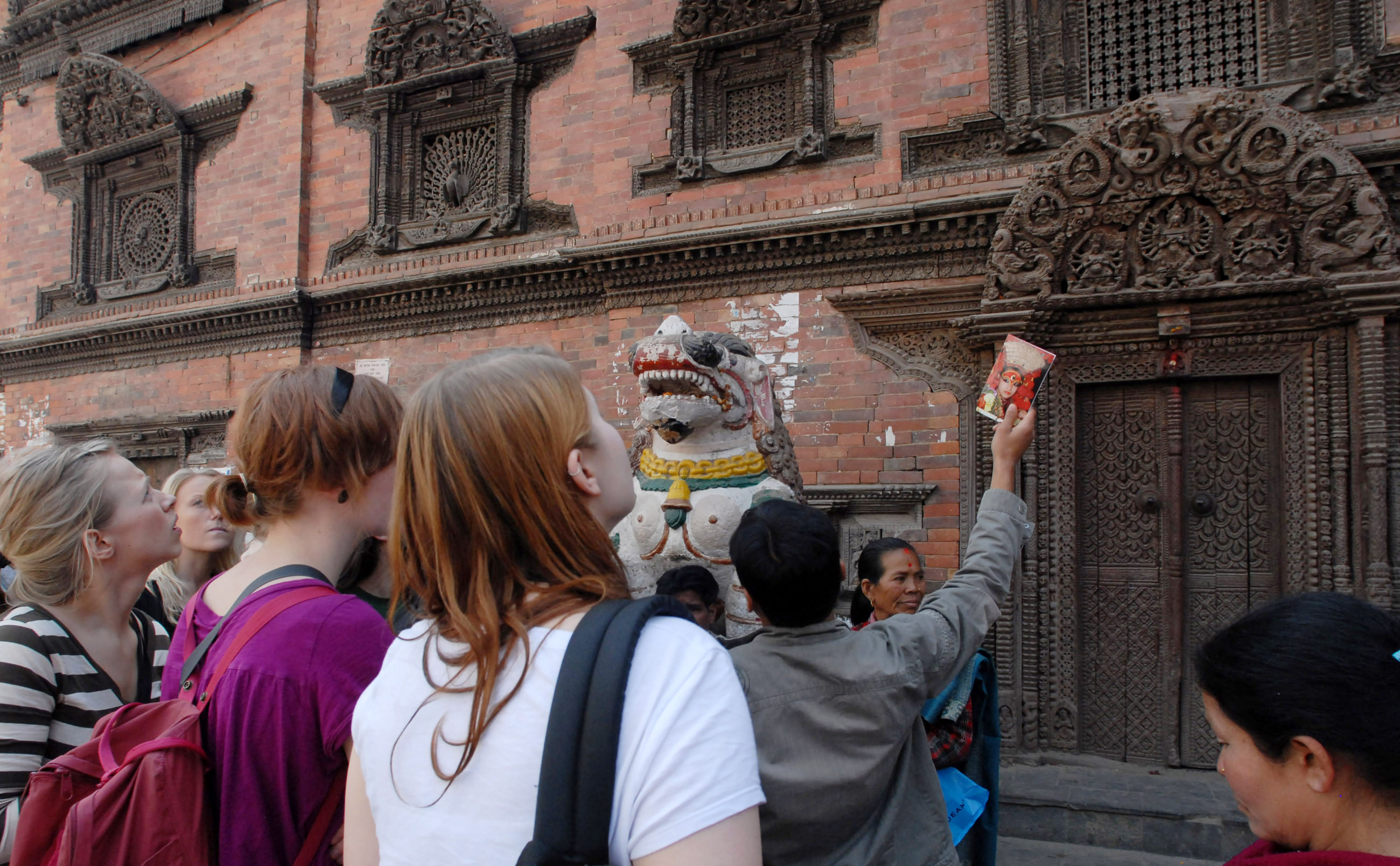 File Photo/ TKP
Outside the Baha, the clamour of Kathmandu feels wild. Bahadur, however, is least bothered about the humdrum as he hurriedly takes me around the Durbar Square pointing at the monuments and explaining me about them.
In front of Nautale Durbar, he explains, "Newars love to feast, so one time King Prithvi Narayan Shah hosted a feast for them, and while they were having fun on the top floor of the Durbar, he burned the place down." His eyes widen dramatically as he tells me the story. But I am not convinced with the tale.
It's clearly an odd day for Bahadur, to have to guide someone sceptic of everything he says. And
when he sits behind my scooter as we head to Swayambhu, our roles somehow feel reversed, as I am now navigating the road, and he is admiring the busyness of the city as a pillion.
"I usually take tourists to Swayambhu, Boudha and Pashupati as they are world heritage sites," he says, as we trudged up the stairs at Swayambhu.
Beads of sweat trickle down Bahadur's temple as he continues with his briefings at Shantipur, a shrine dedicated to the founder of the Swayambhu dome: Shantikar Acharya. "It is said in the secret cave inside Shantipur, the sky meets the earth," he says.
But I interrupt his orientation time and again asking him one of my own questions, "What kind of questions do tourists normally ask about places you take them to?"
"Oh, they want to know all sorts of things. But then there are times when they ask me strange things. I remember one time a tourist asked me why there were no leaves on a tree, and I told him it was because the tree was kissed by a witch," says Bahadur, laughing at his own joke.
When Bahadur insists upon having some tea, I ask him where he usually takes his tourists, he says, "Normally to restaurants but since you are a Nepali we can go to a local place." I hop down the stairs with him to a cold store only to drink a warm soda because the refrigerator of the shop is broken.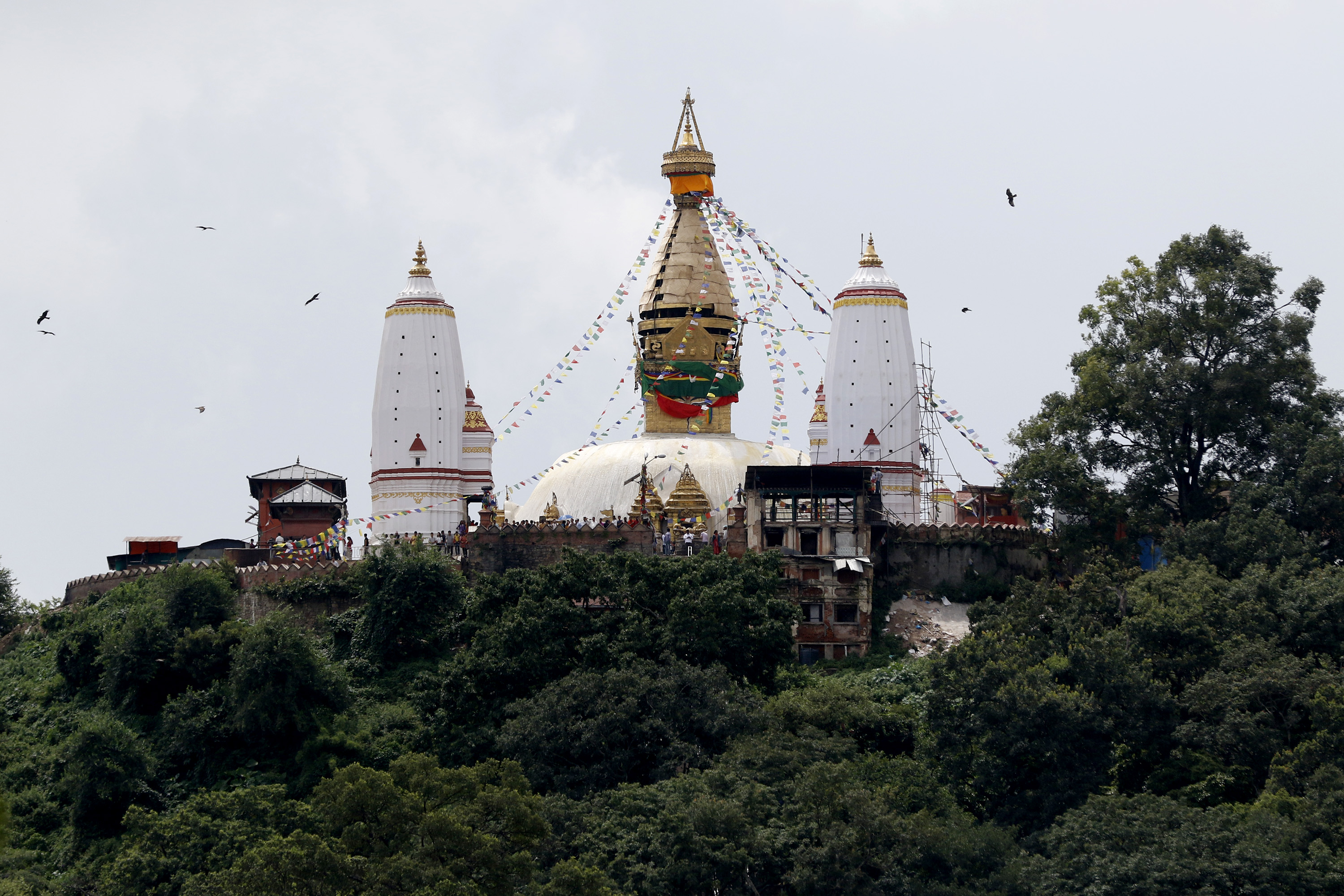 Keshav Thapa/ TKP
On the road to Pashupati, Bahadur tries to make small talk but the sun's heat is searing, and I can't keep up with his sentences as I try to manoeuvre through the heavy traffic of the bustling city. By the time we reach Pashupati, my stomach is whining for food.
However, my hunger soon fades when I see burning pyres. "This is where we see the end of life. Nothing is permanent, everything that has life has to meet their end, and this is the truth of life," says Bahadur at Pashupati Ghat. But up the stairs, people are unperturbed by this ending; here they are busy taking selfies and enjoying ice cream.
At the Shikhara temples in Pashupati, sadhus in orange robes impress a fierce persona on onlookers. When I take out my camera to capture one of them in a photograph, the sadhu hides his face behind his shawl, and I immediately feel guilty for disturbing him. But Bahadur assures I have done no wrong. "If I give him money, he will sit upright to take a picture. He will even bless you," he says.
After that, we walk up the stairs to see deer in the Pashupati Mrigasthali, but we don't see any. I try hard to spot at least one, but Bahadur isn't interested any more. His information seems to be limited to just structures; he wouldn't describe the surroundings, how the place has changed or information such as why the deer were here. Was it because Pashupati's forests were deep before? Do they have no other place to go? I am never told.
When I asked him why he chose to be a city guide he says, "Cities show the real struggle of life—it mirrors Nepalis just the way they are. There is no surrealness to simulate any charm in the city; they are busy and straightforward and hence honest."
Later, when I ask him what's the most challenging part of his work, he tells me it's finding tourists. "I am a local guide, and I have to go around searching for people. It's easier for other guides, as they are part of big tourist organisations and hotels. But it's difficult when you are a local tourist guide, when you have to search for your own customer," he says. "Plus the internet has made things simpler for them, many roam around the city by themselves."
Bahadur shares that one time he even spent a night in prison for asking a Ukraine tourist if he needed a guide. "I was really angry with the person at the time. All I did was ask him if I could take him around. He had no reason to report me, it felt really unfair, I even have a license," he says, pulling out his card that reads 'Kathmandu Preservation Organization founded by KTM local tour guides', which has 32 guides. "It's tough to make a living through this though nowadays. We hardly earn even Rs 50,000 a month these days," he says, a drop from how much guides like him used to make earlier, which came to be around a lakh a month.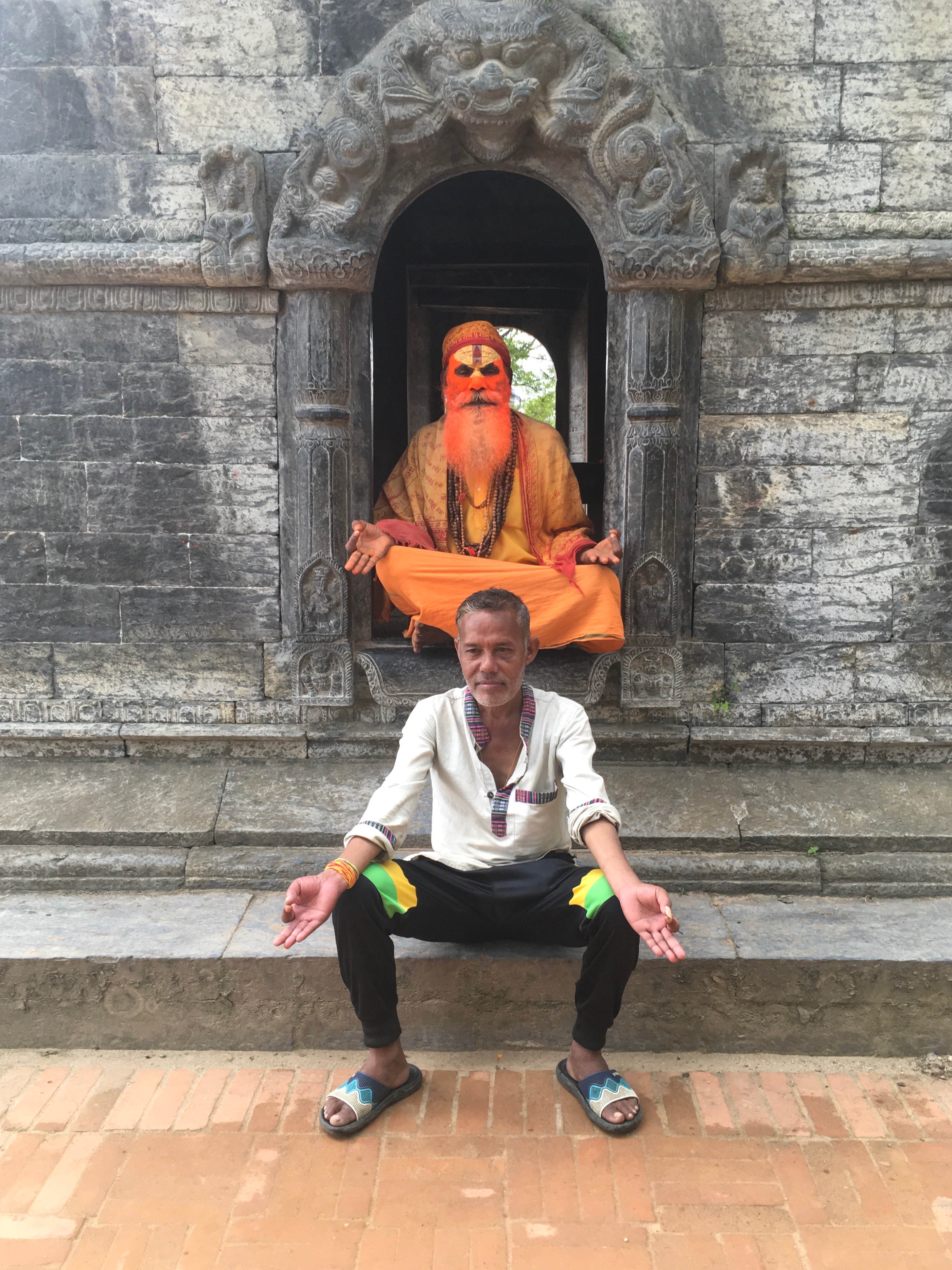 Rajendra Bahadur Kunwar, a local Kathmandu guide, usually takes tourists around Swayambhu, Pashupati, Boudha and the four Durbar Squares of Kathmandu valley. Srizu Bajracharya / TKP
As we get down from Pashupati, Bahadur seems to be hurrying. It's close to four, and he wants to wrap things up by five.
When we reach Boudha, Bahadur immediately goes back to his rehearsed narrative, "Boudha is known as little Tibet, as this is where the refugees came after Dalai Lama escaped from Tibet." And at the Guru Lhakhang Monastery, he sticks to the obvious: "This is where the monks pray; these are thangkas that tell Buddhist stories."
Once we finish our Kora, Bahadur quickly proposes going back to Kathmandu Durbar Square. However, I want to explore the other gumbas in the vicinity, and I ask him, "Is this it?" feeling disappointed.
Bahadur looks surprised that I still want to wander, but he is obviously tired. His eyes are puffy, and he looks more tanned. Unwillingly, he says, "Where do you want me to take you next?"
I ask him why he didn't take me inside the Baha and Bahis in Kathmandu, and he says slyly, "Because you never asked."
I realise that Bahadur possibly is not at his best. But despite everything, throughout the journey, I felt grateful for his patience. He never once showed his irritation. However, the cost of his guidance was a bit expensive, as his information was general and limited, and because I was riding and even paying for all the refreshments on the way.
By the end of our 'tour', I was still asking for more. "You can leave me at the bus stop," he said, as we reached Sundhara.
"Thank you for giving me a job today," he said. "The next time you want to know about Kathmandu's history you know where to find me. I won't charge you," he said, bidding me goodbye. I'm not sure I'll take up on the offer though.
A day-tour with the local Kathmandu guide around Kathmandu Valley costs about Rs 5000.
***

What do you think?
Dear reader, we'd like to hear from you. We regularly publish letters to the editor on contemporary issues or direct responses to something the Post has recently published. Please send your letters to tkpoped@kmg.com.np with "Letter to the Editor" in the subject line. Please include your name, location, and a contact address so one of our editors can reach out to you.
---
---