A trekker's guide: How to spend your last day in Kathmandu
Twenty-four hours is not enough time to witness what Kathmandu truly has to offer, but here's how you can try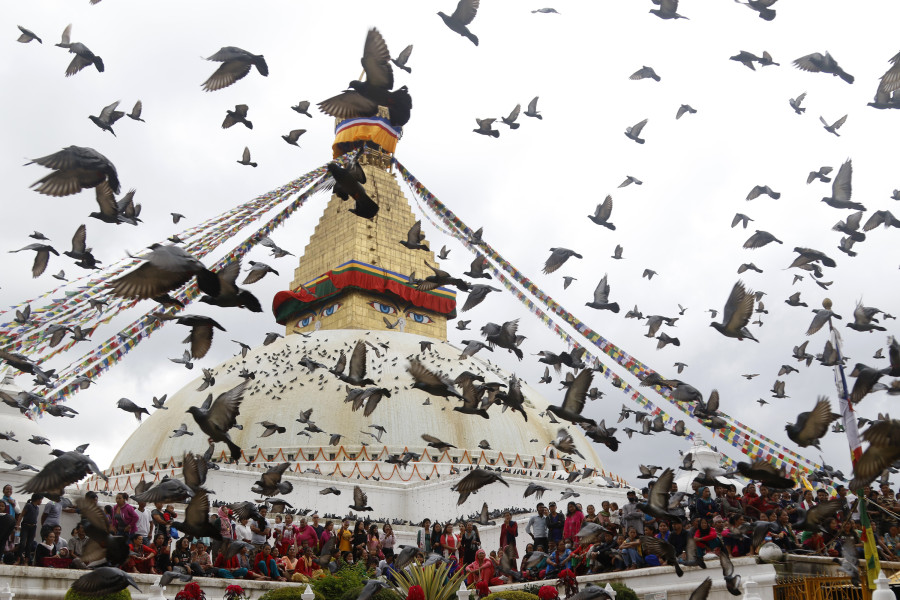 A stroll around Boudha stupa can be a soothing experience—it is one of the places that shouldn't be missed. Post File Photo
bookmark
Published at : June 13, 2019
Updated at : June 20, 2019 17:03
Kathmandu
Kathmandu is the start and end of the journey for many tourists visiting Nepal. With eight of the tallest mountain peaks in the world, breathtaking scenery, and numerous temples and monasteries, this country attracts pilgrims and trekkers alike. However, coming back from a trek can be daunting. The excitement and thrill of the adventure will have ended, leaving you tired and exhausted. You might feel discouraged from heading out into the pollution, crowds and the constant honking of vehicles. Instead of spending your last day in Kathmandu sleeping, go witness the diverse cultures and lifestyles this city has to offer.
Start your last day in Boudha with a short walk. Taking a stroll around the Tibetan-Buddhist stupa, listed as a UNESCO world heritage site, can be a perfect start to the day. The largest stupa in Kathmandu Valley, and one of the largest in South Asia, was inspired by the mandala design of Pelkor Chode monastery in Gyangtse, Tibet, according to Discover Nepal, an official travel website hosted by Nepal Tourism Board.
Around this stupa, you can find numerous cafes, shops, and restaurants. Here you can light butter lamps, walk around the stupa, and have a light breakfast in a rooftop restaurant. Himalayan Java is a popular coffee place, with views overlooking the sacred spot. During your stroll, you will have a chance to look around and pick souvenirs that you would like to take home.
After having a light breakfast, head towards a spa to get rid of the aches from your time on the trails. Trekking can leave your muscles cramped and sore, especially in your legs and back. Getting a massage can help ease the pain, release muscle tensions and soothe sore legs. Wait for at least an hour after eating to get a massage. It is crucial to hydrate yourself before and after your session to get the best results. Heritage Spa located in Basundhara is a good spot to get a specialised package for trekkers. This package includes a body scrub, a massage, pedicure and a facial for only Rs 6,200. Make sure you book an appointment in advance. Besides Heritage Garden, Nectar Spa, located in Thamel, has a massage made for hikers for Rs 7,780. This Wellness and Yoga centre is also known to provide great services making you feel rejuvenated and relaxed.
The three-hour trekkers' package will make you hungry. Head to Le Sherpa, Mahargunj for brunch. The fine-dining is worth your time. If you are there on a Saturday, be sure to check out the Farmers' Market where you can find a variety of organic products from vegetables and fruit to organically produced European cheese. This restaurant, filling an acre of land, is known for its excellent food and service. Showcasing locally produced coffee, food and crafts, this restaurant aims to promote quality Nepali goods. If, however, you want to try authentic Newari food, a traditional meal for the inhabitants of Kathmandu, head towards Bhojan Ghriha. This place serves mouth-watering local cuisine in a 150-year old building with folk dance performances and Nepali music. Be sure to try out the vegetable pakoda—a deep-fried snack, favourite among Nepalis.
After brunch, head towards Garden of Dreams in Thamel. This park is an escape from the city inside the city and is one of the few green spaces here. Inside a former Rana-dynasty palace, you can relax with a book, browse through the small photo gallery, where you can learn about the park's renovations, or check out the museum. Families, tourists, friends and couples come here to hang out and enjoy the view.
Your hike around different mountain trails during your stay here has probably limited your meal options. So take advantage of the cuisine Kathmandu has to offer. While you might want to unwind with an easy dinner, it's certainly best to finish by heading out for your last dinner in Nepal. Have your last Nepali thali at Thakali Kitchen in Jawalakhel.
Unlike, the regular dal-bhat-tarkari (rice-lentils-vegetables) Thakali Thali has the authentic flavours of ethnic Nepali food, making it taste different. This Thakali thali consists of 11 different Nepali dishes such as rice, vegetables, saag (greens) and gundruk (fermented greens)—it will leave you savouring every spoonful. This dimly lit restaurant's décor and homely food will make you feel welcome. Since this eatery is popular among both Nepalis and tourists, make sure to book a table in advance. If you want to have a taste of American food, Southern Comfort is a great option. This restaurant is known for its delicious food and greats services. Located in Jhamsikhel, this restaurant has a comfortable lodging and a piano which you can play.
If you want to call it a night, do so, or head out for some drinks to celebrate the end of your trip. Visit Jhamsikhel, Thamel or Durbar Marg to go bar-hopping. A popular spot is Sam's Bar in Thamel, a place known to be a crowd-pleaser with friendly staff and eccentric décor—the walls are full of graffiti from past travellers and the open-air patio is a great place to unwind. Another popular drinking spot is Irish Pub, located in Lazimpat.
By the end of the night, you will have come to realise Kathmandu is a melting-pot for Nepali people from different backgrounds, castes and cultures. The diversity seen in the valley provides a glimpse of the different lifestyles from the mountains to the flatlands of Nepal. Spending 24-hours is not enough to witness what Kathmandu truly has to offer, but it's better than nothing.
---
---