Over-harvesting pushes precious herbs 'to brink of extinction' in Bajhang forests
More than 1,800 herb collectors have swarmed the district's forest areas, local unit representatives say.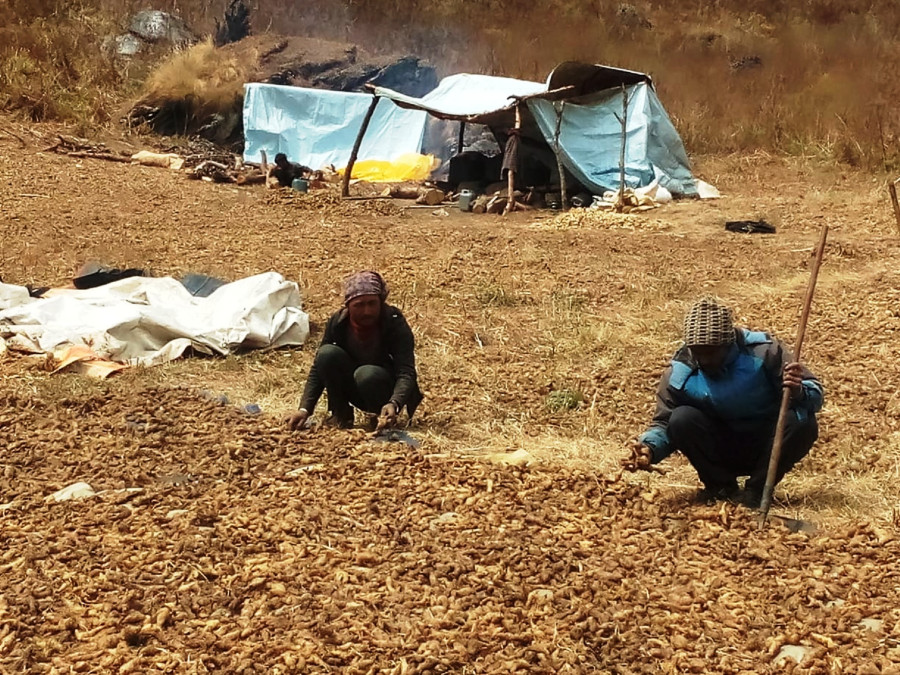 Basanta Pratap Singh /TKP
bookmark
Published at : November 15, 2019
Updated at : November 15, 2019 10:17
Bajhang
Over-harvesting of herbs has pushed some of the precious medicinal herbs in Bajhang forests to the brink of extinction, the Saipal Rural Municipality Office has warned.
Hundreds of collectors have entered the forest areas to harvest medicinal herbs, including Panch Aule (Dactylorhiza hatagirea), Katuki (Picrorhiza kurrooa) and Setakchini (Moringa Oleifera), but none of the authorities has paid attention to the matter, according to municipal officials.
Rajendra Dhami, chairman of the municipality, said that more than 1,800 people had entered the forest areas to collect herbs.
"We have informed the Division Forest Office and District Administration Office to take action against the collectors, but the authorities have yet to respond," said Dhami.
Locals are worried that the excessive collection of herbs may lead to their extinction.
Pasang Lama, a local herb entrepreneur, said that collectors arrived in Bajhang in droves from Rukum, Rolpa, Salyan, Pyuthan, Dang, Dailekh, Jajarkot, Humla, Jumla, Surkhet, Dolpa, Darchula and Bajura, among other districts.
"They have set up temporary camps high up the forest areas to collect herbs. If the herb collection goes at this rate, they may go extinct," he said.
According to the Forest Regulation-2051, herbs such as Setakchini and Katuki—well known for their medicinal value—can only be collected from mid-October till mid-December. As per the Five Year Forest Management Plan of Bajhang-2071, only 350 quintals of Setakchini can be collected from community forests and 50 quintals from national forests each year. But collectors have already collected more than 30,000 quintals of Setakchini from the forest areas this year, said Lakhan Bohara, a resident of Saipal.
Amid reports of rampant herb collection in the district, the Division Forest Office, however, claims to have imposed a complete ban on illegal collection of herbs.
Karna Bahadur Khati, officiating chief at the District Forest Office, said: "I will take stock of the situation. In case there's over-harvesting of herbs, I will direct the subdivision office to investigate the matter and notify the forest office."
---
---