Sherpa eyes second ANFA term
The sitting president and his team will face a challenge from senior vice president Nembang's group in the football governing body's election set for June 20.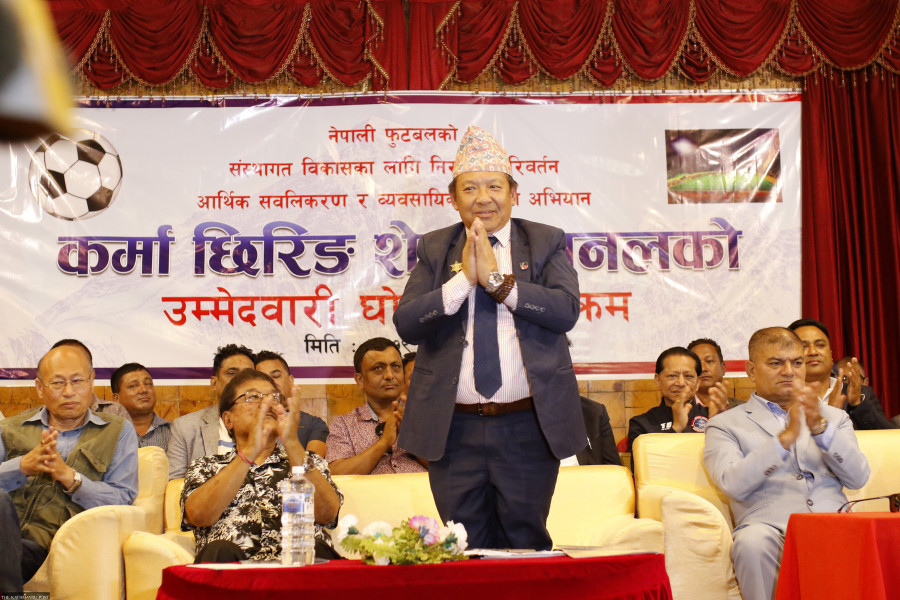 All Nepal Football Association president Karma Tsering Sherpa (centre) greets after announcing his candidacy in Kathmandu on Monday. Keshav Thapa/TKP
bookmark
Published at : May 24, 2022
Updated at : May 24, 2022 14:52
Kathmandu
All Nepal Football Association (ANFA) President Karma Tsering Sherpa-led panel on Monday announced candidacy for the upcoming election of the football governing body set to take place on June 20.
The sitting president, who announced the candidacy displaying the group's might, will face a challenge from senior vice-president Pankaj Bikram Nembang who has also announced candidacy for top position on Friday. Friends Club former president Rajiv Paudel also announced his candidacy for president at a separate venue on Monday.
Sherpa and Nembang are believed to be the top contenders for the post. Nembang was one of the close aides of Sherpa when the current executive committee was elected in May 2018. But Nembang turned permanent opposition leader within a year after the Sherpa committee was elected.
Former national captains, coaches, district association presidents and office bearers, office bearers of all three divisions of clubs among others attended Sherpa's announcement ceremony at a jam packed hall in Tinkune.
The electoral general assembly will pick a 21-member executive committee for a four-year tenure including a president and senior vice-president each, four vice-presidents, 13 members and two female members.
Honorary vice-president Shikshit Parajuli was declared as vice-presidential candidate from the faction. Executive committee members Ratna Kumar Shrestha and Kumar KC, vice-president Upendra Man Singh and Bigyan Raj Sharma have been named as candidates for the position of vice-presidents.
Among the candidates vying for membership from the Sherpa panel are Rupesh Adhikari (Sanga Club), Deepak Thapa (Friends Club), Prabin Yadav (Siraha), Lokendra Gurung (Lamjung), Ram Raja Gurung (Baglung), Tikaram Lama (Makawanpur), Pradesh Singh Rathaur (Banke), Bharat Budh Thapa (Jumla), Anil Shrestha (Machhindra Club), Ramesh Byanjankar (Chyasal Club), Maniraj Bista (Khumaltar) and Manish Joshi (Shree Bhagawati).
Indra Man Tuladhar, the general secretary of ANFA and president of 'A' Division side Sankata Club, widely tipped to be reappointed for the same post, said that they were trying to forge consensus for women members. He also claimed that the announcement ceremony was attended by 54 voters among a total of 87 votes.
Announcing the candidacy with the slogan 'Continuous change for institutional development of football, financial reinforcement and professionalism,' Sherpa conceded that his team could not fulfil all of its promises it had made before getting elected for the first tenure four years ago.
"The Covid-19 pandemic affected us for almost two years, so we could not work in full gear and fulfil all our promises," Sherpa said. "However, we were able to run many programmes and make football vibrant. We have decided to file candidacy to take forward the changes we have started at ANFA."
Sherpa cited several drives as his achievement in the past four years: 34 international matches played by the national team, renovation of ANFA headquarters, development of the country's "football philosophy", renovation of Butwal and Dharan ANFA Academy and running them, enforcement of financial regulations, and players registration regulations, among others. Further, Sherpa vowed to publish a four-year calendar once his team gets elected.
Infrastructure developments, financial sustainability, youth football and league development, capacity building were also among his plans for the next four-year tenure.
General secretary Tuladhar, replying to Nembang faction's allegations of corruption at the football governing body, said: "FIFA had imposed 10-year ban for $100,00 corruption (to former president Ganesh Thapa). And we could have faced similar action if there was corruption because FIFA had sent an auditor to check our transactions. Nembang and his aides are equally responsible if there is corruption at ANFA because they are also responsible office bearers."
Speaking on behalf of football clubs, Machhindra president Sunil Kapali claimed that there were drastic changes in ANFA after Sherpa was elected president in 2018. "There was autocracy at Nepali football in the past and there are still some people plotting from behind the scene," said Kapali, adding they, the Nembang faction, took allowances and facilities other times but are claiming of corruption ahead of election.
Former national captain Rakesh Shrestha said that Sherpa's four year tenure was a "golden era in Nepal football", in terms of the results drawn by the national team. "Football is a result oriented game," said Shrestha, "and Sherpa deserves to be elected for next one year term because he could not work effectively for two years due to Covid-19."
---