Nepal wins second judo gold
Punam Shrestha added a second gold in judo for Nepal during the 13th South Asian Games.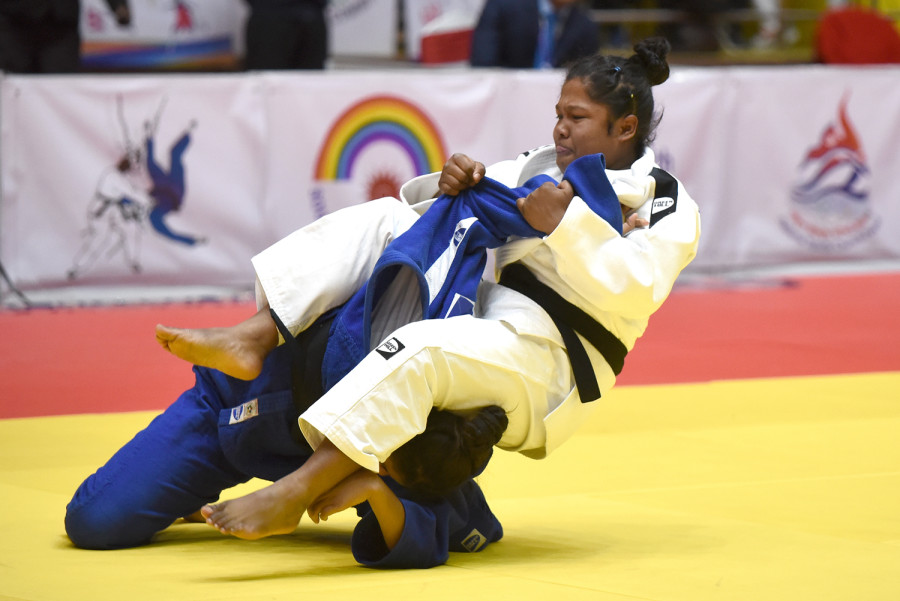 Punam Shrestha (right) of Nepal vies with Farina Khanom of Bangladesh at their U-78 judo bout in Lagankhel on Monday. Angad Dhakal/TKP
bookmark
Published at : December 10, 2019
Updated at : December 10, 2019 15:36
Lalitpur
Punam Shrestha added a second gold in judo for Nepal during the 13th South Asian Games at the Nepal Army covered hall in Lagankhel on Monday.

Shrestha registered victories in all three bouts of the U-78kg division in the round-robin league format, overcoming Gedera Wibushana of Sri Lanka in the first bout, Naveet Karu of India in the second and edging Farina Khanom of Bangladesh in the final bout.
Binita Magar and Aakriti Joshi missed out on gold after losing one bout each. Magar lost her very first bout of U-70kg against India's Garima Chaudhary, who eventually secured gold, registering wins in all three matches. Joshi lost her only bout of above 78kg to Tulika Maan of India who registered victories in all four matches.
Sri Ram Makaju (U-90kg), Ramesh Bahadur Chand (U-100kg) and Rajan Joshi (above 100kg) walked away with bronze medals.
India dominate wrestling events
Regional giants India won a total of 14 gold medals in wrestling events held in Janakpur. Pakistan claimed three top podium finishes, Sri Lanka won two gold medals, while Nepal earned one gold. Alongside Sangita Dhami's gold in the women's 55kg category, Nepal also won four silver and eight bronze medals. Upon the conclusion of the events, Nepali wrestlers were felicitated by the locals in Janakpur.
Nepal enter basketball final
Nepal's women's team defeated the Maldives 68-55 in the basketball semi-finals at the Dashrath Stadium covered hall in Tripueshwor on Monday. Anusha Malla contributed 19 points for Nepal. The final will be played between hosts Nepal and India, who thumped Bhutan 134-27. Meanwhile, India and Sri Lanka have reached the finals of the men's basketball. India saw off Nepal 107-58 and Sri Lanka got the better of Bangladesh 73-52 in the semi-finals. India won gold in the men's 3X3 basketball defeating Nepal 21-15 in the final. Sri Lanka settled with a bronze medal. In the women's event, India edged Sri Lanka 15-12 for gold while Nepal secured bronze.
India clinch 18 golds on the range
South Asian giants India claimed 18 out of 20 gold medals on offer in the shooting event held at the Satdobato Shooting Range. Apart from the gold medals, they also clinched seven silver and four bronze to wrap up with 29 golds. Pakistan finished with two gold, five silver and seven bronze medals while Bangladesh took away six silver and four bronze medals. Sri Lanka won two silver and five bronze while hosts Nepal, the Maldives and Bhutan returned empty-handed.
Nepal add two more silver in fencing
Nepal bagged silver in team epee and sabre at the women's team event of fencing in Kirtipur on Monday. The outcome meant Nepal wrapped up fencing with four silver and six gold medals. Nepal lost to India in both categories on Monday. Bangladesh walked away with team epee bronze while Sri Lanka finished third in sabre.
Out of the 12 gold medals in fencing, India secured 11 golds, apart from five silver and a bronze. Bangladesh took home one gold, three silver and seven bronze medals.
Bangladesh whitewash archery events
With four gold medal wins in archery events in Pokhara on Monday, Bangladesh have claimed all 10 top podium finishes in the sport. Md Ruman Sana, who is ranked among the world's top ten archers, won gold in the men's recurve. In the women's recurve, 14-year-old Mst Ety Khatum won gold for Bangladesh. Md Sohel Rana won gold in the men's individual compound and Suma Biswas landed a top podium finish in the women's individual compound. Previously on Sunday, Bangladesh had won six gold medals in archery. On his team's dominance at the sport, Bangladesh coach Martin Frederick said, "Our archers were in a closed camp for the past six months for the Games. We had been training well for the past two years."
---