Swimming sensation Singh becomes one of Nepal's most decorated athletes
She missed out on a third gold by a whisker on Saturday, but the nation expects more medals from her over the next two days and beyond.

Gaurika Singh waves to her supporters after winning the gold in South Asian Games. Hemanta Shrestha /TKP
bookmark
Published at : December 8, 2019
Updated at : December 8, 2019 07:43
Kathmandu
Photojournalists from local news outlets were jostling for the best angles even as journalists scrambled for the best vantage points. It was a scene to behold just before the women's 100m backstroke final at the Satdobato Swimming Complex on Saturday. Their eyes and lens were trained at one swimmer: Gaurika Singh.

They were all expecting to capture Singh's winning moment—of a third individual gold. But it was not to be. She missed it by a whisker as India's Manna Rajiv Patel won the women's 100m backstroke in 1 minute 02:36 seconds. She settled for a silver after completing the race at 1:03:15.
However, having already won four medals at the ongoing event, Singh has already become one of the most decorated Nepali athletes in the Games' history and a household name. With Singh scheduled to compete in at least two more individual events, expectations are high that she could fetch more medals for Nepal.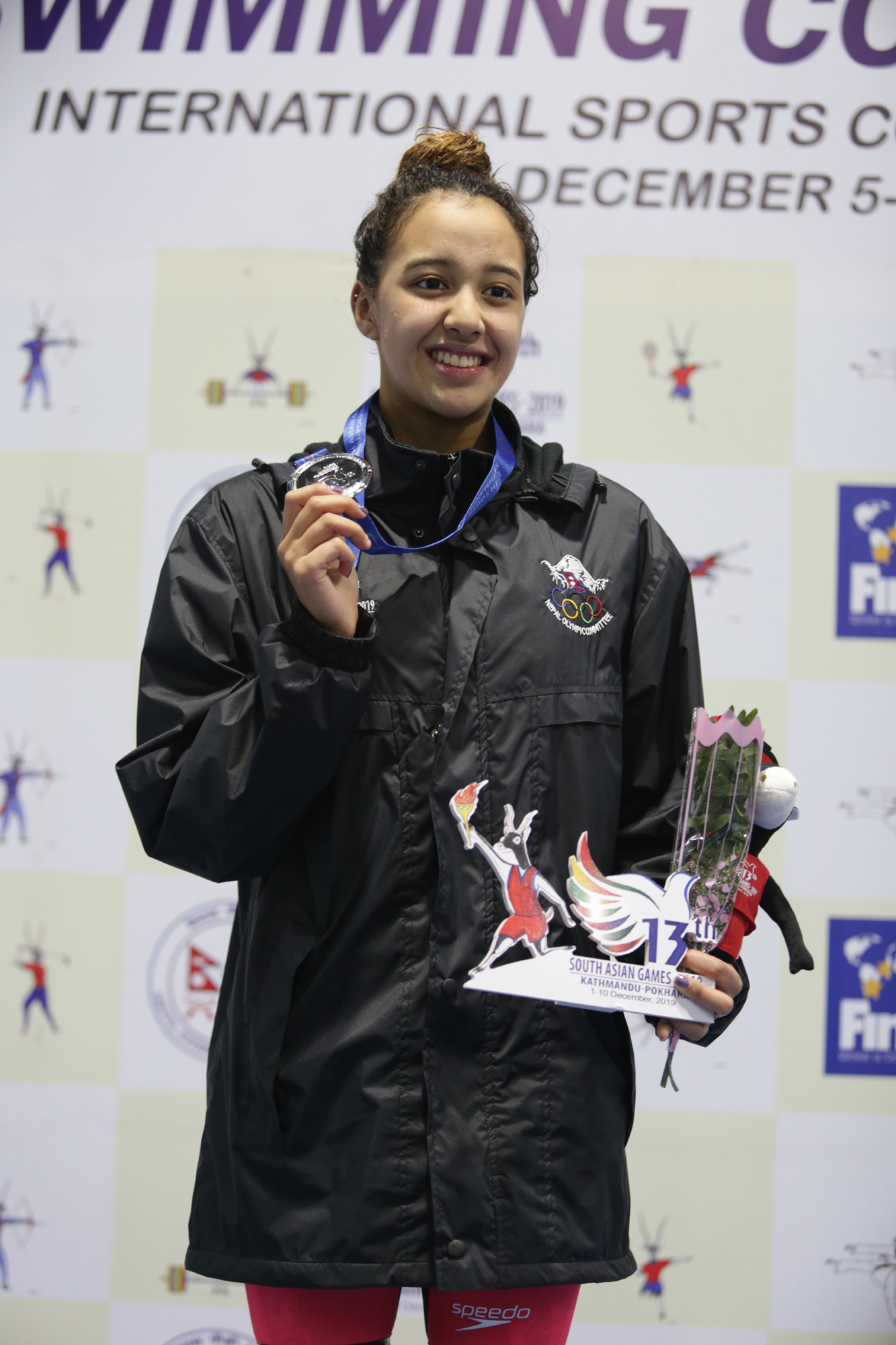 Gaurika Singh with her silver medal in 100 metre backstroke on Saturday. Post Photo
Singh began her medal quest at these Games, winning a gold in the 200m freestyle followed by a bronze in 4x100m freestyle relay on Thursday. She followed up with another gold in the 200m backstroke on Friday.
While Singh and her parents have refrained from commenting, former national swimming head coach and a member of the current coaching staff Ongden Lama was forthcoming.
"Gaurika has prioritised her goals. The first one is to win as many medals as possible for Nepal at the current Games," Lama said. "She certainly wants to better her performance at the Olympics and the Asian Games."
"Despite spending very limited time in Nepal, she keeps corresponding with us while she is in England. That keeps all of us on the same page."
In 2016, Singh became the first Nepali swimmer to win an individual medal at the regional sporting spectacle. She returned home with a silver and three bronze medals from the 12th edition of the Games held in Guwahati, India. She won the silver medal in the 200m individual medley.
At 13 years and 255 days, Singh was the youngest among over 10,000 participants at the 2016 Olympic Games held in Brazil. She has already booked a berth at the Olympic Games to be held in Tokyo next year, after qualifying through the FINA World Championships in July this year.
At the championship held in Gwangju, South Korea, she clocked 1:00.62 in 100m freestyle to finish 69th among 93 participants in the event. She also completed the 200m freestyle in the 48th best timing (2:13.00) among 61 contestants. The 2020 Olympiad begins on July 24 next year.
Contrary to suggestions that Nepal have been sweeping medals taking advantage of being the event hosts, swimming officials say a lot of planning has gone into enhancing Nepali swimmers' competitiveness.
Nepali swimmers have been training around the year in the lead up to these Games, according to Lama. "Our rigorous training regime has paid off rich dividends."
Beside Gaurika, other Nepali swimmers have also improved by leaps and bounds," said coach Lama, referring to another swimmer Duana Lama, who won a silver medal in the 200m breaststroke. "We expect more medals in the pool in the next two days." The swimming competition ends on Monday.
Singh first rose to national prominence at the 19th National Open and 12th Galaxy Cup inter-school age-group Swimming Championships in 2014. Singh, only 11 at that time, won a rich haul of nine medals, including eight golds. Seven of them came with new national records.
The determined Singh, who trains in England, has made a habit of blazing the trail every time she competes in Nepal. She bagged 12 gold medals—four of them in new national records—at the eighth National Games in Nepalgunj earlier this year.
And the pattern continued at the Games. Singh won the 200m freestyle on Thursday with a new national record of 2:05:06 for Nepal's first individual swimming gold in the South Asian Games.
The Olympic record of 1:53:61 is recorded in the name of Allison Schmitt of the United States in London in 2012, while China's Zhu Qianwei completed the distance in 1:56:65 at the Guangzhou Asian Games in 2010.
Expecting an Olympic medal would be too far-fetched, but the graph of her performances certainly make Nepalis wish on the wishing star for a podium place at least at the Asian Games.
"Despite all of her achievements so far, Gaurika still has a long way to go and that she will," said Nepal Swimming Association President Ashok Bajracharya. "She has so much more to offer for Nepali swimming. With her potential, she will keep making the nation proud."
The country's swimming authority is expecting better performance from her at the Asian Games and Olympics.
Barring two editions held in 1954 and 1962, Nepal has been participating in the Asian Games since its inception in India in 1951. But Nepal has won only 23 medals, with two silver being the highest laurels yet. Sabitra Raj Bhandari won Nepal's first silver in taekwondo at the Bangkok Asiad in 1998 and the paragliding team fetched the other at the 18th edition of the Games in Indonesia last year.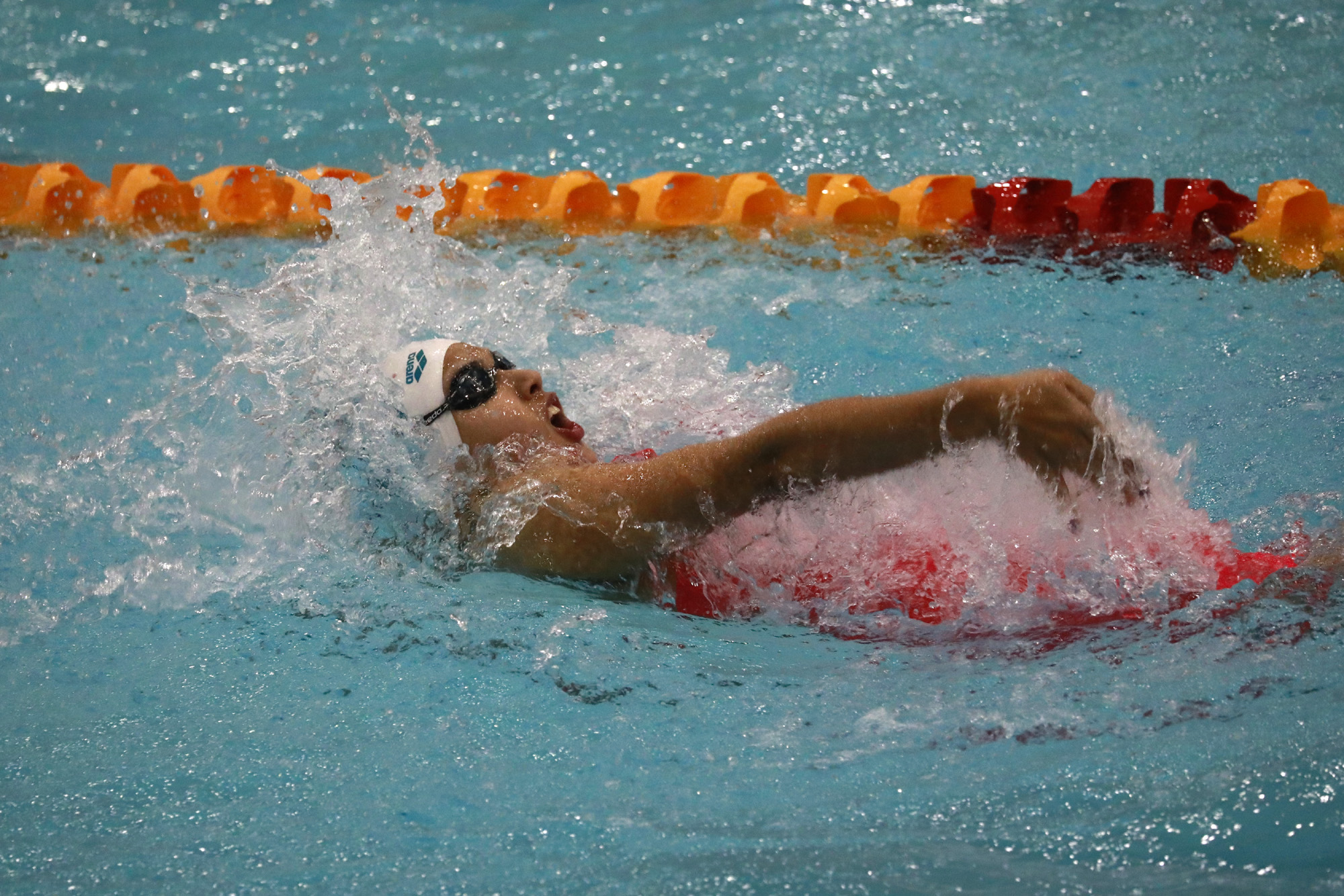 Hemanta Shrestha/TKP
Nepali swimming is not all about Singh, though, swimming officials say.
"Other swimmers have also shown a marked improvement over the last couple of years," Bajracharya said, claiming that the addition of a heated swimming pool will allow swimmers to train around the year.
"This will certainly boost our chances in the other competitions we will compete at. The venue also will make it easy for us to host other international competitions," he said.
For Nepal to succeed at international sporting events, the authorities must identify certain disciplines where Nepali athletes stand a better chance and then begin to groom the athletes. As Singh is already a prized asset, Nepal must play to its strengths and help groom other swimmers as well.
"We have set our long- and short-term goals," said the swimming association chief, adding that the ongoing Games were one of the best platforms to begin with.
"Our immediate focus is on doing better at the regional event. We aim to exploit our pools to the maximum in helping our swimmers to secure qualifications for the 2024 Olympics," Bajracharya said, explaining the details of his plan.
The swimming association said it would be introducing scholarship programmes for promising swimmers shortly. "As most of our swimmers are young, they need several kinds of support. And the association is working to extend that support to them," Bajracharya said.
---
---